Hello there!
Hope you all are staying safe wherever you are and have been trying to make the most of an extremely poodoo situation if you know what I mean. I recently built a custom blaster which I have been calling the DL-180 as it combines the scope and flash hider look of Han Solo's DL-44 with the base of a German P.08 Luger, the same gun used by Jyn Erso.
After finishing the build (which I'm still tweaking almost every day, and I need to stop before I go too far with it) I wanted to make a proper holster for it since no lightsaber or blaster prop is official until you can wear it on your belt.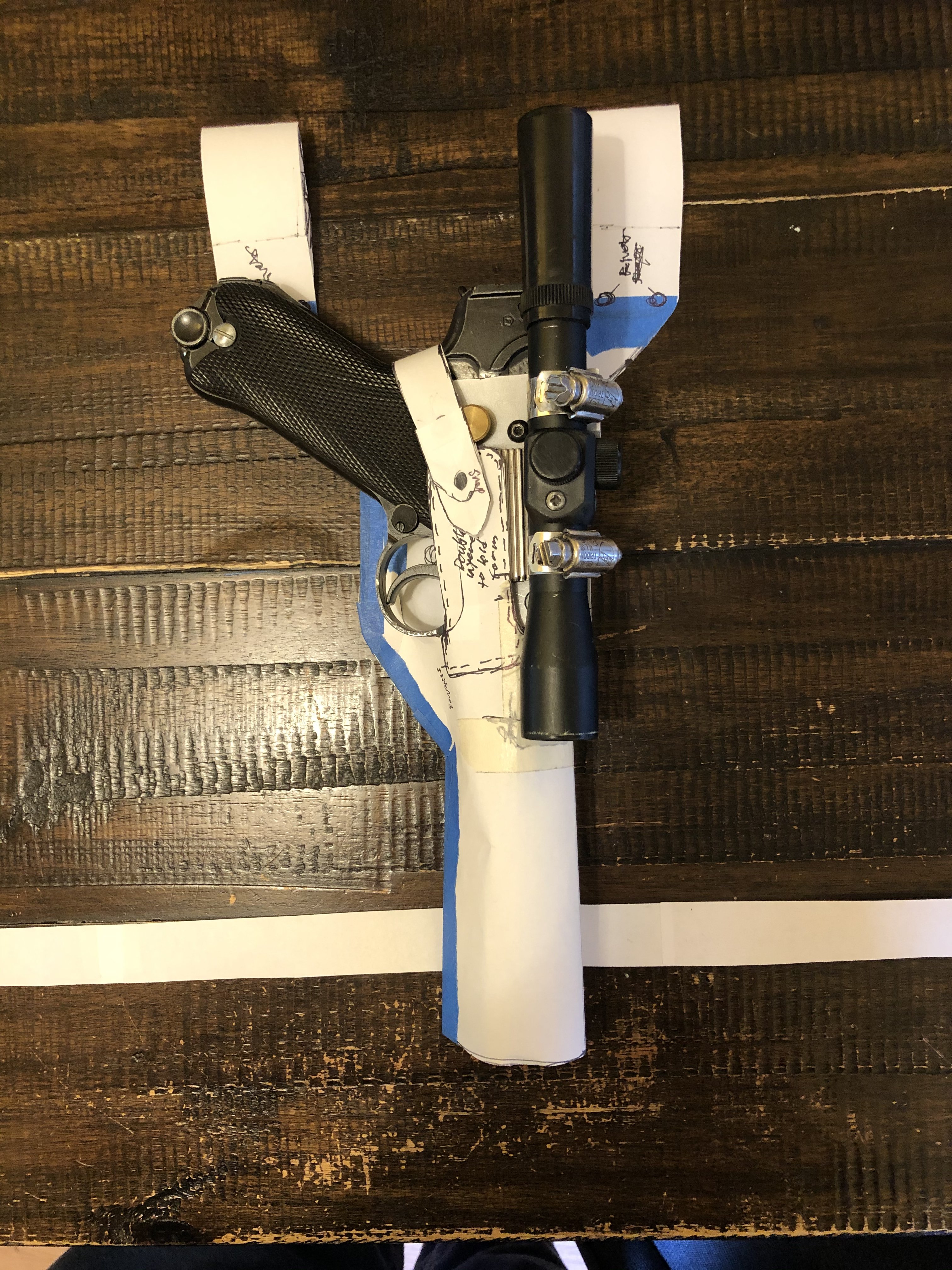 I have never worked with leather before, but I have done tons of research and watched a lot of videos on basic leather making, so I feel like I have a decent understanding of the limitations of leather. Today I wanted to draw up a pattern for it since I can't leave the house to purchase leather tools and materials and I'd need to do this anyway.
I started by sketching a rough outline of what I wanted the form to be. I was looking for something that had a singular cut out that exposed the trigger like both do.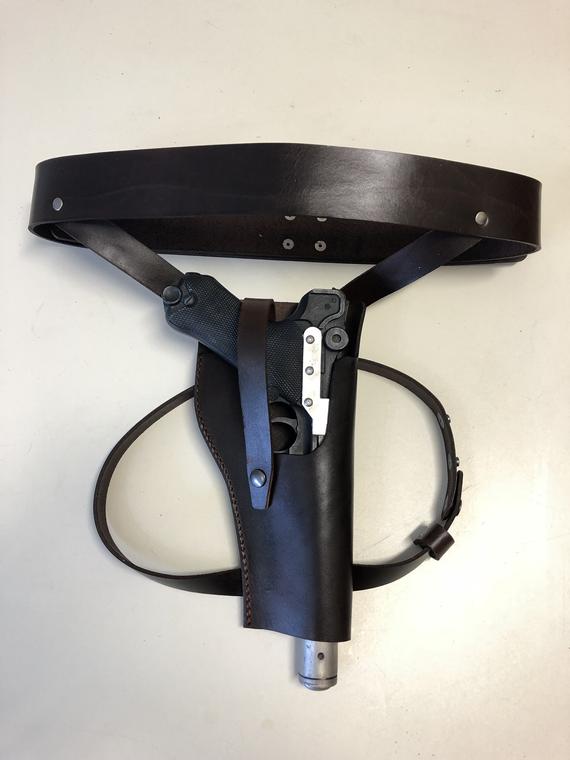 This proved to be EXTREMELY hard. The blaster is VERY wide across the top, the base Luger being about an inch wide, the scope being an extra inch and a half with the hose clamps adding another half inch. These 3 inches would be PAINFUL to fully enclose in leather without leaving TONS of space inside as well as a good looking form factor, even with wet molding. I fought the idea of making two vertical slots, one for the scope and one for the trigger for about 45 minutes, and eventually I bit the bullet and made an extra slot.
And it fit perfectly. The flap in the center makes it look unique and more alien that regular holsters and also acts as a perfect place to put a snap for the strap that goes over the handle and holds it all in place. I decided it would probably be a good idea to double layer the flap to make sure it was as rugged as possible. I wanted to hone back to the 180's holster with the Y shaped belt straps, so I made a relatively simple Y shape and folded the tops down to act as belt loops, planning to rivet them in place to add detail and make sure it was more secure than a few stitches would be.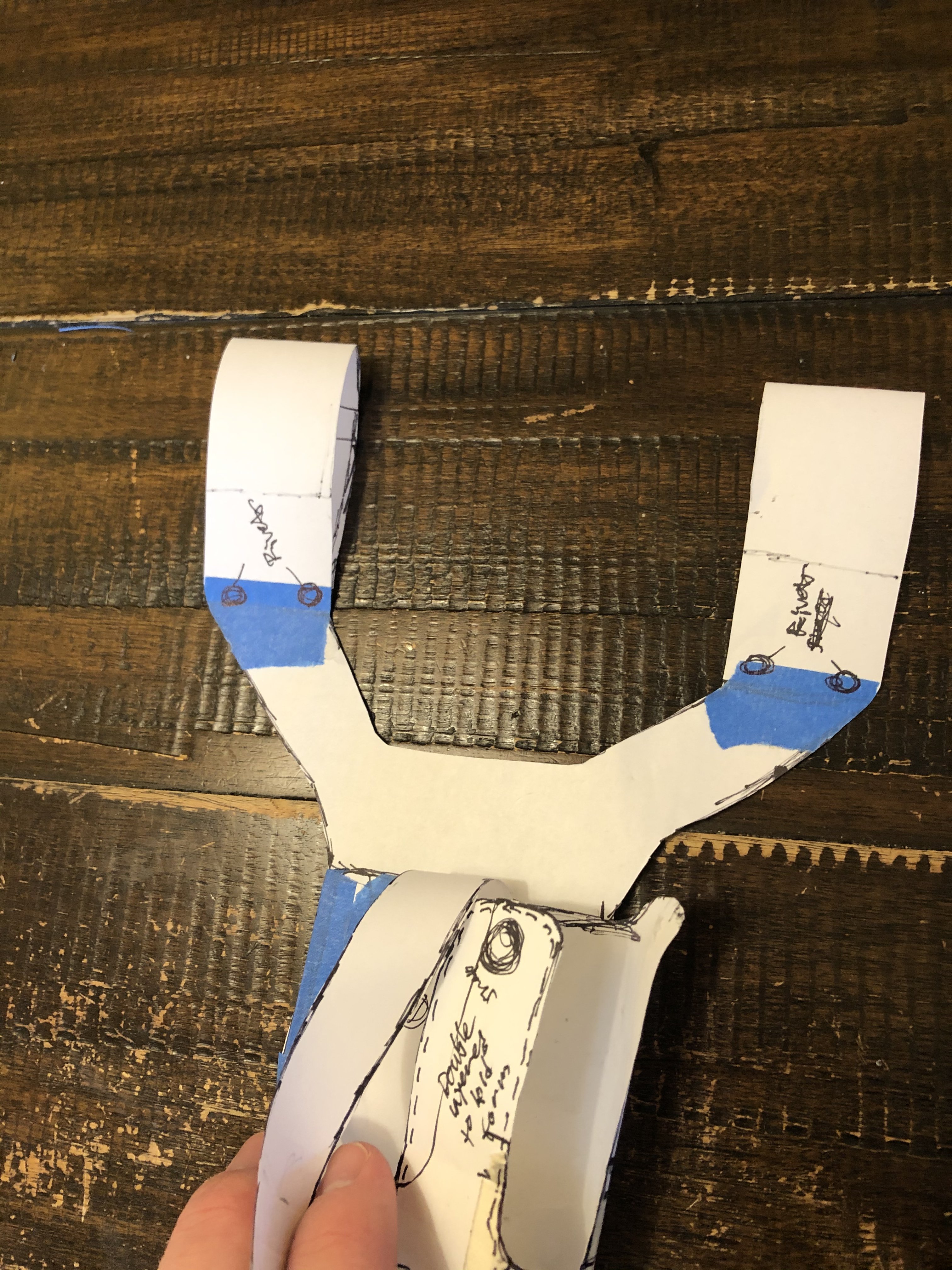 For the leg buckle I wanted to use something more adjustable and more interesting than a standard belt system with punched holes and boring buckles. I looked at various types and found this, which is called a tri-glide sliding buckle.
The majority look like this, but I wanted to find one that had that weird little Star Wars touch to it, and that's when I found this. This is the exact same thing, but this type is made for boating. The knurling makes the strap secure and adds some nice detail to a part that could be a bit boring otherwise.
So far, that's where I am with it. I hope that this gave you some ideas for your own holster for a custom blaster.
The rest of the holster construction is a process that you can do research on (and I recommend you do) to see in detail how the rest of construction is done, since I obviously left a LOT of parts out. I'd recommend this video
of Punished Props' Bill Duran making his DL-44 holster and this more in depth video
where he makes a holster for his Blade Runner Blaster, which goes into much more detail on the process.
Thanks for reading!