Hi,
I'm aiming to put together a replica of the costume Crowley wears in the present day. I have found some good look a likes and found some (incredibly expensive) originals. I searched the forum and found some really good pictures and IDs from other members, but it's still hard to identify some aspects of his outfit. Find them in these threads:
In the first episode Crowley wears a countdown wristwatch which I'm certain doesn't exist, but dammit, it the coolest watch I've ever seen! Anyone familiar with anything that looks close to it?
www.therpf.com
This is the best screenshot type picture I could find for seeing different aspects of his costume: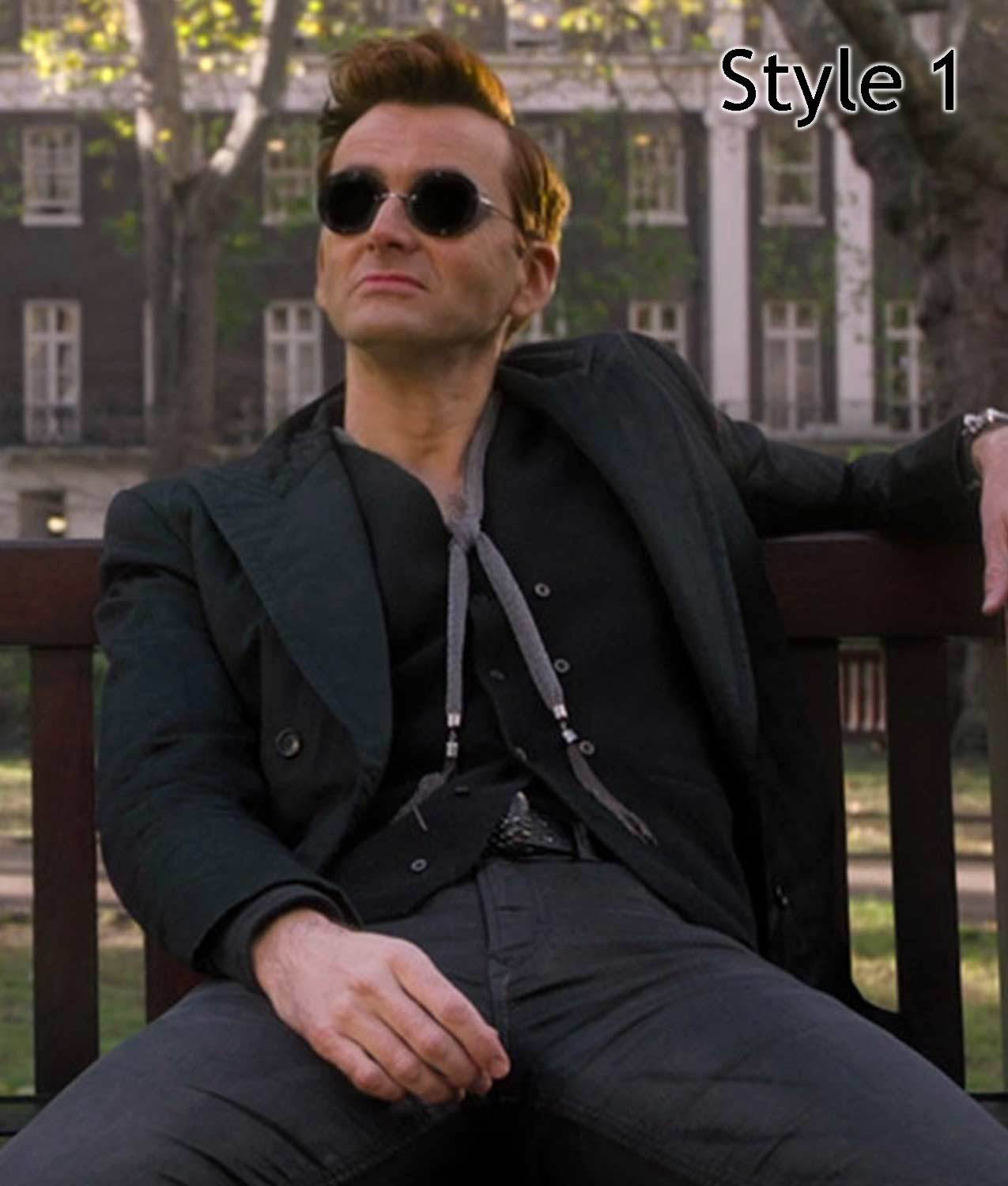 ---
This is what I've found:
Sunglasses: ($24)(already ordered)
https://www.amazon.com/LOMOL-Steampunk-Personality-Protection-Sunglasses/dp/B01KVT7U9I/ref=sr_1_1?dchild=1&keywords=sunglasses%2Bside%2Bshield%2Bsteampunk%2Bvintage%2Bcool%2Buv%2Bprotection%2Bround%2Bglasses&qid=1604196407&sr=8-1&th=1
Jacket: ($99)(already ordered)
David Tennant Good Omens Crowley Jacket
Off black henley
https://www.amazon.com/Amazon-Essentials-Slim-Fit-Long-Sleeve-XX-Large/dp/B07BJLD53N/ref=sr_1_7?dchild=1&keywords=grey%2Bhenley&qid=1604200653&rnid=2941120011&s=apparel&sr=1-7&th=1
($12)
or
https://www.amazon.com/Derminpro-Henley-Sleeve-Casual-Cotton/dp/B084L1BLNT/ref=sr_1_37?dchild=1&keywords=grey%2Bhenley&qid=1604200653&rnid=2941120011&s=apparel&sr=1-37&th=1&psc=1
($23)(would require some bleaching to make off black)
Skinny grey scarf with tassels at end ($32)
https://www.etsy.com/listing/741664386/good-omens-cosplay-crowleys-scarf?ga_order=most_relevant&ga_search_type=all&ga_view_type=gallery&ga_search_query=crowley+scarf&ref=sr_gallery-1-3&organic_search_click=1&pro=1
Black snakeskin belt screen accurate ($540)
RATTLE-SNAKE belt Black .Large Snake Belt. Crowley. Good | Etsy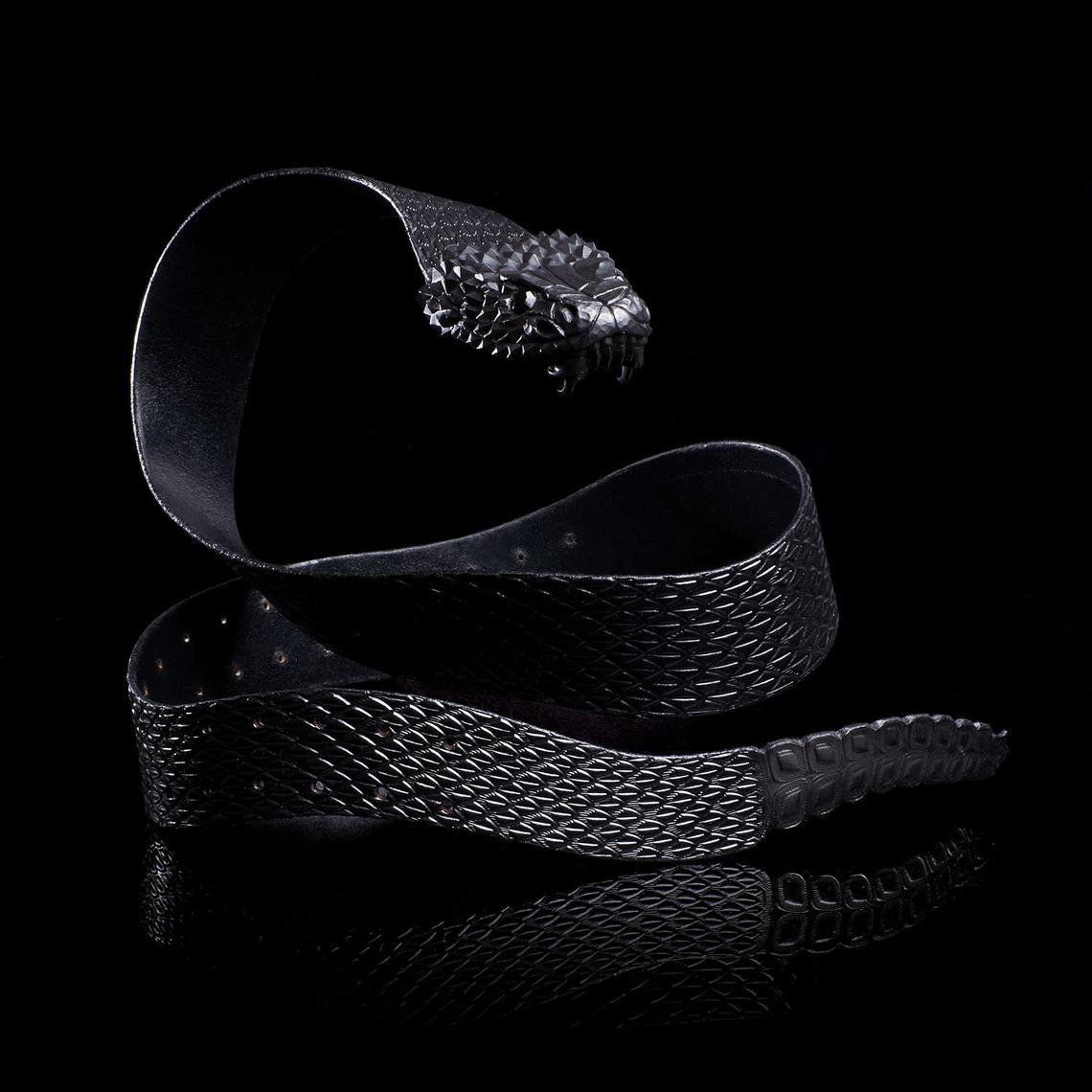 Snake belt buckle head to pair with a snakeskin belt while saving for screen accurate version ($27)
https://www.etsy.com/de/listing/720271659/good-omens-inspired-crowley-snake-head?ref=shop_home_active_2&crt=1
Watch: ($450)
Someone on here ID'd it as a Devon Tread 1 model, which run about 24k. So there's no chance I will ever be able to afford a real one. This is a seemingly alright replica. I would probably replace the strap, as it is rubber and I think the real one has a leather strap.
Perfect Wrist- High Quality Replica Watches For Sale Fake Watches - Perfectwrist.ru Buy Replica Devon Tread 1 DVNWRKS1 watch [DVNWRKS1] - Brand Devon Item Type replica Devon Thread 1 watches Case Stainless steel
Tattoo:
Lots of temporary tats on etsy.
Wig: ($30)
Rufio is short on the sides and approximately 2-4" (5-10 cm) long on the top. This specialty wig is styled into a faux-hawk with lots of pre-teased fibers and no skin top. This wig is relatively thick, but be careful in the back - if you spike it too straight with hairspray, it may show some...
arda-wigs.com
Would need to take some length off of the sides and back, I probably have to dye it a little browner too. If anyone has suggestions for a better quality wig, that would be great. But in terms of styling, it is very fitting.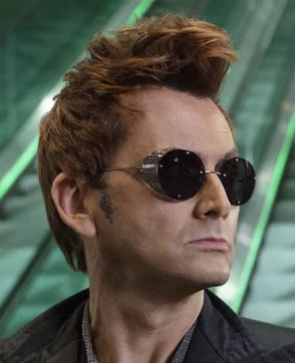 ---
Things I haven't found:
Black vest:
Crowley's vest for this costume is hard to take a look at, but I think it is double breasted. It isn't like any vest I can find so far. This is one I could really use help with.
Gold chain necklace:
I didn't even notice this while watching the show, but while looking at pictures I noticed it. I'm hoping I can find a reasonably priced, maybe not gold, but quality look a like at one of the jewelry kiosks at my local mall. It looks like a fairly common looking chain.
Black snake skin belt:
To pair with the buckle off of etsy. The belt part of the belt is an interesting texture and I doubt that I'll find something like it unless it's an intentional replica. If I can't find an intentional replica I will just buy whatever cheap black snakeskin belt I find first.
Faded black skinny jeans:
It would probably be easy to find a nice look a like for these, but I'd really like to find out if anyone has actually ID'd these.
Black boots:
I have a pair of boots (pictured below) that will do in a pinch, but they don't look as refined as the ones from the show. I would love to get something closer.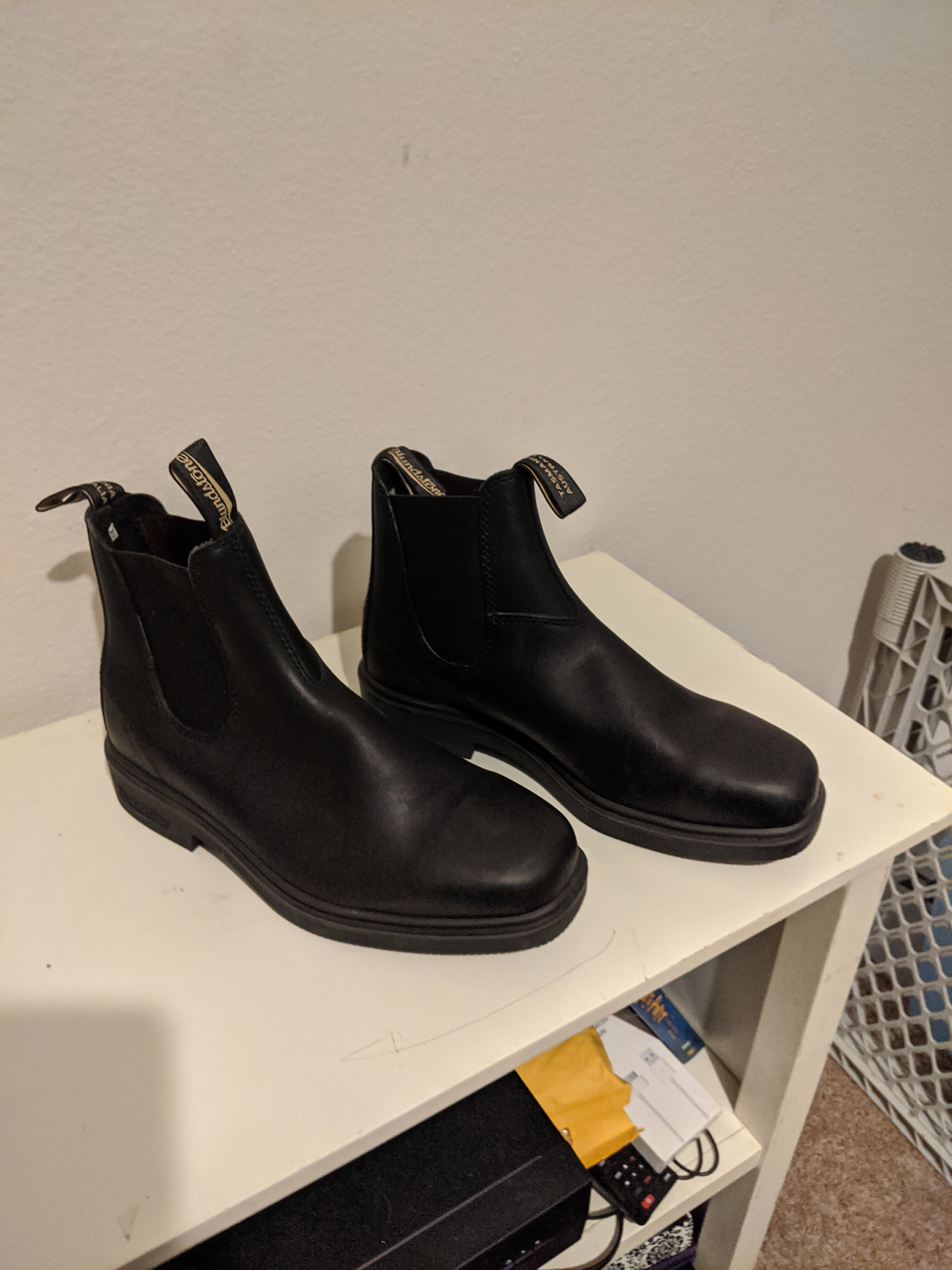 Leather Bentley keychain:
If there isn't someone who already makes a replica I could probably ask someone who does detailed leather work to make one. Attach a regular house or mailbox key, and good to go.
Any advice would be greatly appreciated. Thanks.
Last edited: