Hey all! I saw Birds of Prey last night and immediately decided I wanted to cosplay Huntress for either Anime Boston, New York Comicon, or Boston Comicon. Or all! I wanted to start this thread both to document my progress and get advice from y'all, especially about materials and techniques. I feel very confident building armor but I want to get better at making clothes.
Thanks to this lovely
thread
by
persialex
I have a lot of reference images to draw from, and I have made a tiny bit of progress in identifying what I may need for this.
I already have comparable shoes so no need to worry about that, and my real hair is pretty much identical. With that out of the way, I wanted to mention what I'm set on. As far as I can tell, most of her outfit is made out of leather/pleather/some mix of the two. The pants look like an high waisted oversized baggy leather pants, which is both strapped in at the ankles and tucked into the boots. I found a pretty good match on
Etsy
which I purchased since there was only one left in stock, and I also found a decently cheap chain on
Amazon
.
Where I'm stuck is the top and the belt, especially with the gaps between the neck and the chest, and the chest and the hip. If anyone can tell me how to make/buy these string like connective fabric (sorry for the awkward phrasing, I'm new to this aspect lol), please let me know. I would also love some help identifying the purplish fabric used at the bust, and the material of the utility belt.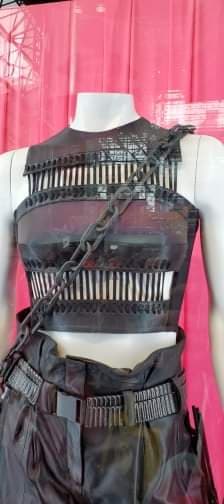 I'd also love a good and cheap match for her crossbow and arrow set. Anything helps, thank you all in advance!