I spent the last weekend at
CONvergence
, our local sci-fi convention with just under 5,000 attendees. I had a great time there, and my costumes got a lot of attention.
I suited up as the Predator on Friday evening and went on the hunt around the hotel. Our good friend
Bryan Humphrey
took some good photos of my Predator suit: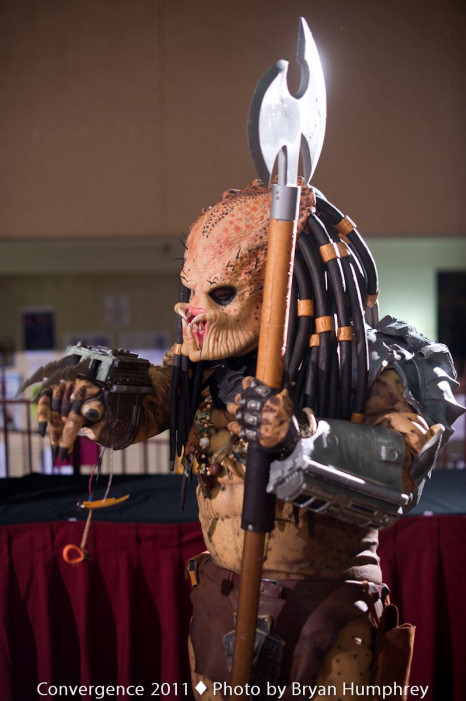 Suiting up on Friday evening turned out to be kind of a challenge, because it was so hot and humid that evening. I suited up just as a thunderstorm was rolling into the area. I was sweating like crazy and I had to take several breaks to rehydrate. Nevertheless, I was having so much fun posing for pictures that I stayed in the suit for nearly 2 1/2 hours until I finally felt like I was about to drop.
Then, on Saturday evening, I entered the Masquerade in my black leather armored dragon costume. I didn't win a major award for this, but I got an honorable mention for workmanship. I think the Best Workmanship award went to a guy who made Star Wars costumes for his kids -- one Darth Vader and one stormtrooper. They looked spot-on.
Here's my photo from the masquerade:
And, here's my photo from the
Moments Shared Photography
photo booth: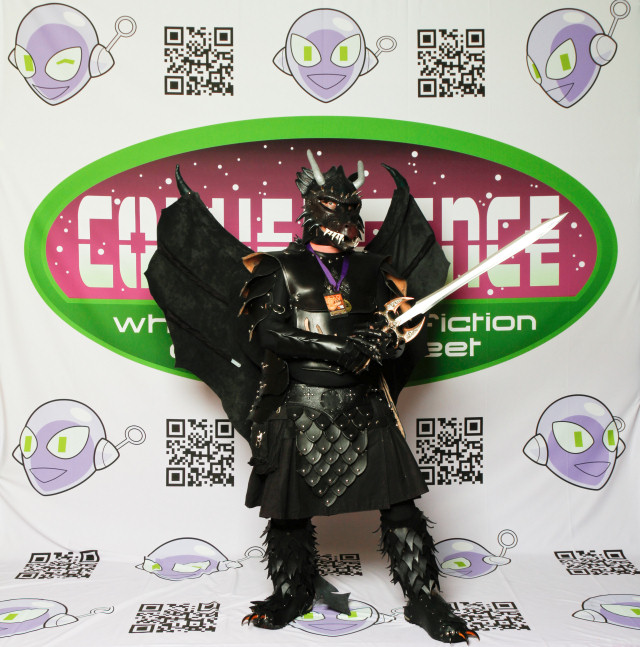 I liked these people, because they gave me some gaffer tape to fix the right wing joint after its hinge fell apart.
I also had my friend take a video of me dancing in the dragon outfit at Club Nerdtron, a party in one of the cabana rooms surrounding the pool.
Here's the video.
You can either laugh at it, or be amused that a black dragon is into rave dancing.
The black dragon was also a popular photo subject, though not as epic as my Predator suit. I don't think I'll ever be able to top my Predator build. Also, people kept asking if the dragon outfit with all the black leather armor was hot. Compared to the Predator suit, it was a completely tolerable temperature. The only problem was that the big dragon wings made it kind of hard to move around in crowded hallways.