Hey there folks!
I think I finally settled on my very first Star Wars costume. I've decided to go for The Mandalorian's Trapper Wolf in his Season 2 attire.
Sadly, so far not much research seems to have been done around the appearances of Carson Teva and Trapper Wolf. I think they're rather interesting, as the costumes appear to be mixed together out of OT style and Rogue One style costumes.
As such, I'd love if you guys could help me out a bit on the hunt for items - some Greeblies in particular!
I've taken plenty of screenshots to try and back these up as best as possible. However, I'm not super experienced when it comes to pilots - any input helps!
Let's start of by first saying: We don't have a whole lot of references on these two, as they only appear in a few scenes. We will have to speculate a bit when it comes to Trapper Wolf in particular. As such, I would like to imagine that we can simply fill any gaps we have on Trapper Wolf references with Teva's outfit. It's pretty fair to assume that these both are on the same production and thus the parts used on the costumes *should* match.
First, let's get some reference in here and the obvious things out of the way. My references are from a 4K Source for the most part, but for some reason the Screenshot tool I'm using does not like the HDR application on 4K. As such, many of the images will have washed out colors to them and not look *quite right* when it comes to color grading. I opted for the 4K Source however, as it will simply aid in finding details up close.
Flightsuit:
The flightsuit itself appears to be an Original Trilogy style suit. It very clearly lacks the sheen and "puffy" look found on the Rogue One/Mando Season 1 suits.
The Compad appears to be in Rogue One style as well, simply due to the sharp detail on the pad itself.
There are three Code Cylinders inserted for both Pilots. However, upon closer inspection I found that both Pilots have 3 separate Code Cylinders, none of which appear to match the OT Cylinders.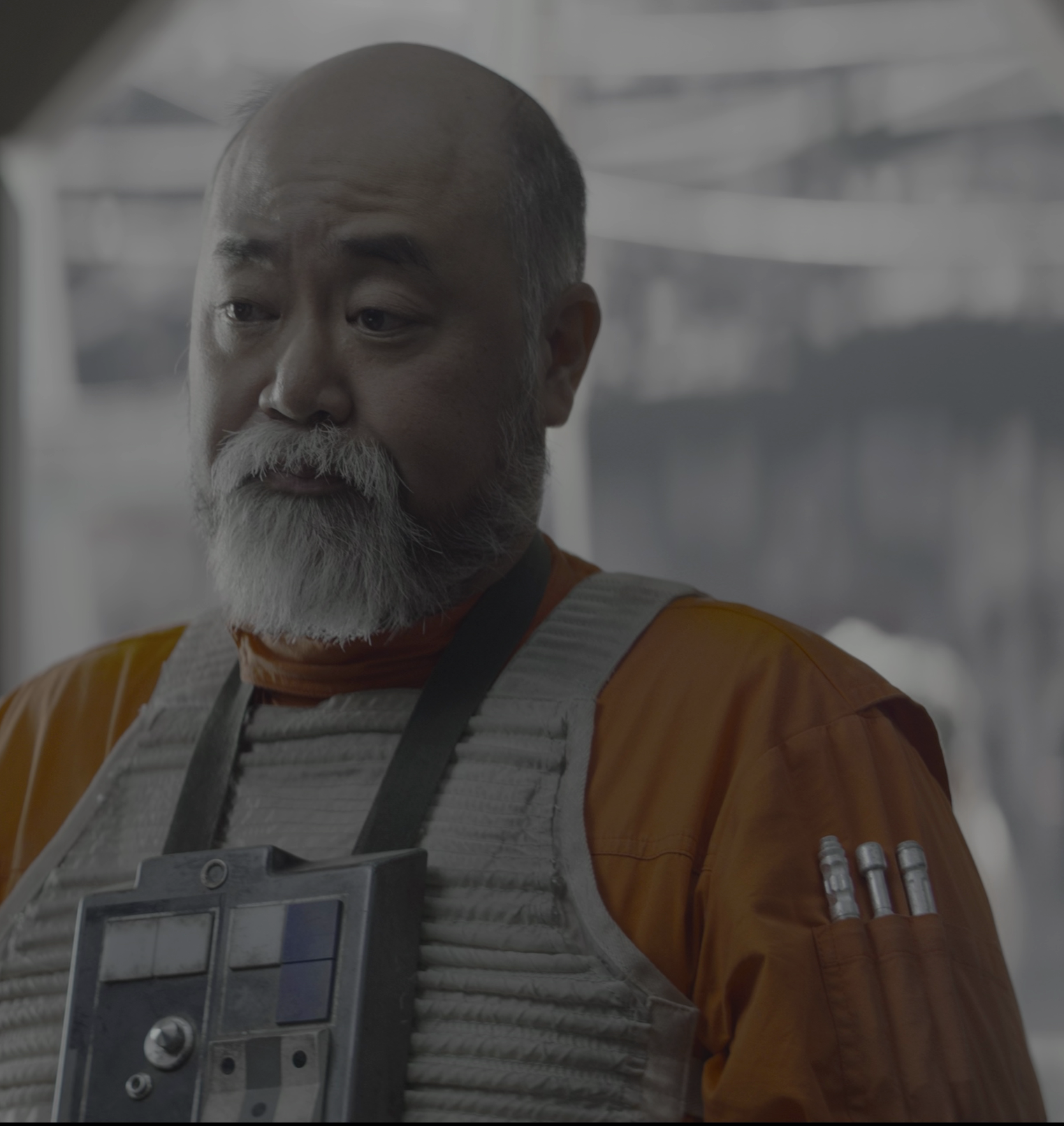 From my research, these also don't appear to match the Rogue One cylinders. What are these? Are these props we already know about? This is where I'm really stuck and have no idea how to get my hands on these - other than fabricating my own 3D files and printing.
This is a step that I would like to avoid if possible however.
Gloves:
Like seen in Reference Image 1, these are clearly Rogue One gloves with the "mini" Compad on top of the glove, as well as on the flightsuit itself.
Flak Vest:
I believe this to be an OT Flak Vest.
Interestingly, Carson wears his "the correct way", whereas Trapper wears his one backwards/ESB style.
Upon further inspection, I believe these to be closer in style to the Rogue One vests, in particular due to the closures on the sides.
Chest Box:
Please don't crucify me over this, but I'm yet to figure out the actual difference between Rogue One and OT Chestbox. What I did notice however is, that the O-shaped detail on the top of the box is actually a raised piece, rather than just a sticker. The weathering on both Carson and Trapper is slightly different, which leads me to believe that at least two Chest boxes were used during production.
The Hose coming out of the chestbox appears to be held on with a magnet, rather than a hole in the suit.
At this point, our refernces for Trapper Wolf kind of just end. We have to assume he wears the same style as Carson from here on out.
Harness:
Looks OT to me. It doesn't seem to have the harsh texture found on the Rogue One harnesses?
Upon further inspection, these appear to match the OT harness in form and texture, but not in color. They're clearly non reflective and appear off-white/beige, like you would find on some of the Hasbro toys.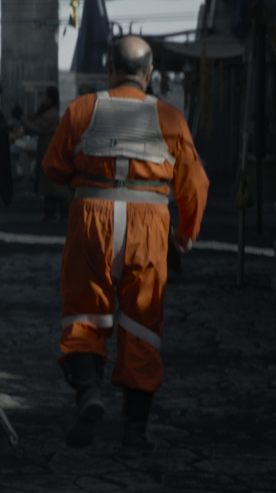 Belt:
I'm honestly clueless if these are Rogue One or OT styled. Help
Belt Flares:
These look somewhat different from the Rogue One Greeblies, albeit similar. If I had to guess they look "fuller" in the middle?
Any input would be great here - maybe somebody recognizes these.
After further research, I believe these are straight up Rogue One
Leg Flare:
Too small to tell realistically at this point.
I'd likely just settle for OT Flares and Flare Pins. I haven't really looked into the Rogue One counterparts, though that might change in the future?
Upon further inspection, I'm pretty sure these are Rogue One/TFA style leg flares.
Boots:
The workhorse of Star Wars costuming. I'll likely settle for Crowprops personally.
And that's all my thoughts on these so far. If you disagree, please let me know! I'd love to put together an as accurate costume as possible - based on the limited info we have at the moment.
Here's also a link with the imgur Album I uploaded. You'll find the references there:
Thanks for reading and happy Greeblie hunt!