Ok guys so Working on a commission for xenosphinx aka larry
Two projects basically going at once i am first doing a repair, assemble and prep and paint of a AVP shurikan, and the second project is a P1 bio prep and paint.
So far i have not been able to get to far on the prep and paint this past weekend with the weather being as cold as it was here in texas the only steps i was able to really dive into was repairing the broken blade and forming the breathing harness on the bio. The jb quick resin did not want to dry for the life of me.
Outside of the repairs i added some addtitional resin in the back of the bio about a week ago larry and i had added some resin as well but i added a little more and will be adding some more again to try and fully fill in the holes in the back i just ran out over the weekend so couldnt finish the filling.
i also preped the five other shurikan blades and added there first coat of Krlyon hammered silver going to add another coat in a day or too and will be fully priming the now repaired blade as for the disc of the blade and the bio i need more jb quick to attach the buttons on the shurikan and attach the laser housing to the bio.
I also am not leaving the breating harness in its current condition i need to sand it more to get it smooth not so ruff where its at right now i just wanted to get some progress pics up to show there is progress just slowing than expected.
once i get all the holes on the inside of the bio filled and the shurikans buttons attached im going to try and finish and paint the shurikan this weekend and for the bio if i have no issues mounting the laser housing ill get that painted up as well so more pics to come.
Also incase any of you are wandering what the white thing is in the back of the bio that is a pieces of styrene when larry had showed me the bio a piece of the bio had been i guess snapped off in transit to him or maybe when it was pulled from the mold it just broke off so what i and larry did was place the styrene down and than added some resin to it however we didnt add enough resin so that also has to be finished which i will do once i score some more jb quick sometime this week.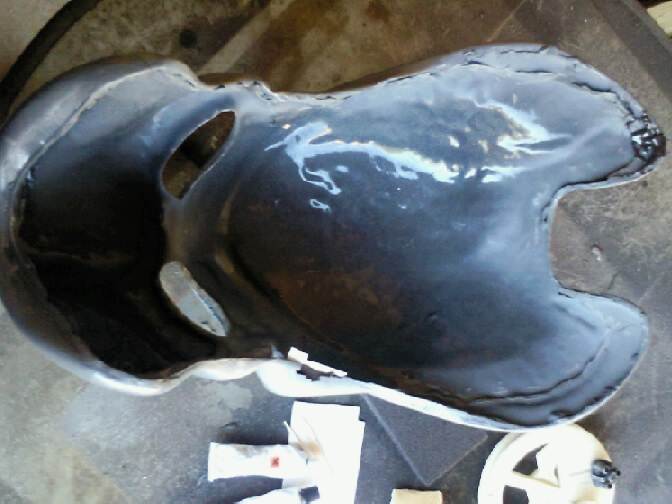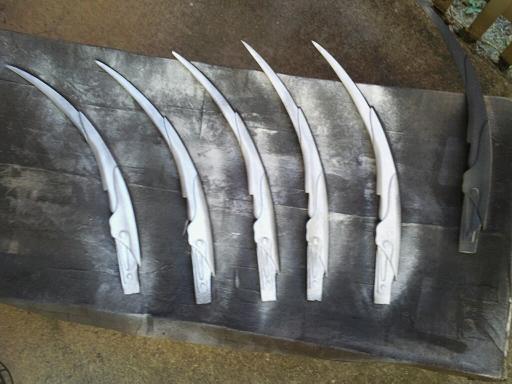 so stay tuned for updates
Updates
So Made some progress on the bio I Sanding down the bio mounted the tri laser housing cleaned up the breathing hose connector
filled in the holes in the back of the bio gave it a good sanding and than a nice wet sanding and now a good coat of primer plan on starting the bio paint up tommorrow and have it finished before or by friday
As for the shurikan
the blades are all finished and weathered Post pics of them shortly. Tommorrow i will try and mount them on to the shurikan before that process start the shurkan base needs one more coat of silver and than i will paint the finger wedges mask off everything once dried and begin mounting the blades. Once all the blades are mounted ill give the whole shurikan a once over if it needs less or more weathering i will add that and than clear coat the whole set up and it will be done
So more pics to come so stay tuned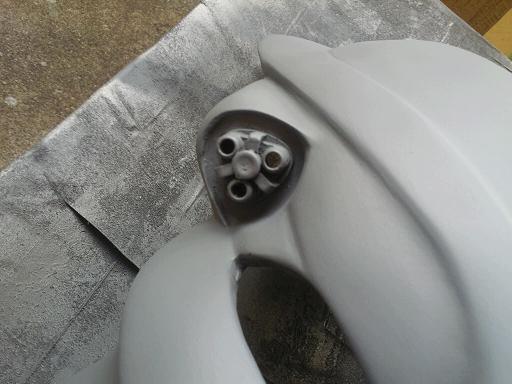 update bio is done ill try and get more shots tommorrow in the light was getting dark when i snapped this shurikan is 80% blades are being mounted right now pics to come soon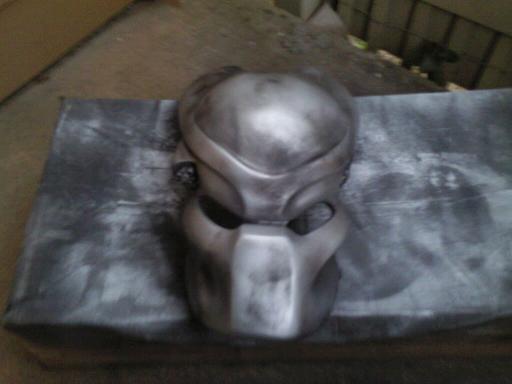 more pics
Thanks For looking
Matt =)
Last edited by a moderator: