Last weekend I spend 2 nights at a set for a commercial.
I had the fantastic job to be responsible for the creatures, make up en special fx.
Here are a few pics with the pred.
More pics to come with the other monsters in the next day.
Who, or what, was the cast? A pred, a bug, a cool vampire (corpses are always cold lol), a death doctor, Jack the Ripper, and so on.
I can't tell you more for what the shoot was since it was forbidden by the producer. I'll post it here after the release date.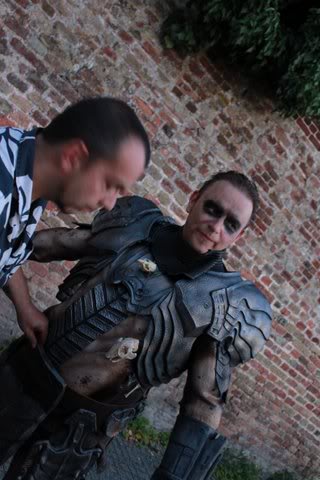 Notice the make up around the eyes. The pred was wearing a bio but the performer did not knew you don't have to do se with a bio on... small practical joke.
Last minute check up before shooting
Preds in the mist
Creating a vampire. This was only the beginning. I hope to get some "on set pics" because this was realy freaky once I was done with the make up
The pred performer was quit fund on the special fx loser, me