Hello, I try to take on a big project once a year with my kids. I have been wanting to do a fully 3d printed armor suit for some time, but have had limited success for various reasons. (Printer too small, not enough modeling time, lazy, etc.)
Here is a sneak peek at what we wound up with.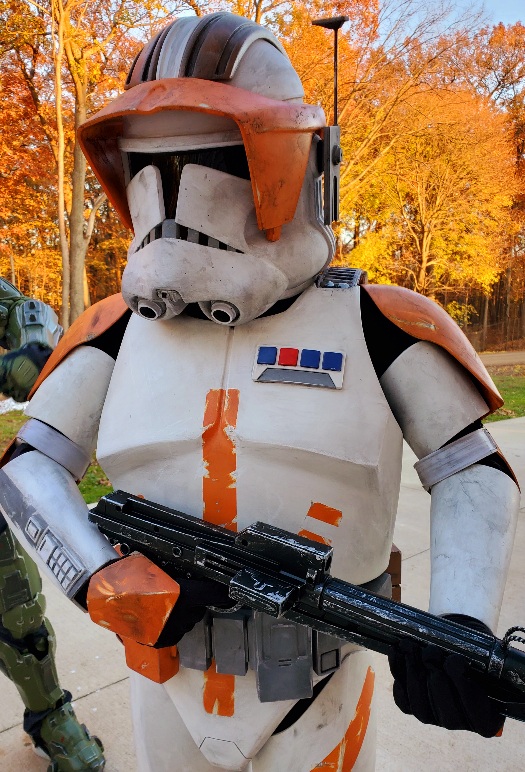 So this year we decided to take one on again. My 9 year old son wanted very badly to be Commander Cody. So to save some time, I bought a 3d modeled "Wearable" set of files from a site on the web. I won't say where, because the files were a disaster and I'm super angry and don't want to speak out of emotion. Let's just say the files were unusable. They looked great on screen, but once evaluated, impossible fit from part to part, way too thick, or way too thin, or bad proportions, etc.
So I wound up modeling almost all of the costume myself anyway. (What a waste of 100 dollars, for the files). And of course no refund. Gah!
So off to Blender I go. My goal was to reuse as many base files as I could and only completely remodel what I had to. I only had 5 weeks total, and if you have done a project like this, you know that's down to the wire already.
This year I decided to buy a big 3d printer... and idex one. I bought a Multoo MT2X. More on that later. I have an Atom 3dp and an Anycubic Predator, so until the Multoo showed up, those two were the ones I used.
The body pieces where HUGE and I had to print them in pieces. It gets cold here, and opening the door a couple of times in the shop really messed up a few prints. And of course all of the failures of 3d prints happen 99.7 percent of the way into the print, so you make sure to waste the maximum amount of time and filament =) So I also bought a 3d print pen, in hopes of gluing the prints together with that, instead of actual glue. (And it worked much better than I could have imagined.) I highly recommend that method.
More to follow.
Gumby
Last edited: