A few years back I bought a Dredd helmet off ebay. I had planned to do a costume at the time, but my ability to cut foam for building the shoulder armour was woeful.
Last year I finally got a chance to do some 3D printing. Using the files produced by
thelongs395
on Thingiverse I was able to print some shoulder armour (and belt buckle, and lawgiver).
The eagle shoulder had to be printed at 95% of the file size to fit on the printer bed. I'm new to 3D printing, so slicing up someone else's file to fit pieces is a bit beyond my skill level at the moment. However, I was inspired by some of the comic Dredd/Dredd 2012 hybrid costumes out there, where the shoulder armour is less exaggerated and more of a practically sized emblem of office. I have used the 70's era Dredd as a template, because 1) He is more lean and mean than the buff and big chinned version of the mid 80s onwards and 2) His uniform varied so much that any interpretation will fit.
The first few pieces of my Lawgiver (printer ran out of filament and I took this photo before printing the last of the gun)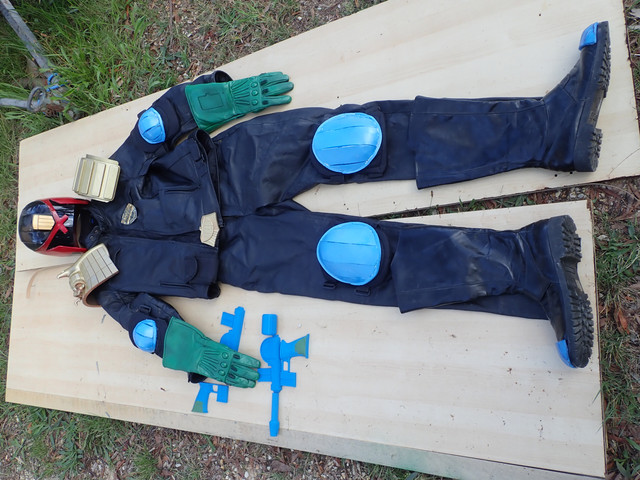 One of our Judges has evaporated!
Doing a parts layout (still need to source belt and badge chain). Knee and Elbow pads have just had a few coats of PVA glue to prep them for painting. Uniform was two lucky buys at an op shop. Hopefully, not long till complete
Last edited: