Seeing as how there just haven't been enough threads on sonic screwdrivers around here...
I'll assume anyone reading this is not only familiar with, but owns one or two of the Character Options toy 10th Doctor sonic screwdrivers. (Why wouldn't you? They look good, they are reasonably priced, they have lights and sound... [unless you've not been watching Doctor Who- ])
The only real issue with the toy is the size. As has been pointed out before, and can be seen clearly in this great photo stolen from ectrophy:
Mostly, it is just too darn long. I've found at least one other thread here where someone has attempted to shorten the toy- this was d_jedi1's version:
http://www.therpf.com/f9/c-o-9-10-sonic-screwdriver-minor-upgrades-89309/
I chose to go a bit further.
The pictures below are not for the timid- they depict graphic dremeling and hacksawing to a poor plastic toy!
Initial dis-assembly: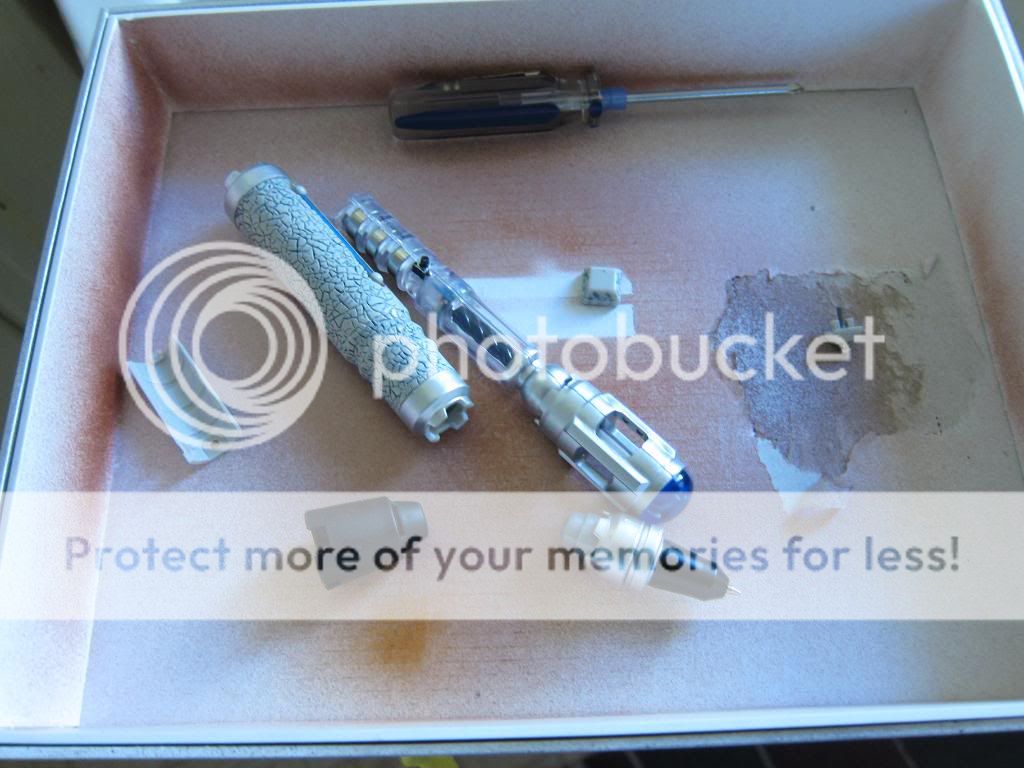 To make the sonic as short (or at least much closer) as the actual prop, but keep the lights and sound working in the same way, you have to not only shorten the outer tube, but the inner one as well.
Outer tube:
The trick is to reduce the size of the battery compartment. If you remove the intermediate contacts, you can barely cram three batteries in the space originally required for two:
Then you need to get a little more room inside the outer tube- this was also done with a dremel. (Mostly with a very small sanding wheel.)
Finally the end part needs some trimming to fit, as well.
If I had cut the pen's tube too, I could have kept it, but I never write with it, so it was removed instead.
Here's where I ended up:
Still functions the same way as the toy (for better or worse) now, it's just shorter.
Thanks for looking!