Master Member
RPF PREMIUM MEMBER
Since having discovered Outlander a few years back, i fell head over heels with the costumes and in particularly EVERYTHING that Claire Fraser wears! I've made several replicas of her costumes over the years, but this one in particular is the one I'm the most proud of, as I found the screen used fabric for the tartan skirt, and found the same fabrics used for the bodice as well as the yarn for the shawl. this is the closest replica of a screen used costume that i think I've ever managed to create!
It started with making the underpinnings... a shift (nightgown), stays (like a corset) and a bum pad. I constructed all of these using historically accurate 18th century patterns from J.P. Ryan patterns.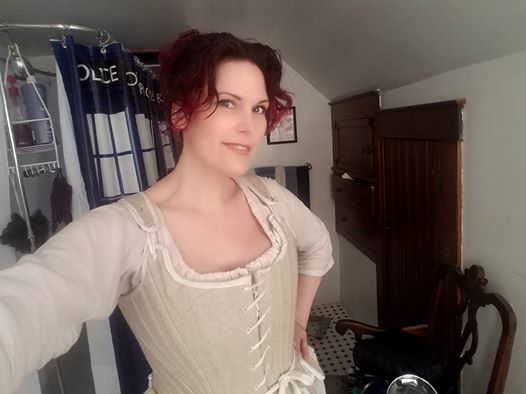 The entire look of this sort of clothing depends on wearing these, and getting the shape right. I constructed this pair from 4 layers of cotton twill and an outer layer of heavy linen. I used industrial strength zip ties for the boning. I have since made a second pair, out of leather... which I'm currently breaking in.
After this foundation is in place, one can tie on a petticoat (skirt) and a complimentary bodice. The gap in front is filled with something called a stomacher. I've made several of these, to compliment different outfits.
Here's a look at the costume i'm referring to, alongside a screenshot from the show to illustrate how close I've come to nailing this look.
Here's another of her iconic looks that I've been working on. I have sourced fabric for the skirt that was reproduced by the designer of the original tartans used in the show, but he and I are now in the midst of working on a tweed version of it, which i think will be MUCH closer to the original.
It is SO rare in costuming that one is able to find a person who actually worked on the production that your costume comes from, let alone the one who designed the fabrics that were used for it... and even rarer still that you become friends with them, and can work on replicas together! Very exciting!