Sr Member
RPF PREMIUM MEMBER
I'm a big fan of Chucky, so when Coinprop offered up a few casts from a screen used Good Guys doll's head, I had to have one. Medicom have offered a few lifesize Chucky's over the years, but nothing comes as close as this to screen accuracy.
When he arrived it was a nice cast and already primered, but there were a few pin holes that needed filled and seam lines that needed smoothed, so I hit everything with sandpaper: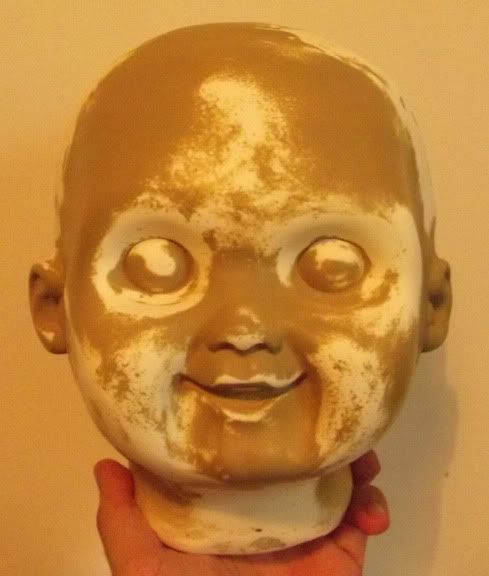 I did take pics of each step of my paintup, but sadly I found the pics were corrupted when I tried to load them to my computer. So jump a few steps to everything painted except the eyes: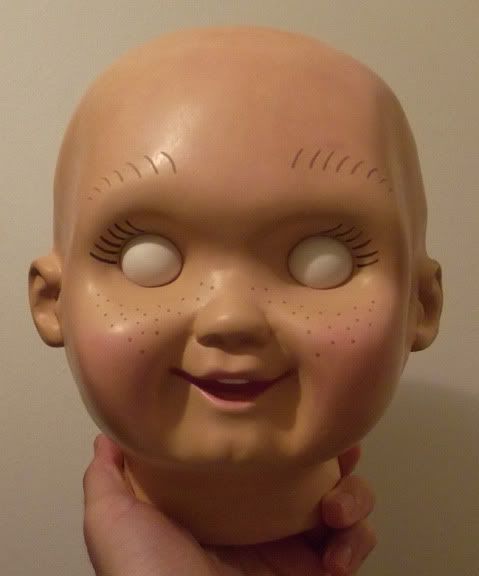 The head had been filled with expanding foam and the bottom of the neck sealed with resin when I got it, so it was looking impossible (or at least a LOT of hassle) to install eyes from the inside. So I decided to replicate the background Good Guys dolls that had painted eyes:
Screen used background doll:
My head with painted eyes:
I was going to leave things at this point. But the more I looked at it, the more I didn't like it. Eventually I just couldn't live with it like this. The irises/pupils just didn't look perfectly round enough and one eye looked very slightly lower than the other.
Eventually I decided to bite the bullet and cut open the bottom of the neck, hollow out the inside of the head and cut out the eyes. Thankfully the expanding foam had only filled half the head, so that made the dremelling a lot easier once I'd cut through the resin in the neck opening.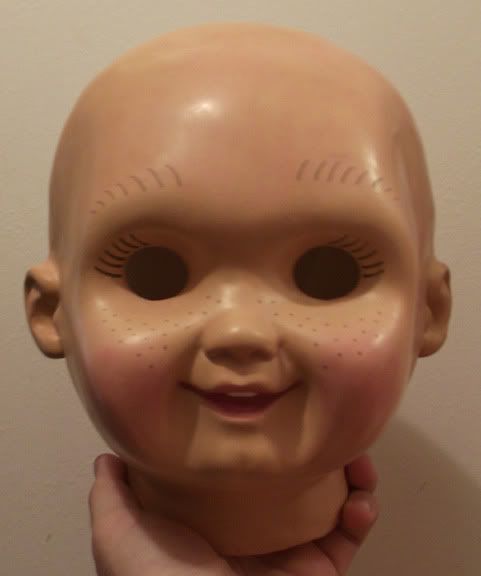 And finally I found a pair of 26mm blue doll eyes I had spare. If I can find anything more screen accurate I'll replace them, but for now I'm happy with them - MUCH happier than with my earlier painted eyes.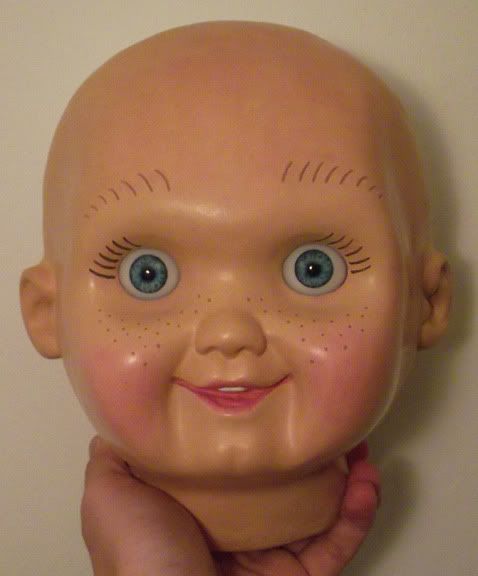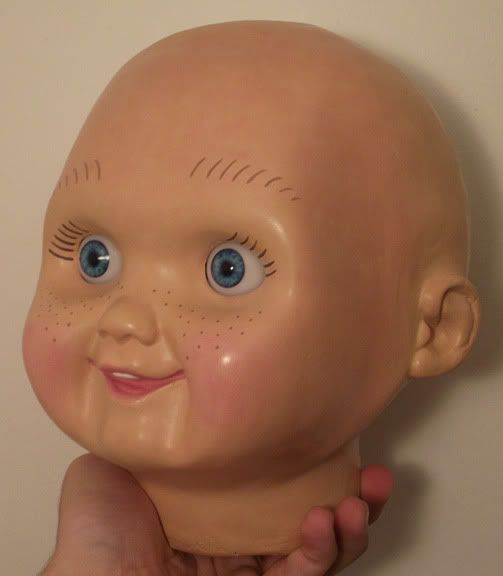 Now Chucky just needs some hair. I've searched and searched on eBay, but I can't find any wig that looks that I could be suitable with a bit of cutting/styling.
Anyone know where I can find a (correct shade) ginger wig with a side parting of the right (or longer) length?
Last edited: