Haven't got the balls yet (the materials, I mean) but I'm planning on building
the Cetacean submarine built by Gene Warren (?) for The Man from Atlantis.
I don't know if a lot of you will be able to relate but one of my biggest dreams as a little kid was to be able to swim dolphin-style like the Man from Atlantis and look at the imaginary webbing between my fingers. That - and to own a toy of that submarine. I didn't even know what it was called. I don't recall hearing it mentioned in the show or maybe I just wasn't listening. Visuals affected me more than dialogue back then.
A local store has these big Christmas balls on their display racks and I can visualize the submarine on my workbench. But before I purchase the balls I wanted to ask for some advice. The only few sources on the web mention the length of the studio-scale ship being 38 inches. If I were to use 8-inch balls and 2-inch passageways, that makes it 38" excluding the propeller housing. But the passageways look longer so that the balls should be smaller.
In the photo below the balls look no less than 10 inches tall. Then the 4 balls alone make 40 inches. And with the passageways the submarine length is an easy 48". I tried my best to estimate the size - and with Gene's hand (is that Gene Warren himself?) at 4" wide approximately, that second ball he's working on seems more than 3 hands wide - more than 12" inches tall. So I'm really confused as it's mentioned it's the only model built for the show which means -- that auctioned prop was it. I would be really happy if anyone can share any other info on the Cetacean. Maybe someone here actually worked on the show (wow!!!) ? Or if the collector who won that prop can share photos and dimensions that would make me truly grateful.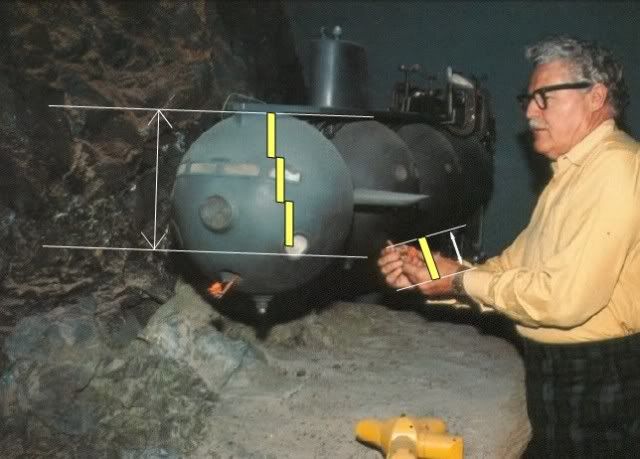 I read they filmed the prop dry in a smoke-filled room to simulate the deep-water environment but someone mentioned the pilot episode was filmed wet which makes it a real RC sub (cool!) - it did look like it was moving underwater under it's own power in the show.
Submarine miniature from The Man from Atlantis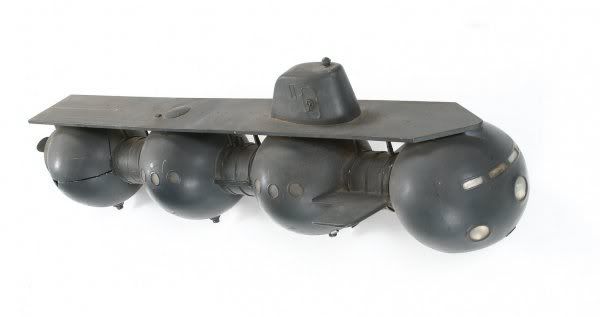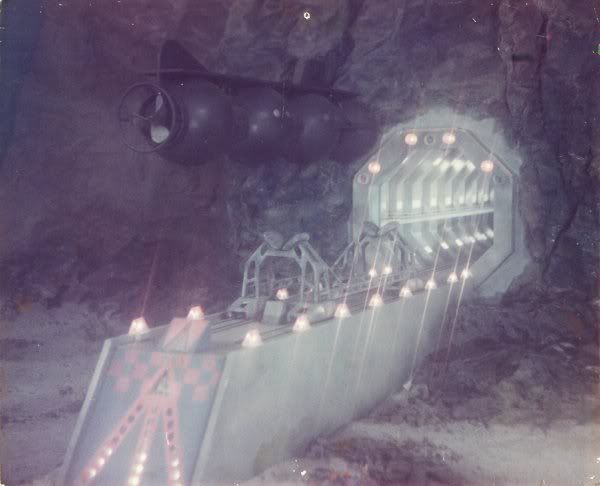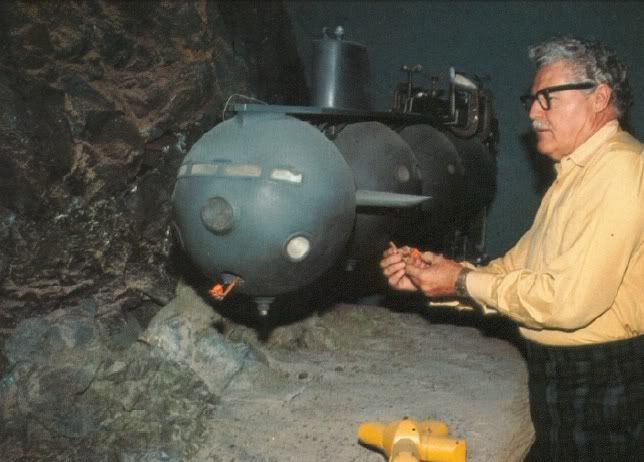 FSM Board: MAN FROM ATLANTIS Submarine Found
Patrick Duffy - Man From Atlantis Pilot - Part 4 of 7 - YouTube
Last edited: