Ok - so here's my first suit.
First - I promise to upload better pics as i get them.
I spent 40 nights - about 2-3 hours a night. Basically working after the kids are in bed - forgoing my video game time - lol.
I want to thank everyone on the boards who's posted tips and tricks I took quite a few techniques from here as well as making a few of my own I'd be happy to share. I think this also shows a lot of what I've spoken about in my own postings here.
I spent about 4 hours on the mask sculpt itself - with only 100 hrs of time to do the whole thing - I had to work judiciously about how long to spend on each element to make sure the level of detail was even across the costume. No one part was unfinished. (ok in this pic I'm not wearing finger tips - but that was intentional since this was me at work in the office - lol - yeah i was busy editing video at my computer in that costume - lol)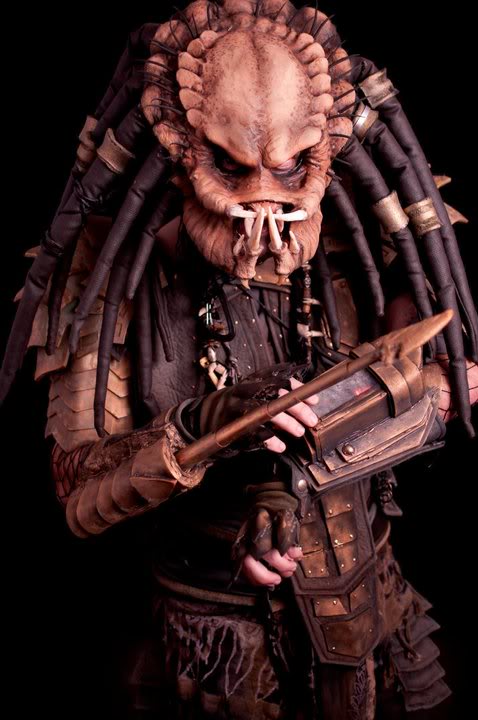 Details...
Airbrush the latex in washes and glazes - paint slowly with lite colors to dark - kept color pallets to human skin tone ranges
Sculpy III for Teeth - a nice mix of colors for a good deep ivory look. Did not hit them with lots of paint - let the material do the work.
Working wrist gauntlet and helmet bio lights - scrounged battery operated Xmas LEDs from Amazon.com
Cannibalized a broken star wars light saber to make a collapsing telescopic wrist spear - worked extremely well.
Craft foam armor over the whole body - legs upper torso cut - hot glued - sewn and some leather rivets for extra structural hold... Just painted to look real - simple enough -make it look good then spend days dirtying it up.
body armor underlay - discarded upholstery fabric - sewn and hot glued - mixed with thin layers of craft foam.
Dirty the whole creation with varying washes and splashes of brown, black, white, blue/green acrylic.
Use Rub N Buff creme on any foam edges for metal wear.
Used a lot of remnant fabrics for details (Hawaiian and tropical patterns with tassels actually look natural) for the legs - and crotch loincloths and other bits - I also used these to clean my brushes and my hands as I worked so they'd get naturally jacked up. Nothing worse than a squeaky clean monster costume.
If you've got any questions - ask - I'm happy to answer.
Cathat