--CLASSIFIED INFORMATION-- U.S.government file 05-26-2019
Hello everyone,
My name is not important, but my research on this unknown creature is. It goes by many names.. but here in the lab, of this government facility we've learned to call it, a PREDATOR.
It's an unknown species of hostile hunters from a different planet. It's kind has visited our planet in search of prey for unknown reasons in animal rituals or perhaps it comes to hunt us for sport. We do not know..
My research on its first kind was a primitive hunter. Which I have called it "the Texas predator" also known as "the head HUNTER" was an amateur in its design. Flawed and careless it's skin was made of DUCT TAPE and spray paint. It's armor was made of foam boards and hot glue. It was bulky and heavy the skin of this creature would crack and flake under pressure leaving trails of its whereabouts from its flakey skin. Until suddenly after Halloween 2018 it disappeared..
Our Intel reports that a second coming of its kind is to reappear perhaps an upgraded version of the first, or MAYBE it's a different PREDATOR..
We do not know-
Stay informed as I give you further updates about this hostile hunter being called, THE TEXAS PREDATOR..
P.S.-- call your U.S.government for any sightings and DO NOT attempt to capture or KILL this extremely dangerous creature... because it's a F***ing alien.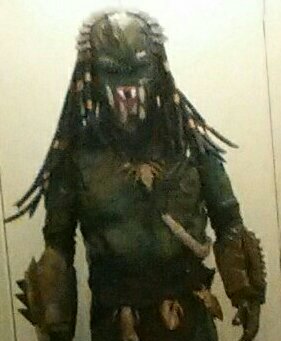 Last known picture taken October 2018.