Yeah, I'm pretty late to this game but I finally found some time to finish this up.
So in short, I've always loved the reveal look when ROTJ came out. And when this helmet was released (this is the first version, not the latest) I had to have it for the reveal display.
(This post isn't about the helmet itself so let's not go there.)
I've seen many reveal stands that you and others have shared and drew many inspiration from those photos. This is my version of the stand and hope that other can draw some inspiration and maybe even a bit of DIY for themselves for their Vader reveal helmets.
So that said, let's get started...
Materials
1/2" PVC pipe: 1.5", 3", 6", 7", 10" lengths
1/2" PVC T-fitting x1
1/2" PVC elbows x2
1/2" PVC end cap x3
1/2" PVC connector sleeve x1
1/2" MDF 12" x 18"
1/8" hobby board: 4" round, 5" round, custom to fit jaw piece
popsicle sticks
rubber pads
foam
Bicycle light lens
JBWeld, spackle
Sandpaper: 220, 500
Forstner bits: 7/8", 1 1/8"
Paint: Rustoleum filler primer, Krylon primer, Krylon satin black, Krylon flat clear
The Mock Up
This clearly isn't a difficult build by any means but I needed to do some initial test fits to see how this would look.
First up is the platform from some scrap material I had. Cut the long side of a T-fitting in half and screwed it to a couple pieces of wood.
Cut and assembled some PVC pipe and this was roughly the final design.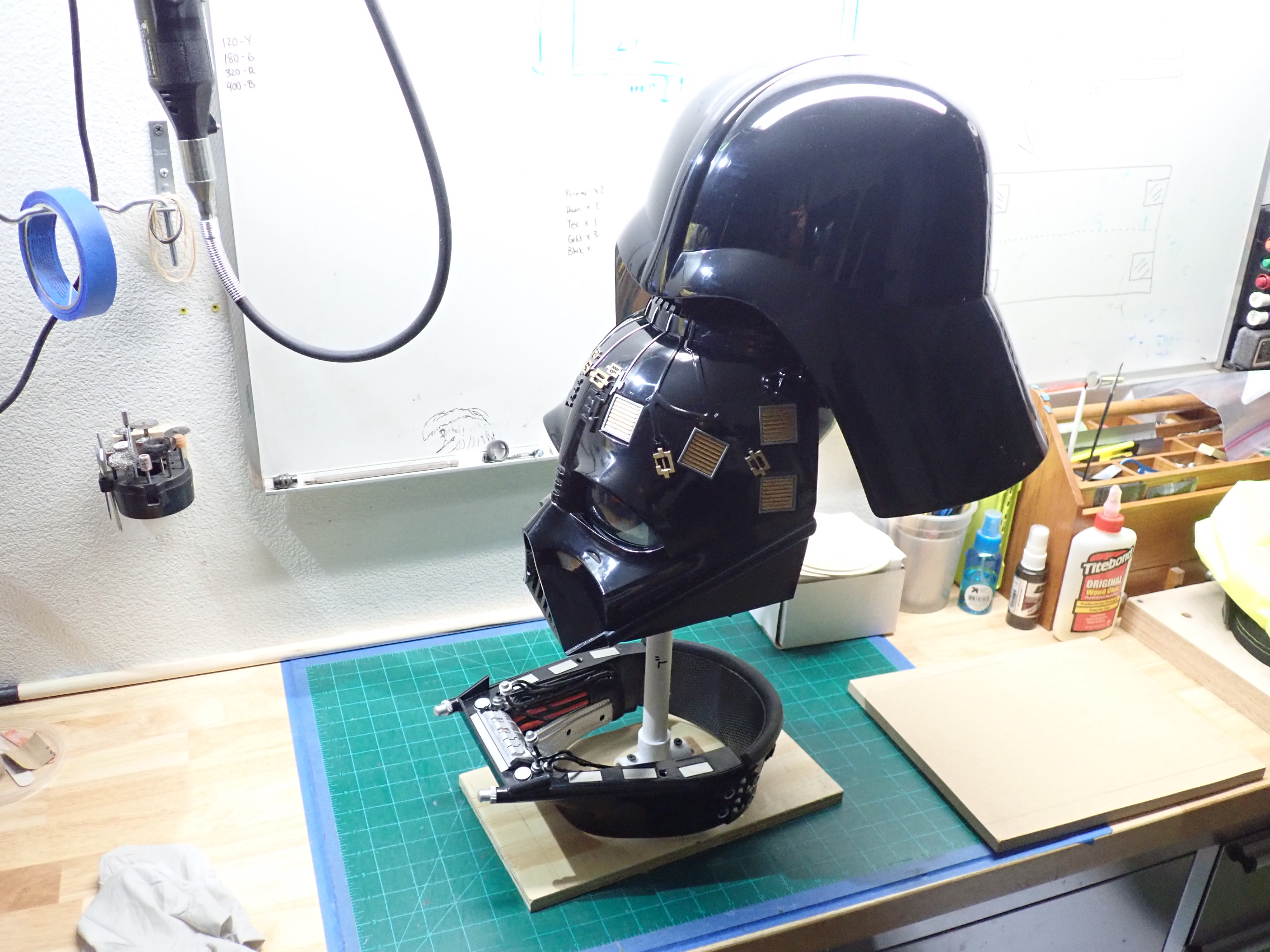 Last edited: