I thought I would have a go at making some hands using what I had in the house, apart from the devil gloves which I had to buy; these are what I started out with.
To get rid of the red colour I mixed some cream acrylic with latex to give me the skin colour.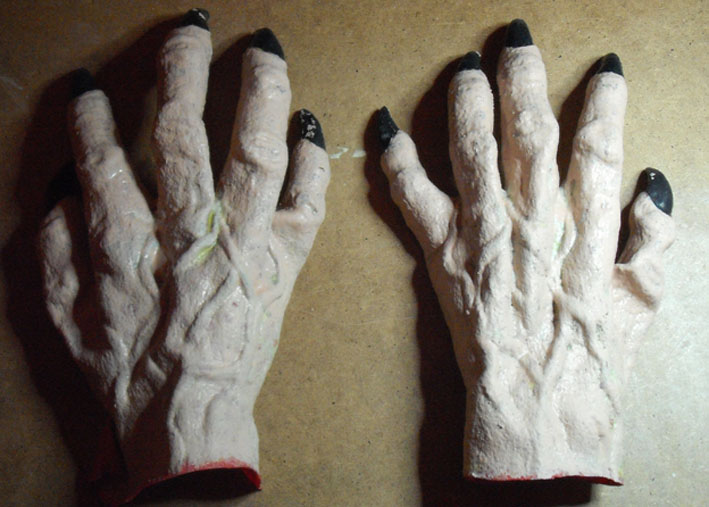 I now started to add the black pattern, using latex pigment, I haven't used these before but according to the suppliers they are fully flexible and as they are made of latex should bond well. The right hand looks odd because I folded and glued the fingers to shorten them, I think I should have cut, trimmed and reglued the fingers first to get rid of the bulkiness caused by folding - ah well, you live and learn.
The next job was the gloves, I used pieces of craft foam glued directly onto the gloves while I was wearing them.These were painted with raw sienna fthen burnt umber was dabbed on for a leather look.
For the knuckle bones I used pieces of upholstery foam, painted cream and grey then stuck onto the gloves; I made some foam rings to go around the bones for a neat finish.
I didn't glue the gloves where they went over the inside of the wrists to allow for easier fitting and removal, I used velcro here instead. The final job was a coat of gloss medium and varnish over the skin, job done.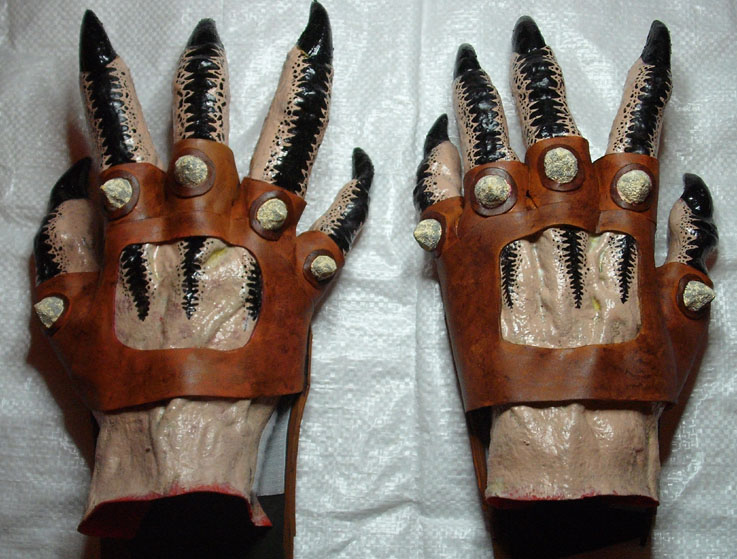 Let me know what you think, suggestions,criticisms always welcome.
Last edited by a moderator: