Sr Member
RPF PREMIUM MEMBER
Hi folks
I thought I'd do my next sabre build as a sort of tutorial for those that might be interested. For the actual sabre parts and fittings, it works out to about £45 per sabre inc blade, though it works out cheaper if you buy to make two or three.
I'd love to make the hilt from stainless, but I don't have access to a metal lathe or any CNC machines, so instead I'll be using aluminium tubing, hand/power tools and accessories I have in my shed/workshop that pretty much everyone owns.
Yes, aluminium is a bit soft, but it's inexpensive, and a very decent looking/feeling sabre can be made cheaply. It's also easy to polish and buff to a high shine, and comes in a plethora of diameters and lengths making it a very accessible material to make hilts with.
As it is a softer metal, a bit of extra handling care will be needed during the build process and after, though in my opinion a fair trade off for what you end up with for such low costs.
Things you will need:
Workshop/tools
-------------------------
A couple of basic tools and peripherals would be an advantage for this build, such as a drill press, or press attachment, a mitre/chop saw with metal cutting blade or some such for cutting the tubes squarely*, and a vice■ too, but it can be done without them.
*I use an angle grinder and bought a mount for it that turns it into a chop saw. I paid about £25 for that, and a metal cutting blade on ebay which makes it a much cheaper alternative to buying a purpose made chop saw.
■The one item I did splash out on has proved to be the most invaluable tool I've ever bought, and that's a 4 way mechanic cross vice which you can you can pick up for less than £50, though the cheaper they are, the less accurately engeineered they are so you'll need to waigh up cost over quality depending on your needs.
The best thing about a cross vice is, they're made to be used with a drill press, so what you assentially have is a bench pillar mill which is perfect for working aluminium tubing. Milling end bits are also relatively cheap as you will only need a few sizes, all of which will fit a corded power drill.
Sundries:
• wet n dry sandpaper of various grades (I go up as far as 3000 grit for getting the best shine after buffing, but its up to you how high you go)
• flap wheels @ 25mm OD, 30mm OD (get at least 5 of each at 180 grit)
• 6mm x 300mm stainless steel bar
• 6mm straight shank coupler (can be made from any metal tube that's about 2mm thick with a 6mm bore)
• cutting oil
• thread taps and drill bits (M2.5 and M4)
• 4mm M4 grub screws x3
• 5mm end mill bit
• 10mm end mill bit
•14mm end mill bit
• 3mm drill bit (for 3mm LEDs)
• 5mm drill bit (for 5mm LEDs)
• 8mm drill bit (for tapping a hole inthe heatsink to run the wires through)
• buffing mop and compound
• leather work gloves
• protective eye wear
• dust mask/respirator
Hilt parts:
• 32 OD x 30 ID tube x300mm (shroud)
• 30 OD x 25 ID tube x300mm (main body)
• 25 OD x 22 ID tube x100mm (blade/lens seat)
• 22 OD x 19 ID tube x100mm (star LED seat/heatsink shroud)
• 19 OD brass bar x 50mm
• latching push button switch
• 1.8 ohm 2w resistor
• 700mA star LED (whatever colour you require)
• 5° star LED lens and holder
• battery (I use CR123A 3.7v 2.3Ah batteries, but I will go I to that in more detail later)
• battery holder(s)
• 30mm OD glass shower door handle in your chosen style (there's a lot to choose from and they make great pommels)
• or, chromed pipe end cap for 32mm tubing
• M2.5 or M3 hex bolts (4mm and 6mm long)
• M2.5 or M3 grub screws (3mm)
• 20awg black/red test meter wire (very flexible and less prone to snapping at solder joins).
Optional parts:
I will cover how to put together and install the basic electronics as listed above, but it's also possible to install a MR sabre soundboard. An inexpensive lithuim charger module can also be used to integrate the Li-Po battery so it won't need to be removed from the hilt.
I'll actually be installing my own custom saber board I designed and fabricated as it has its own integrated charge circuit for the battery. I do have a MR soundboard, but it's for Vader and I wanted a green blade for this one so forgoing sound till I add it to my current design)
• MR sabre soundboard
• lithium charger module
• power input indicator LED (3mm or 5mm)
• hole mount DC power socket (the smaller the better. Ones for Nokia phones are ideal)
• DC jack (make sure it's one that fits the socket)
• 5v 1A DC wall wort (for the charger module, but can be charged via USB if preferred. If so, skip the DC socket/jack parts, though youll need to make a hole big enough for the USB port).
Blade parts:
• 3ft x 1" polycarbonate tubing
• cellophane sheet
• diffusion sheet (optional)
• 19mm round acrylic mirror (or mirror sticker)
• blade tip for 1" thin walled tube (20mm ID)
---------------------------------------------------
The hilt design.
It's taken me a long time to settle on a hilt design I want for myself, there are so many out there that are awesome, but in the end, I believe it should reflect my personality and aesthetics.
It was while I was doodling some designs to come up with one for a friend that I found "my" sabre. I fleshed it out using publisher and will be using it as my reference since I haven't made any definite length measurements yet.
Saying that, the hilt looks like it's going to be about 12-14" in all which is quite long for a single blade sabre, but that's fine by me as I like a lot of hand room for maneuver. I may go with a 3 1/2' blade in a similar fashion to Yojimbo's extra long samuri sword if I can get it to light up evenly enough, but will see how that goes when I get to it.
The build:
So one thing the more observant of you might have caught on to is the tubes won't fit inside each other yet. The ID/OD sizes are too exact per tube so they will need to be reduced a tad. If you happen to own, or have access to a metal lathe, this would be the best option for the job. For those that don't, you will need to follow the next few steps.
After making a tube sanding jig/lathe thing for my drill, it turned out to be a dud system. Not many would have the parts on hand that I happened to have about in order to make it for a start, and sanding the tube evenly was just going to be a headache so it wasn't worth bothering with it (for that job anyway). It may come in handy for a different job later on though as I want to score some recesses for the o rings.
The other option which turned out to work rather well was to reduce the inside diameters. And for that job I used small flap wheels
Part #1_Preparing the tubes:
The first thing I did was drill and tap all the flap wheel shanks using the coupler to mark where the grub screw should go
2. I then took the 6mm x 300mm stainless bar and drilled and tapped it for an M4 screw so I could attach the coupler to one end to extend the flap wheel shank.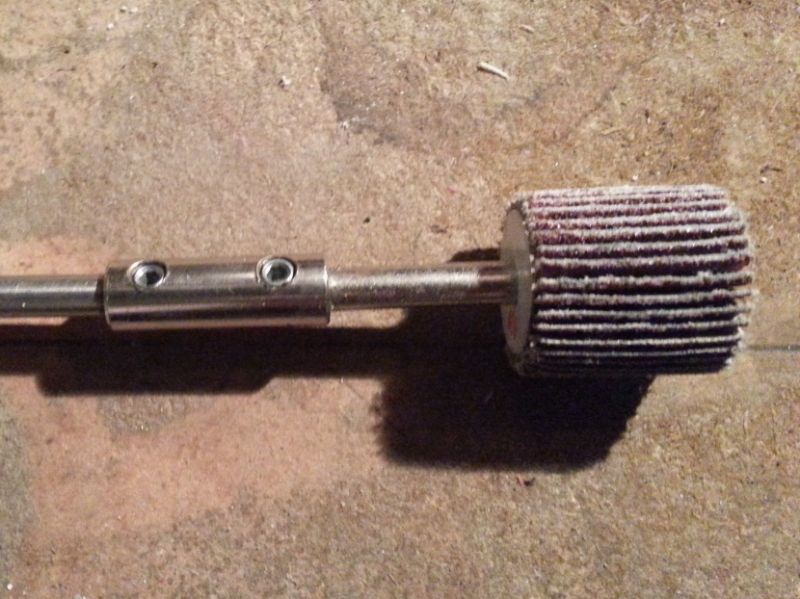 3. With the now extended flap wheel, I reemed the inside of the 32/30 tube until the 30/25 could just about pass through the inside without getting totally stuck (this stage is a good time to don those gloves as the metal gets quite warm when reeming it).
4. To make the tube slide in/out a bit smoother, I used another small diameter tube I had about and wraped some 600 grit wat n dry around it and taped it down. Then I gave the inside of the reemed tube a quick sanding to smooth off the roughness left by the course flap wheels.
The flap wheels reduce in size as they get used so youll need a few for each tube. This is actually quite handy as the used ones work well for the smaller diameter tubes, and little of the flap wheels are wasted this way. Also, dry seems to work better than wet with the flap wheels. Keep going untill you don't see much dust comming out of the tube and then change wheels. Repeat until the correct internal diameter is reached.
5. Repeat the above process for each size tube so all pass through the inside of each other smoothly (don't go mad though, you want them to be a fairly snug a fit so no tubes rattle about inside another). Tube prep is now done :thumbsup
Part #2._Blade stop and LED/heatsink assembly:
1. Now the tubes are sorted, take the 25/22 tube and cut a section approx 1" long from it, and approx 10-12mm long section from the 22/19 tube as well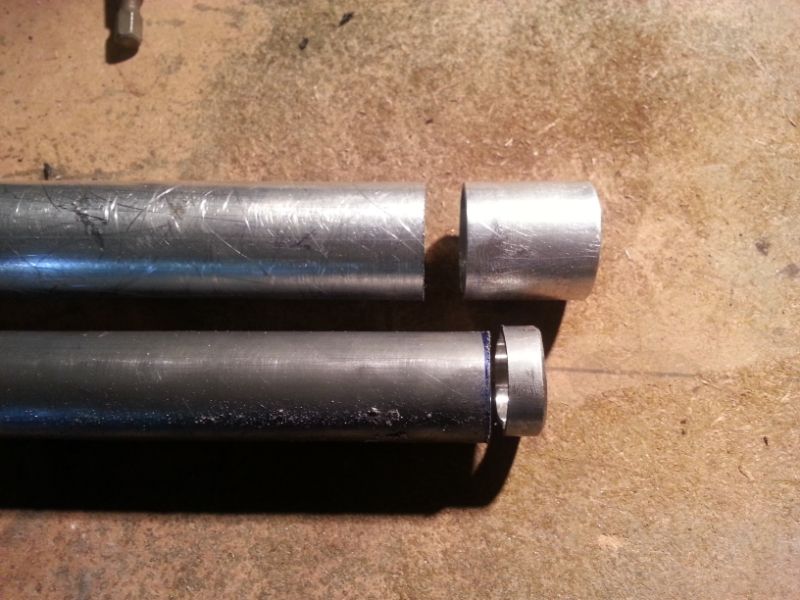 2. Take the 50mm brass bar and assemble the cut sections to work out where the grub screws are going to go. A tiny bit of math is needed to mark the drill points. The LED lens housing is 13mm deep, plus 1.6mm for the LED base making a total of 14.6mm depth from the top the assembly rim to avoid drilling into. I rounded up the total to 15mm and added 3mm on top for clearance making the drill points 18mm down from the top of the assembly rim.
3. Once a drill point is marked, drill though assembly and tap threads about 4.5mm deep, just enough so the top of the grub screw is recessed a little.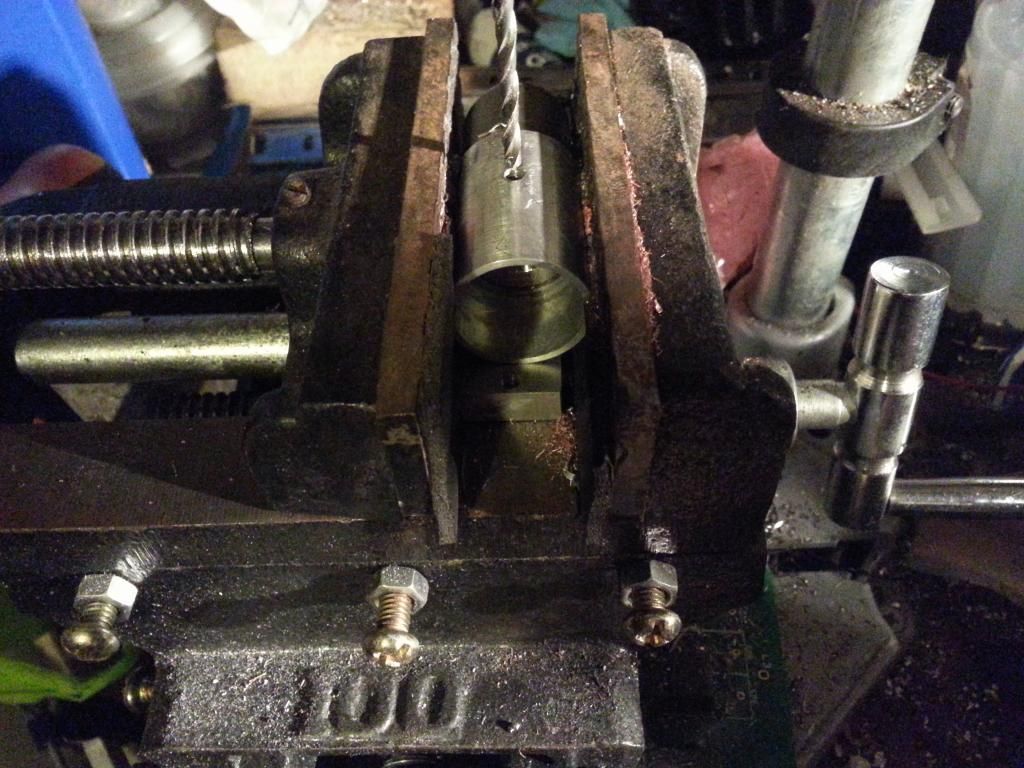 4. Since the 30/25 tube also doubles as the blade seat, we need to mark the drill point for the blade stop/LED assembly retention screws. I like to make my seats about 2 1/2" deep as this gives plenty of grip area for combat blades.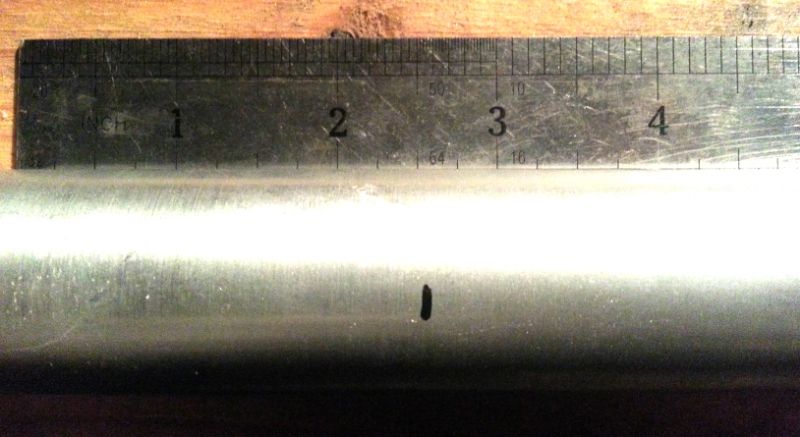 5. Once the seat position is marked, push the assembly carefully into the tube till the top of the assembly meets the seat mark (I used calipers with a depth guage to do this, but a ruler with bit of tape wrapped round it at the 2 1/2" mark will work just as well).
6. Make a second mark approx 18mm from the seat mark toward the middle of the hilt and drill through the top of the tube, through the assembly and out the other side.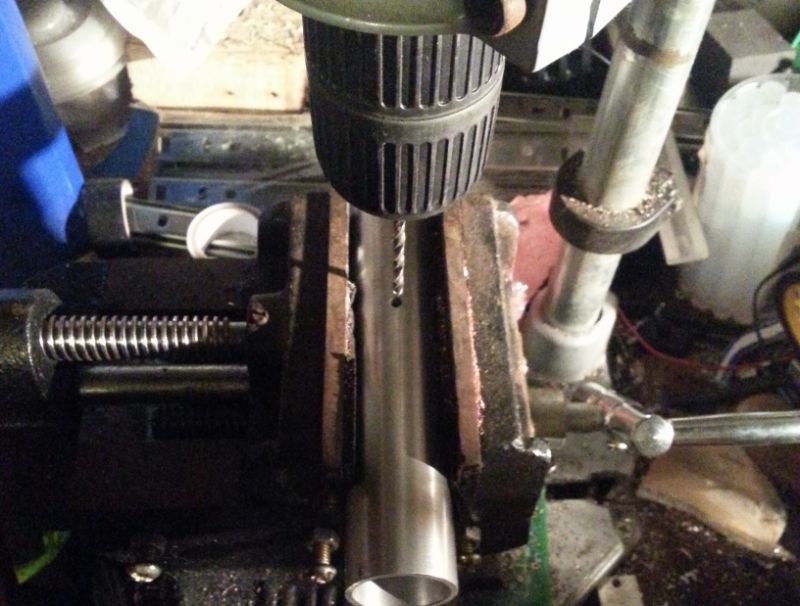 (((Note: If you don't have a drill press, follow these few mini steps:
6.1. Fit LED to lens housing and push into 25/22 tube till its flush with the tube rim
6.2. fit tge 22/19 tube and brass bar, then drill and tap to 4.5mm deep into the assembly and screw in grub screws
6.3. Push the assembly carefully into the tube till the top meets the seat mark.
6.4. Make a second mark approx 18mm from the seat mark toward the middle of the hilt
6.5. Drill through the top of the 30/25 tube into the brass bar.
6.6. Tap it to about 4.5mm deep and screw in grub screw
6.7. Rotate tube 180°
6.8. Re measure seat mark and 18mm drill point
6.9. Repeat step 6.5 and 6.6 then continue to step 7)))
7. Carefully remove the assembly from the tube. Since all the holes won't be perfectly lined up/centred, a mark is needed on the assembly and main tube to determine which way round to re insert the assembly again after removal (I used a length of 1/2 plastic pipe and gently tapped it to dislodge it and push it into my hand).
8. Once the assembly is removed and marked, pop out the LED and lens in much the same manner as removing the assembly from the main tube and put it back with the other electronic items.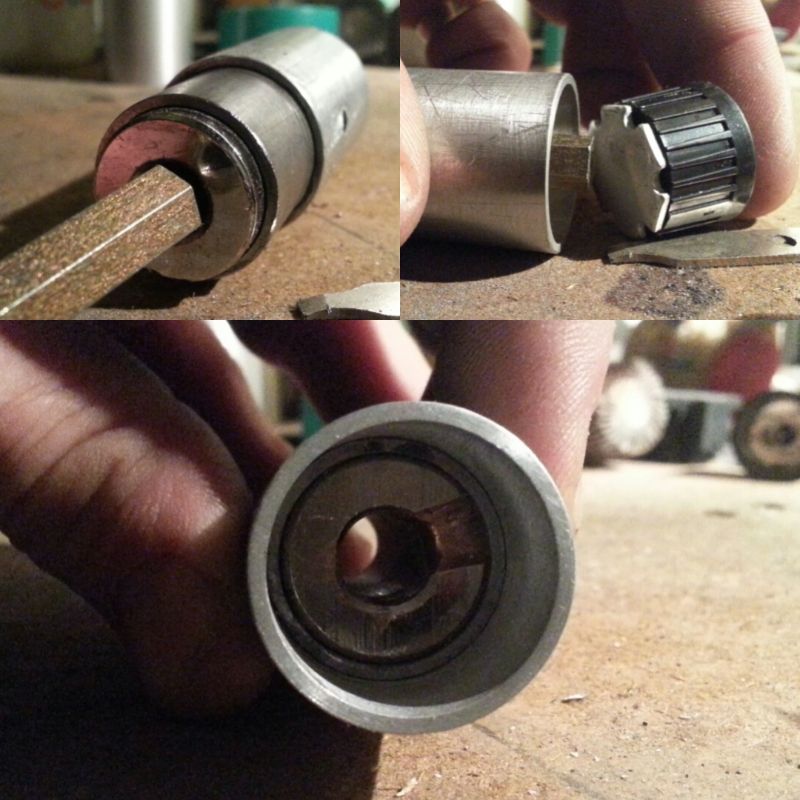 9. Once the screw holes have been drilled and tapped, remove the brass bar and drill an 8mm hole off centre approximately 2mm from the outside edge, enough so the hole sits in between two of the screw holes without going through them as per the sketch below.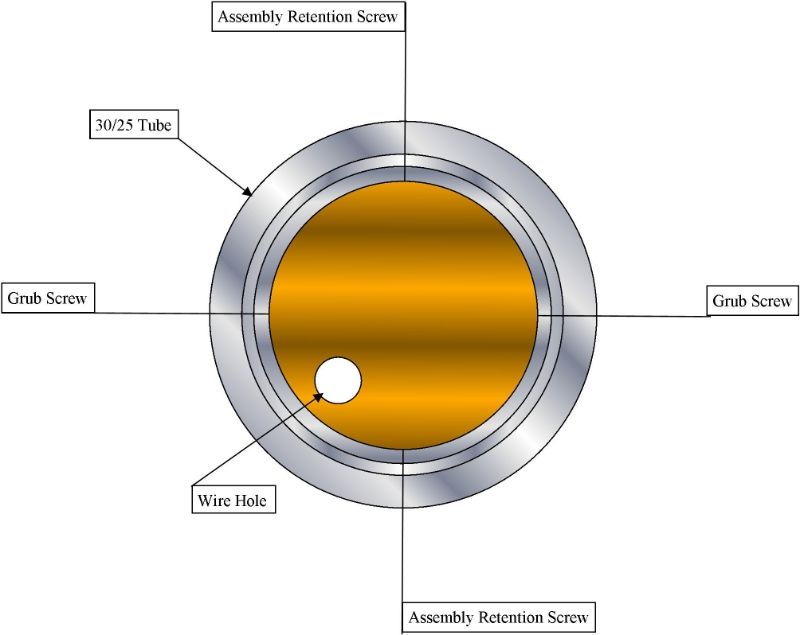 This is where the fly leads from the star LED will be passed through, and making the hole off centre lines it up with the wire exit point from the LED base. If the hole is a little too far in, don't panic. Just take the 5mm end mill bit to cut a groove about 3mm deep in the top of the brass heatsink to meet the hole so the wires aren't trapped in between that and the LED base aspictured below (you will need a vice for this job).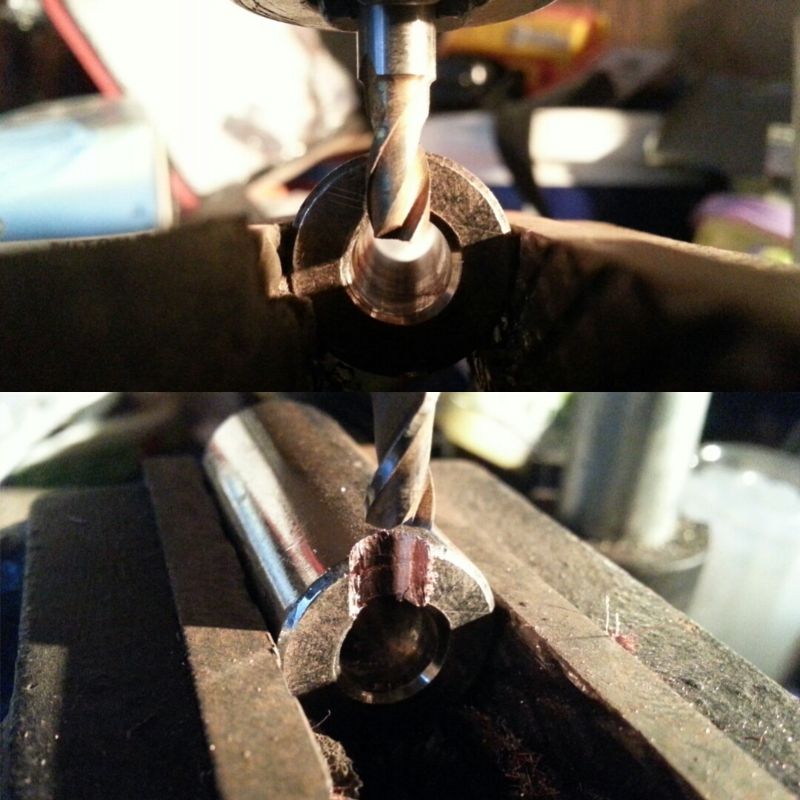 10. Mark and cut the 32/30 tube to your requirements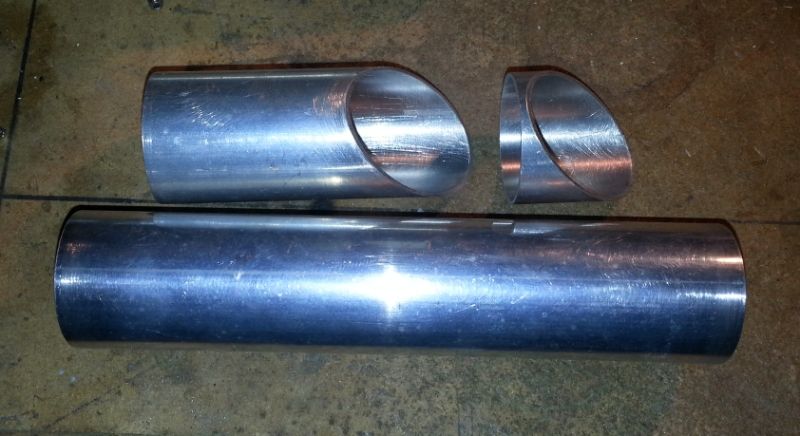 11. Slide the cut parts and onto the main tube and into to their correct positions, then mark drill holes for the retention screws wherever seems appropriate for each piece.

As the outermost tube is just cosmetic, in most cases one retention bolt will do, though more can be added for aesthetics. Just be mindful of where the blade seat assembly screws are located if they are going to be covered.
Also, if the allen bolts are just screwed directly to the outer layer, they stick up a little too high to be comfortable. The 5mm end mill bit is perfect for partially countersinking them as it's a teensy bit wider in diameter than the bolt heads, and leaves a flat seat for them to bed down on.
12. Using a drill press, and M2.5 or M3 bit, make a hole in one of the drill point marks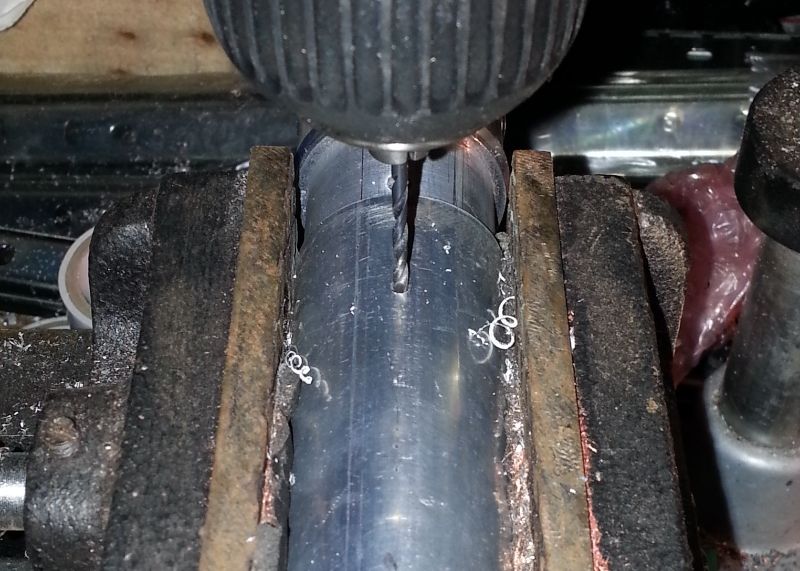 13. Swap the M2.5 or M3 drill bit for the 5mm end mill bit once you have drilled the hole. If nothing has moved during the swap, the drill chuck should still be centred.
WARNING! For your own safety, attempting to mill free hand is NOT recommended, risk of serious injury is far too high. Use short 3mm grub screws as a safer alternative when having to drill by hand (or you don't fancy milling a recess).
14. Carefully mill the hole to a depth of 2.5mm. Repeat steps 13 and 14 for each drill point.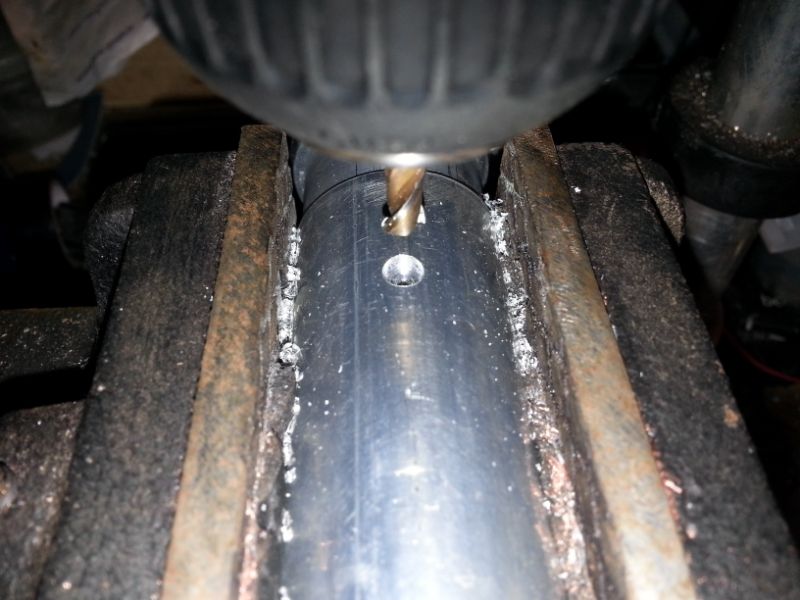 15. Screw in allen bolts
This stage is probably a good time to introduce the subject of electronics as the main hilt assembly is pretty much done, I'll be going back playing with machines again later for button and DC socket holes, and the final polishing and buffing phase.
I'll start with the most basic electronics setup to start with, then slowly move up skill levels for a bit with some suggestions for integrating rechargeable batteries. Then move on to the finel steps of installing the electronics.
I've provided two diagrams which are at the end of this section, one for a standard pushbutton switch, and one for an illuminated pushbutton switch, though for both circuits to work, the switches should be latching, or be mechanically latchable in some way.
Only five components are needed for the most basic setup, each of which I will go into further:
• Wire
• Battery
• On/Off switch
• Current limiting resistor
• LED
........Wire........
----Silicone/Test Meter wire---
I mentioned getting test meter wire in my shopping list, but actually any silicone wire is good to go. The reason is, it has nearly twice the strand count than normal wire of the same guage allowing much more freedom of movement. This massively cuts breakages from wire stress caused by repeated bending which is a major advantage when used as battery terminal wires in hilts not using integrated rechargeable batteries (ie. you don't have to take them out of the hilt to charge them).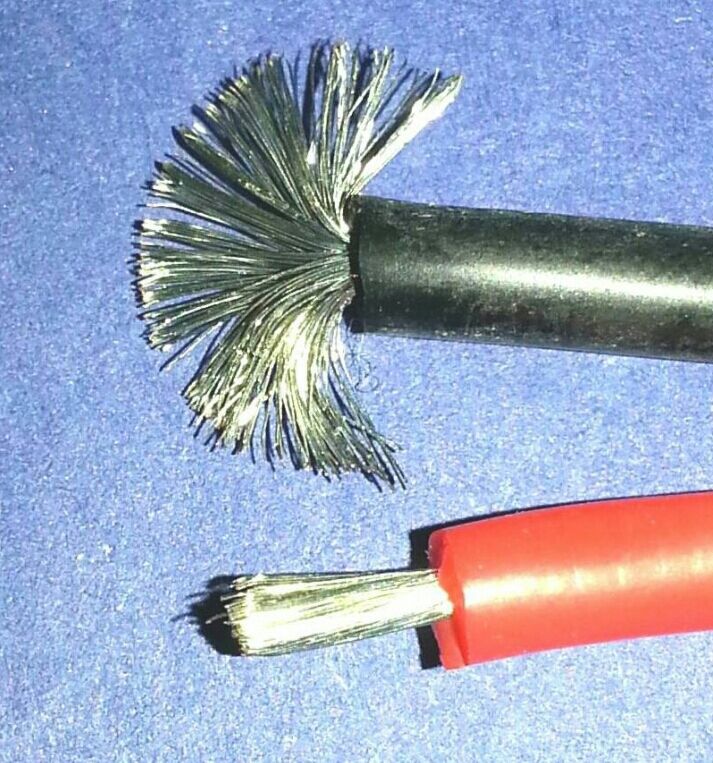 The other reason is the LED will get really hot. If the sabre is accidently left on for well over 30 mins, there's a good chance that standared wire will start to soften up considerably, or melt causing a short at best. Silicone wire has a very high melting point (200°c), way above that of normal plastic wire coatings.
.....Batteries.....
Rather an important part of the setup as it will determin how long the blade can stay lit for, but it can be damn difficult to choose the right one(s). As there's so many chemical types, shapes n sizes, it's not always easy to decide which way to go. I won't be looking at batteries in depth for this tutorial as everyones requirements will most likely be different. For that, take a look at this very useful page that will help make your choice:
http://gizmodo.com/5952938/everything-you-need-to-know-about-batteries
but the basic remit is:
• it has to have decent amount of mAh capacity
• it has to have a higher voltage than that required by the LED
• it has to be small enough to fit the hilt and leave room for other things while fulfilling the other two points above.
I chose to use a single lithium RCR123A battery as it ticks all my remit boxes as far as physical dimentions, Vf and capacity. The exact type are GPR 3.7v 2300mAh with under/over voltage protection. I also found a holder for them which is small enough to fit the hilt when mounted to a PCB.
.....switch.....
There's quite a few out there, so I'll only be covering those relevent to hilt making.
---Pushbutton Switch---
Almost any witches with an 8mm to 12mm diameter body works best, but there aren't many varieties in those two sizes. If your in the states, Sabreforge or it's equivalent would be a good bet, though I seem to remember them selling 16mm ones.
Ebay also has one or two good ones I've seen and bought in the past, mostly from shop type sellers so I can get more if needed (will pm links to ebay items if requested, not sure if it would count as advertising to post them up so not risking it).
If your a bit of a switch geek like me, have a look at DigiKey, mouser or RS. Can't say how long I spent looking at all the switches and buttons they have. RS had nearly 500 pages of them, so I can say with confidence that it was a heck of a while.
---Rocker Switch---
These are a square/oblong type of switch with a low profile tactile rocker button on top. They aren't your commen sabre switch, but can could be cleverly activated by a sliding part of the hilt. Bit more on the upper skills level, but would make for a cool custom power switch.
The downside is available sizes, most are pretty big. The big ones aren't so deep that they couldn't be installed, they're just too long and wide so look way oversized. There are small ones around to use as described above, but they aren't that pretty so do better as hidden switches.
---Reed Switch---
One of my favorites this one. If you want a power switch without drilling a hole, use one of these badboys and a neodymium magnet (I may use one for this hilt actually).
Again this calls for a moving hilt part and a bit of calculting to get everything lined up correctly, though it's much lower on the skills level.
The easiest way to implement one would be to have an unfixed section of the outermost tube in between two fixed sections (bit of oil under the moving part is probably a good idea), then attach the magnate to the moving section using whatever means you wish.
Reeds come in a variaty of power handling capabilities and sizes, though there are only a few functional variations:
• Normally Off = reed contacts are seperated or "open" until magnetic field is applied
• Normally On = reed contacts are touching or "closed" until magnetic field is applied
• Changeover = one of two contacts are normally open and when a magnetic field is applied it pulls the "switch" reed to the other contact
As a power switch for a hilt, get a Normally Open reed rated for 1A and place the limiting resistor as close to the battery as poss. As long as the reed is after the resistor, it'll never get more current than it's max rating and will last a long long time.
....Current limiting resistor....
The required resistor value is based on two elements:
• how much Vf and mA the LED needs
• how much of both it would actually be getting if hooked up to your chosen battery(s).
In order to make things super easy, here is a link to a LED resistor calculator, though there are free apps for droid and apple OS as well:
http://led.linear1.org/1led.wiz
Ideally, you want a resistor value that gives close to, but not quite the maximum mA rating of any one LED (anything around 2/3 to 3/4 of the max rating is good), and twice the wattage which is absolutely essential (ie. 1w LED = 2w resistor).
If the resistors rated watt handling capacity is too close to, or lower than that of the LED, all of the excess energy it's getting it's resisting from the power supply has to go somewhere, and it makes the loss by heat dissipation. I originally used a 1w resistor and it got reeally hot after 35mins, and that was before I had stuffed it along with all the wire and other electronics into a very confined space with no air movement.
This is because as it gets hotter, it's resistance goes down allowing more current to pass, and eventually....*pop* goes the LED.
This isnt likely to happen with a 2w resistor. Don't get me wrong, it will warm up a little as it too makes it's loss by heat, but in tight spaces, it copes with it a whole lot better if the sabre is accidentally left on for way too long.
....LED....
Pretty much any 3v 1w LED will do, though some don't push out the same amount of lumins. This factor is important when considering which to buy, as a high powered LED that's dim isn't much use.
I use 3v 700mA star LEDs I get for about £1.50 each from eBay. The average lumin count for each colour starts around 400+ up to about 700 lumins which I personally find is plenty.
I ended up making blanking plates for the blade seat in hilts that were for kids. The LEDs were bright enough to leave blotches in my vision for 5 mins, so it was a no brainer really.
.........Circuit diagram #1 for standard switch..........

.........Circuit diagram #2 for illuminated switch..........
(The 33ohm resistor is for a power supply equalling 3.7v, if using a supply higher than that, you will need to calculate the appropriate resistor value for the switch LED)

<edit> added more steps to the tutorial. Will update again when I have more....
Thanks for looking
Last edited: