Master Member
RPF PREMIUM MEMBER
Figured it would be better to create a collective thread with a few similarly themed projects I've been tackling lately. These hearken back to simpler, more "fun" times, I guess.
A few years ago I started thinking about making a Jack Deth pistol from the first Trancers movie. I loved that film when I was a kid, b-move cheesiness and all. It had some really neat ideas- like LA being underwater, now called "Lost Angeles". Yes, cheesy as hell, but awesome back in the 80s. I tried to get a junkyard thread going, but there wasn't much action, and so many other projects got in the way that it took until this spring for me to actually get going on it!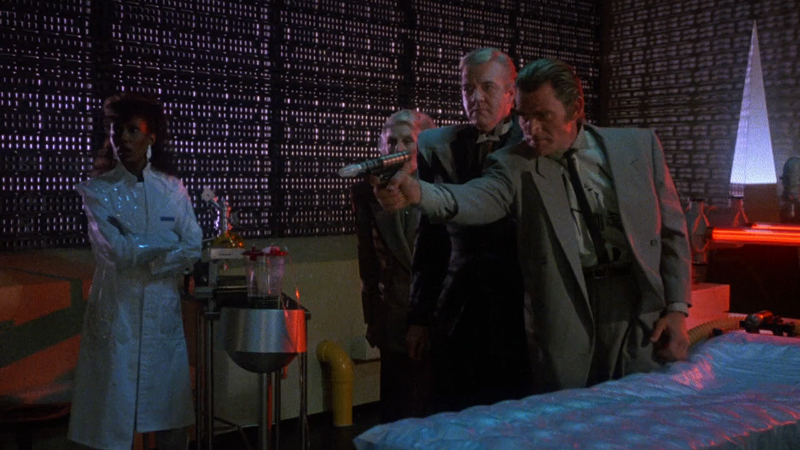 And after I made some progress on that, a fellow RPFer asked if I could replicate a couple other old-school blasters- A "Model S" Energy Weapon (mail order in the late 70s), which also led to me making the the small Derringer-like laser pistol from the Buck Rogers episode "To Kill a City", which I'' also post some progress photos of later. (My thinking with doing a collective thread was that just focusing on the Deth pistol would be pretty shallow.)
Since most folks think looking at 3d renders is about as exciting as watching someone fill their gas tank, I'll spare y'all that and just show the finished render!
Word is, the original was a heavily modified version of one of Richard Coyle's old props. (There was supposed to be photos on his facebook page of the base model, but none of them match. So, I was working mainly from screens off the bluray.
No doubt the original was solid resin with silver paint or tape, and some machined clear acrylic. I wanted to go a little further, since this wasn't a direct-cast copy anyway. The plan was to make the metallic part at least real metal, which presented a problem because the black ribs would have to be VERY thin- possibly 0.5mm! It would be a challenge to print, as taking off the supports ran the risk of cracking them. The trigger was going to be an electric pushbutton- partly because all RC lasers seemed to have them and the "Buck Rogers" ray-gun vibe fit.
I found some stainless steel stock and did a first print. Here are the main body parts, directly off the printer with the supports carefully removed. It took a while, but I got them off with all the ribs intact. (There's a little bit of flex in the engineering resin I use.)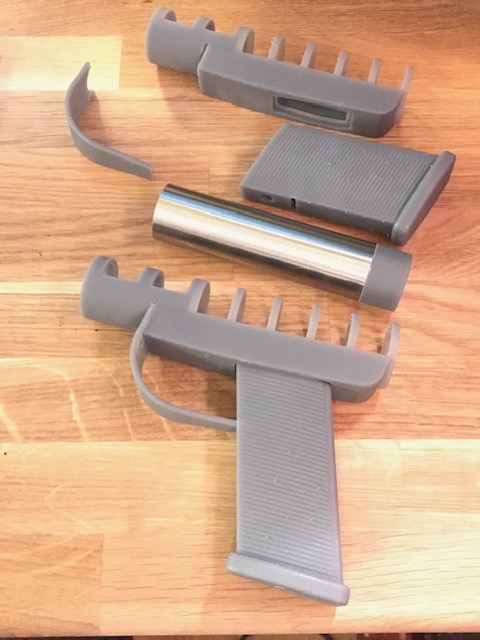 (I previously posted the above photo
in the junkyard run thread, which is still going
, should anyone want a kit.)
Now, as you can see, there are some "dimples" on the parts from the supports. They are normally super-easy to sand off with 400 grit, BUT there are some on the INSIDE of the ribs too. Those are not easy to reach, so I had to get a little creative.
I printed out a cylinder that I could wrap in sandpaper and set in my drill, turning it slowly so that I got an even surface. (Note: I do this automatically if someone gets one of these, since it's a bit tricky.)
Aaaand here's the result: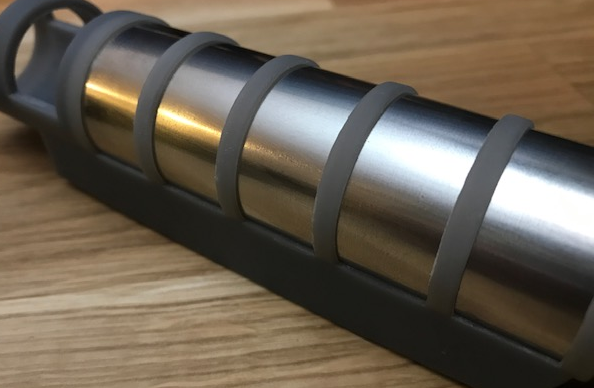 It's late here now, so I gotta go. More on this soon, as I get to test assembly and painting!