Master Member
RPF PREMIUM MEMBER
Hello all,
Hope y'all are safe and healthy out there.
I was asked a while back if I could do some old-style blasters
, in part from Buck Rogers, which got me started on a couple! The latest one is the Earth Directorate pistol from Season 1, which this thread is about.
Another RPFer graciously provided me with measurements and photos of a real pistol from the production.
Since every screen copy of this blaster is different, each being kinda "cobbled together", I decided to go for an accurate, but stylized, version. That is to say I would not model in asymmetry or "wonkiness". The final version would be "factory new" as if the prop had been made today, or as we imagined that it actually looked.
Some details:
Printed on a professional machine, out of high-grade resins.
Easy to assemble- the main parts just slot together.
Hollow to allow for electronics and there is plenty of room inside it. There are small discrete holes to let sound out if you want to add a speaker.
The emitter is clear- make it frosted like on the show or crystal clear with a gloss coat.
Battery plate holes can be tapped for M4 or nearest Imperial equivalent.
Comes with the parts shown (Bren Ten not included haha):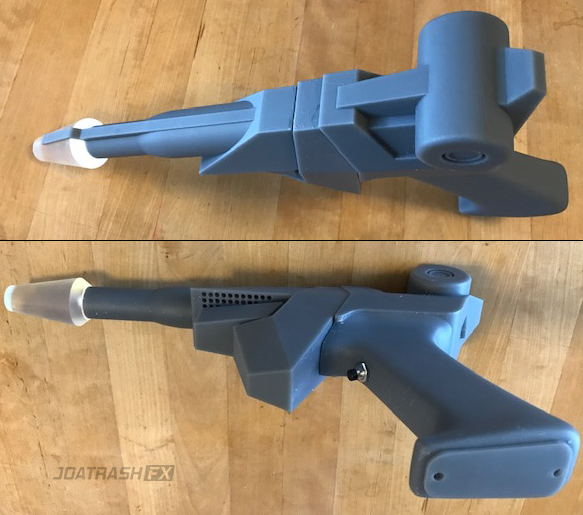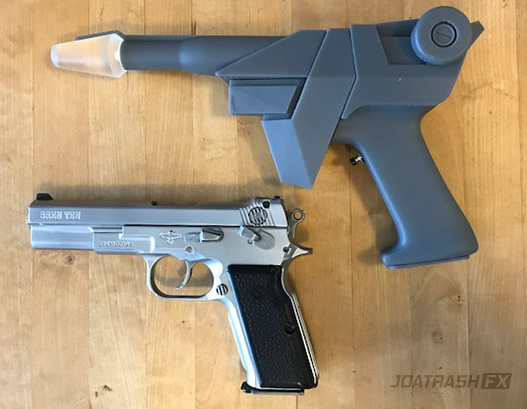 The print shown is directly off the printer, post-cured and cleaned of supports. (I remove most supports before shipping.)
I don't anticipate making a lot of these and it's a monster to print- 2 full build platforms, each taking the better part of a day, not including post-processing! I tried to keep the cost down, but it's big and I didn't want to skimp and make the walls too thin.
Cost for a kit is $425 shipped anywhere.
Count on them taking a couple weeks to print, then any number of weeks to ship (it's been all over... generally between 2-10 due to the virus situation).

PM me if you want one, please and thank you, bidibidibidibidi!
(And if this works out well, I might do Hawk's blaster too. )