Interested depending on price.
Just wanted to ask some questions out of curiosity and with all due respect for your work:
- Is the hole in the right position? I thought it was a little more closer to the edge, but maybe I'm wrong.
- Didn't the original prop turn? Was it static and the hole was on the DeLorean plutonium container? How did Doc pick it up from the top and the plutonium bar did not fall then? (Doc doesn't put is hand on the bottom of the canister to avoid the bar falling)
- Also, I found an original prop photo from propstore, and I THINK you got the top lid wrong. It looks clear to me that the top lid's edge is alligned to the canister, and the lid fits the canister "from the inside". Your prop looks like has the lid fitted from the outside of the canister. The lid looks wider than the canister.
I draw a little explanation in case I'm not saying it right as English is not my native language. Again, this is just what I think, but maybe I'm wrong again. Not trying to debunk your prop, because I've purchased you some props in the past and they're great, but I think the lid on the original prop was made like I'm saying, and your photos look different (I think)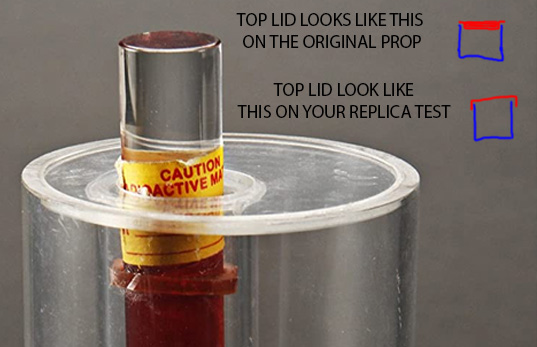 Anyway, thanks for making more BTTF replicas!!! Too many are not enough ;-)
Last edited: