I got the box thanks from a US friend long ago, maybe last year, I've been wanting to make a nice replica of that thing for my basement stair case and put it next to the electrical panel, breakers and breakout box to keep the "props that work" kinda look.
Since we will be staying home for a while with Covid19, I got all my ducks in a row, purchased more primer and 7031 RAL (battleship grey) and that's the nice opportunity to make some CAD for the whole project since I'm learning inventor and leave Solidworks for good (license cost, we get low budget for software and have access to most of autodesk SW for free being an education entity at the Institute).
Basics :
- I've use those 3 main sites detailing parts found and (some) history :
Like many people, this is not going in a DMC and I'm willing to make a few compromise on some of the parts used for the replica. Most obviously, the high-voltage relays are out of range and since I want to do CAD, I'll 3D print them, and use plastic sample tubes for the glass parts.
I got spark plug covers and had another friend ship me some mc master carr gasket/seam for the window which source from myfluxcapacitor seemed on par. The acrylic window I'll cut myself (laser on order but not there yet).
The cable I got is probably too thin, but it was free (from the day job). It's some audio / MIDI cable by Gotham Audio (switzerland) from the 80's, color looked decent and I had at least 50m in the office, I'll see what's the overall look when I install everything.
Electronic speaking, I'll just a put a CFX (saber sound board) inside and probably use ledtrip lighting instead of individual ones, the write a couple of effects (I'll have to look to the move sequences again). From what I've read, the scrolling isn't accelerating, only the core getting brighter (as well as the inside of the box with addition lighting). I might add some 7 segments with ticking sounds and music, since the CFX can do all that in a stamp size. Finally, I haven't decided what do do for the triggering, possibly IR or just a switch to play thru different modes. That will be installed in the stair case of the basement, but I'm targeting a wall-removable unit so that I can take it in the car for geek purposes (even if it's not a DMC).
I didn't see any accurate dimensions in the detailed builds here or online and most people confessing eyeballing everything so... I'm studying dimensions based on a still picture from the movie and mapping them to physical dimensions in Adobe Illustrator. My main concern is the size of the window : the other parts have dimensions that are easy to obtain with 1-2mm accuracy or less so their placement in the box is constrained by geometry and size. However, what you will see from the inside and the overall look and "accuracy" of it really depends on what's revealed by the window.
I also started modeling the relay base (glass parts to be replicated with test tubes, made out of plastic, and some brass parts). Labels I found templates shared here by RPF members, I have to see if I can print them on silver paper or something, maybe print on mylar or acetate sticker sheets that go in the laser printer, then glue them on silver / alu foil. That's the fun part of finding a manufacturing process for the replica, I love that moment
Templates to see what I'm doing
First glance and attempt at Inventor. Replicated the small seam around the relay base, since it's made of sheet metal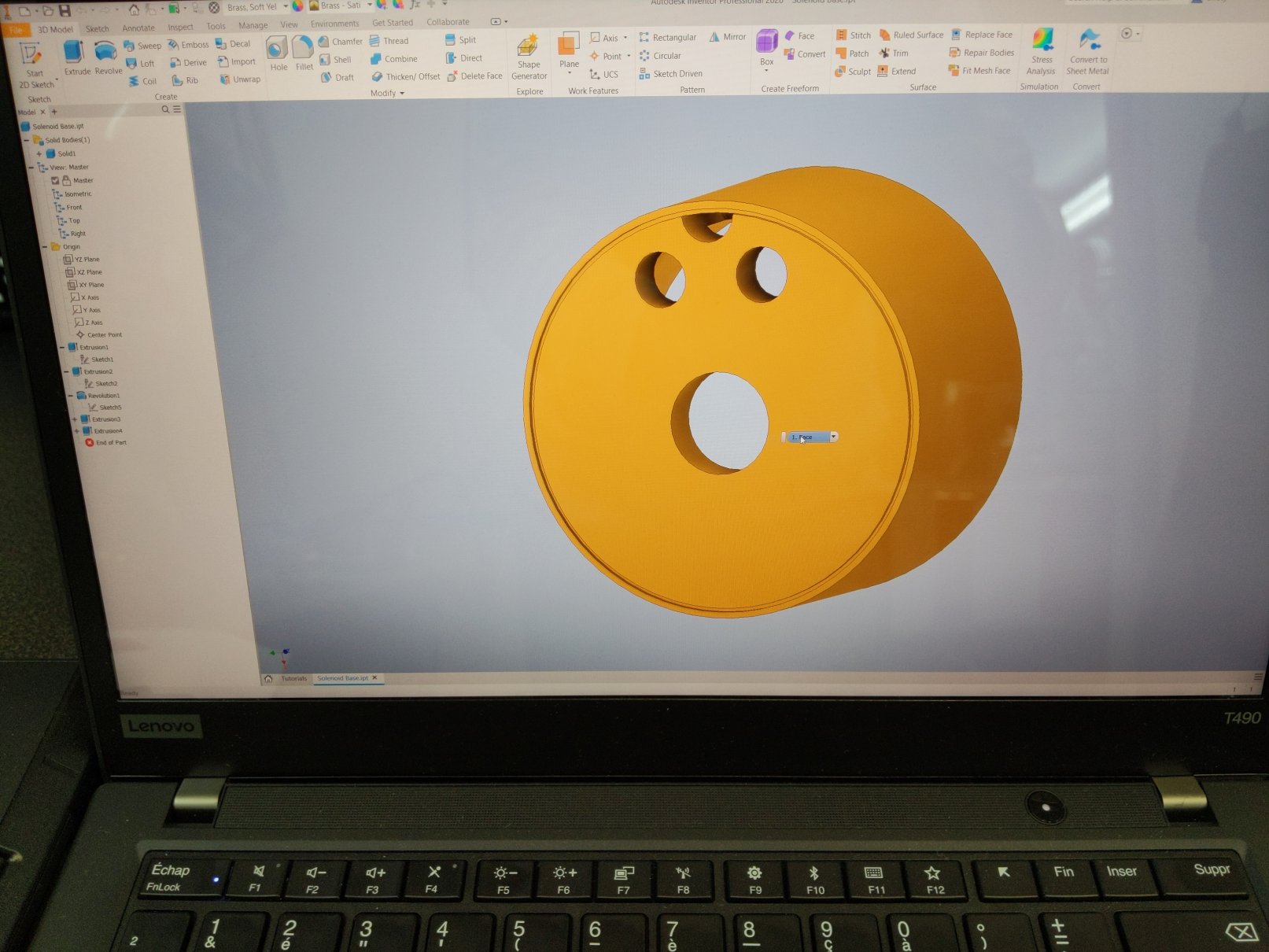 and printed results, I'm still tuning the basics of the 3D printer, testing the HIPS material, nice finish, not as good as ABS but probably works as good for priming and painting
The next step is really taking the time to model the whole scene and box in Inventor using the Stahlin box 3D CAD (dxf), it's really a good exercise even if it will be really tedious. That's the only way to cut the front window at the right size, cause I'm not really satisfied of any of the measurements I've seen online
I figured out a lot of things, using expected geometric properties, alignments, and trying to fit to some inches + pure fractions reduction, using only the still shot from the movie
Then I tackled modelling more parts and deal with assembly of parts in Autodesk Inventor, tedious process since I'm a CAD noob
I'm not after rendero-vomits, but need to model the whole thing to see how we "see" thru the window and ensure it's correct before I cut the box, hence figuring out the cut size and placement, very important.
wire pin modelling...
solenoid assembly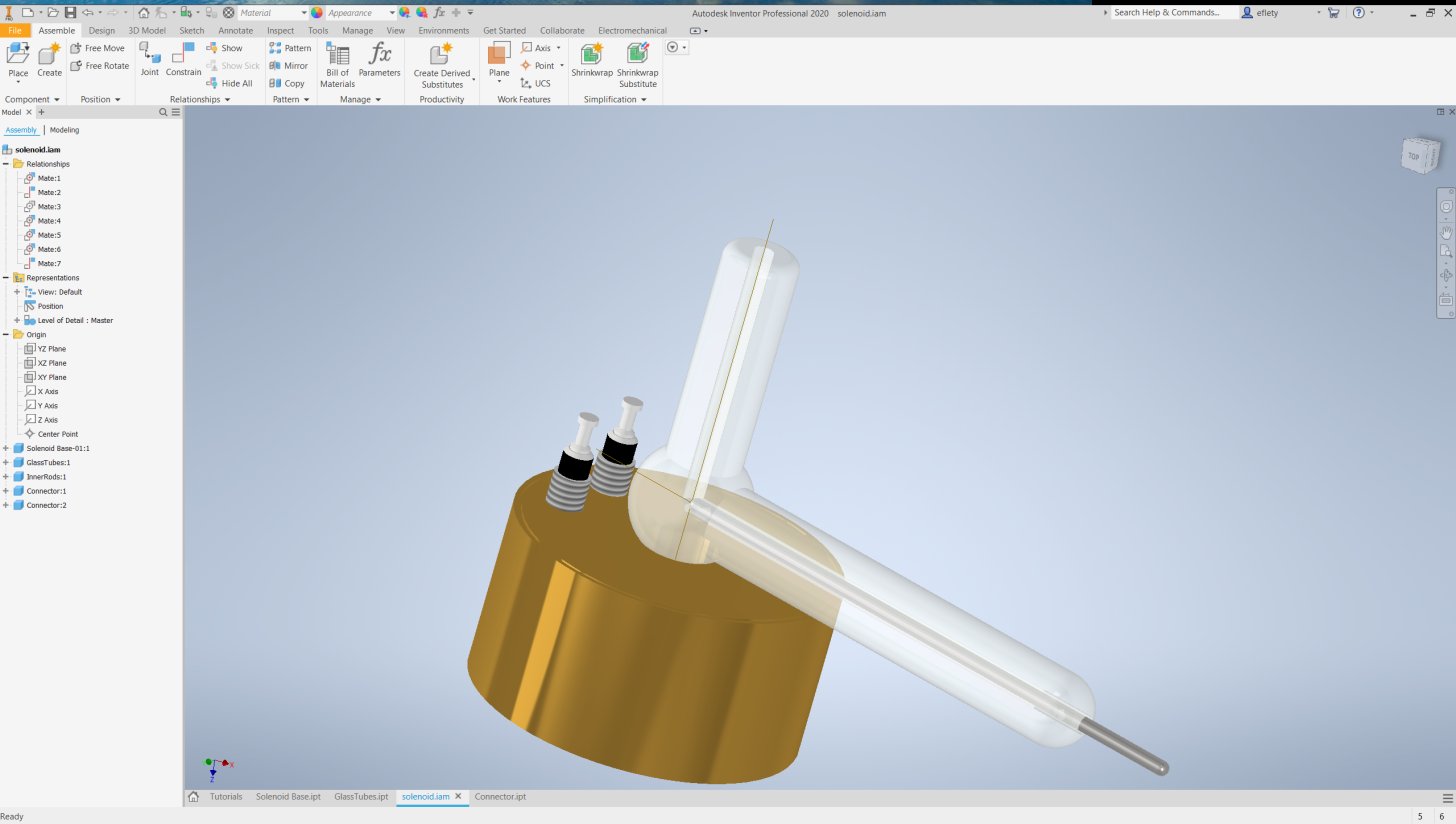 and the box is coming along slowly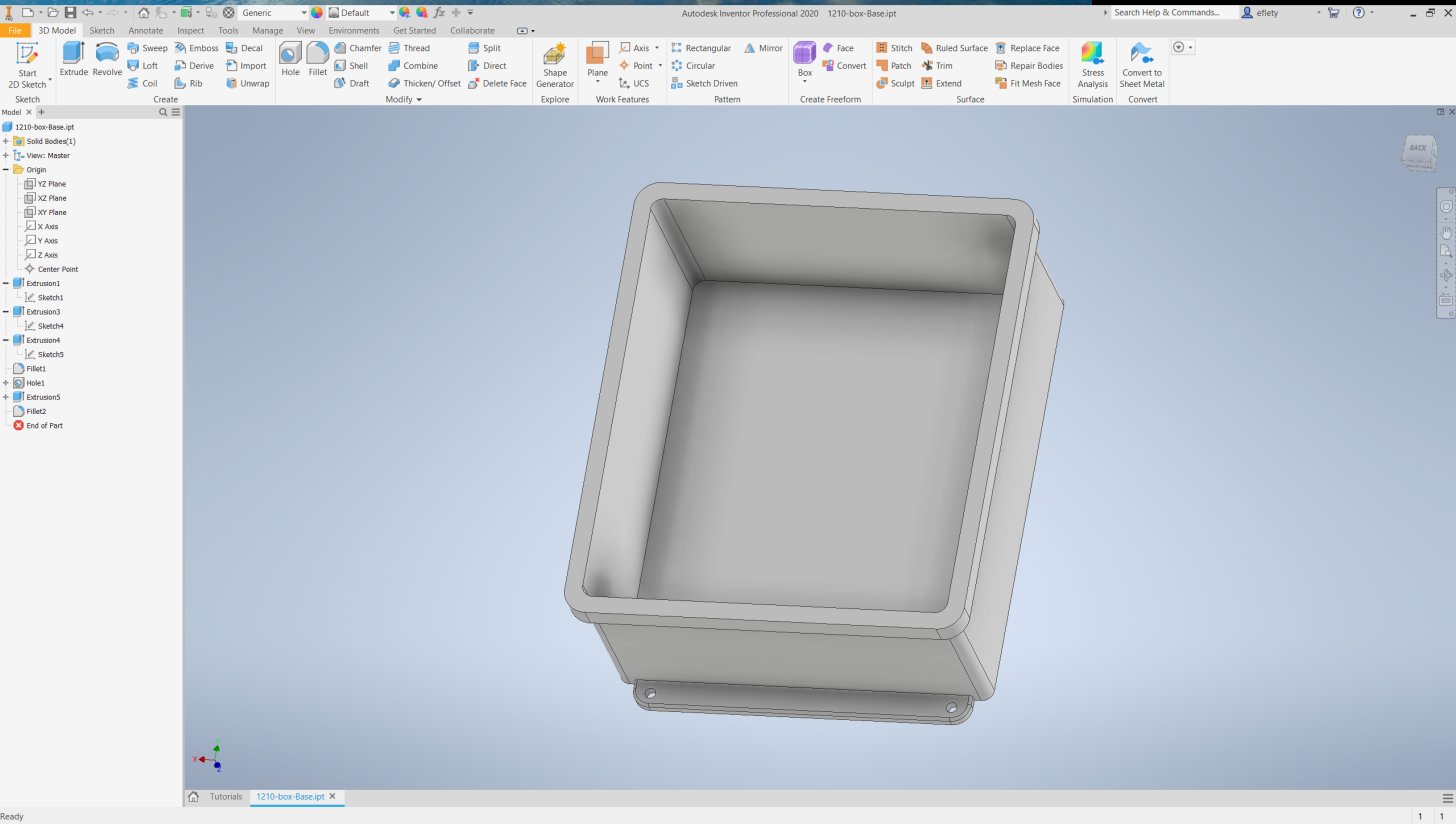 ah last purchase of the day : a 1/2" embossing label maker because the one I saved from my childhood is only a 3/8" one, ebay to the rescue
Last edited: