Sr Member
RPF PREMIUM MEMBER
This card WILL be included with the upcoming 7Chambers run of the new 'MoM' ROTJ Hero
I personally spent *months* trying to source vendors who could help me accomplish this exact finish and after a painstakingly unfruitful process with common card vendors / PCB manufactures I lucked into finding two US based vendors who just happened to be able and willing to manufacture these things in the same way the original vintage cards were produced.
To drive the point home; NO ONE makes PCBs with these features anymore. (Except these guys I guess)
This card features a truly vintage style blue core substrate. This is NOT a soldermask effect, dye, or paint. The core is made with a vintage technique and matches the original all the way through.
This card also uses a *custom* soldermask color. Not standard blue, not standard green, not black.
However, depending on the lighting scenario you will be able to easily see, photograph, and enjoy three colors from this card soldermask. Blue, green, AND black. Just like the card as photographed on the original prop.
This card is also the only one ever produced to feature the accurate trace pattern seen on the original.
If you don't like the look of that, the backside is formatted plainly as the cards before... all you have to do is flip it over.
The substrate thickness and trace pattern matches with a large sampling of vintage cards (namely vector the green/blue variant).
Thus it features a 2oz copper surface trace and accurate core thickness.
Lastly, I'm proud to re-iterate that my vendors are small-shop, blue collar American companies. These old shops have been around since the 70's and when I communicate with them it's over the phone. I know their names and they know mine... and they are fantastic and hardworking, and have been so incredible to dig up these old processes for this project.
When you examine these cards there is no serial number hidden in the traces from Chinese serial manufacturing. It's a beautiful thing.
(Lastly: being American made and a unique process I have put a lot of personal investment into these on the front end. I'd want to keep them 'competitively' priced but the simple truth is they might be more than we are used to seeing these particular ROTJ cards going for individually.)
IMPORTANT UPDATE MARCH 24th
PLEASE READ - -
I'm looking at adjusting my pricing as there are two distinct options now available. ( I have removed some of the previous langauge before this update)
This is actually the result of a mistake on my vendor's part while making the boards. They actually ran out of the material that I had supplied them to fill the order quantity which they quoted me and went hunting for more blue stock. They actually found some (to their and my surprise) super deep in their warehouse and used it to use it to finish my order... yet this has created an interesting dialogue between me and them. The stock was very old and slightly different. It was vintage stock that matches the original even more closely because it is the original stuff!
This in turn means I can offer two 'products' for the time being. I'm trying to split the prices in a way that makes sense for what they're offering and how much it costs me... and the longevity of production for both since the 'old stock' option is limited quantity.
Option 1:
$18
'True Blue'.
- modern production board. 1/16" thick w 2oz copper. Blue substrate saturation. This is what the 7chambers FX MoM Hero is getting. I will be able to make more of this in the future if quantity demands.
Option 2:
$25
'Old Blue'
- Found, 'old stock' vintage substrate. The hue is VERY similar to true blue, but a tad greener/ a shade darker. The board is actually also a hair thinner, matching vintage boards thickness more closely. This will be limited as it was found in deep storage by my manufacturer. Once those old panels run out... it is gone.
Regarding the 'Old Blue'
- FX builds may require some added thickness under the card (like clear tape along the edge) in order to maintain tight friction on most currently available FX hero hilts.
- Static builds should turn out perfectly assuming you are using L stock straight on top
Regarding both.
- They have the same exact custom surface traces and custom solder-mask treatment on both sides so from the top you'll really be seeing the same thing. Only the edges are slightly different.
For when
Verity Cosplay
and I go about the STATIC MoM run, I am reserving 'Old Blue' boards for that run.
HOW TO RESPOND:
Express your interest and in which version/quantity and I will update the thread list and contact you directly.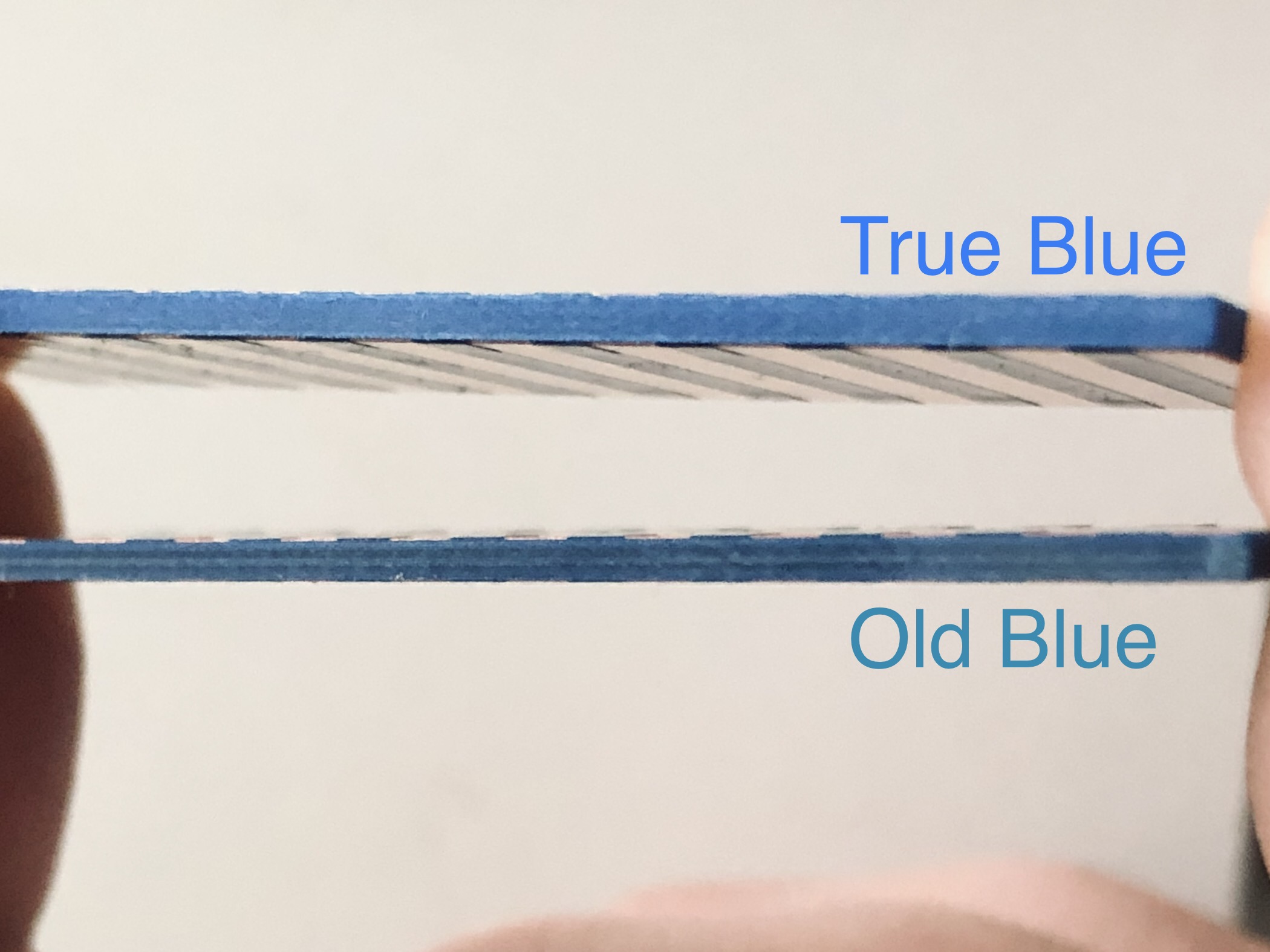 Interest list-
TheRPF:
- 2cell (1, OB) (contacted) (paid) (
packed
) (shipped) (
received
)
- Aison (1, OB) (contacted) (paid) (packed
)
(shipped) (
received
)
- acyang (2, OB) (+2,OB) (
contacted
) (paid) (
packed
) (
shippedx2
) (
receivedx2
)
- amadeusw (1,OB) (+1,OB) (contacted) (paid) (packed) (
shippedx2
) (
receivedx2
)
- ataru72ita (2, OB) (contacted) (paid) (packed) (
shippedITA
)
- bluecoyote (1,OB)(1,TB) (contacted) (paid) (packed) (shipped) (
received
)
- B-Wing (2, OB) (1,TB) (contacted) (paid) (packed
) (shipped) (
received
)
- chazzychaz (1, TB) (contacted) (paid) (packed) (shipped) (
received
)
- CrankyScorpion (1,OB) (contacted) (paid) (packed) (shipped) (
received
)
- cphaeng (1, OB)(1, TB) (contacted) (paid) (packed) (shipped) (
received
)
- cybergandalf (1, OB)(1,TB) (contacted) (paid) (packed) (shipped) (
received
)
- Dann (1, OB) (contacted) (paid) (packed) (shipped) (
received
)
- DarthBen123 (1, OB) (contacted) (paid) (packed) (shipped) (
received
)
- DarthPlatypus (2, TB) (contacted) (paid) (packed) (
received
)
- DaveP (1, OB)(1,TB) (contacted) (paid) (packed) (shipped) (
received
)
- Dewy (2,OB) (contacted) (paid) (packed) (shipped) (
received
)
- dr_slurpee (1, OB) (contacted) (paid) (packed) (shipped) (
received
)
- Edraven99 (2,OB) (contacted) (paid) (packed) (shipped) (
received
)
- el toro (2, OB)(1, TB) (contacted) (paid) (packed) (shipped) (
received
)
- Foe Hammer (1, OB) (contacted) (paid) (packed) (shipped) (
received
)
- gen 0 (1, OB) (contacted) (paid) (packed) (shipped) (
received
)
- Goodie2325 (3, OB)(+2, OB) (contacted) (paid) (packed) (shipped) (
received
)
- Greenkenziw (1, OB) (contacted) (
paid) (packed) (shipped) (

received

)
- Halliwax (2,OB)(2,TB) (contacted) (paid) (packed) (shipped) (
received
)
- Inigou (1, TB) (1, OB) (+1,OB) (contacted) (paid) (packed)

(shippedx2) (

receivedx2

)


- jchristman (1, OB) (contacted) (paid) (packed) (shipped) (

received

)


- Jonesy 1138 (1,OB) (contacted) (paid) (packed) (shipped) (
received
)
- jorged123 (1,TB) (contacted) (paid) (packed)
(shipped) (
received
)
- JPL427 (1,TB) (contacted) (paid) (packed) (shipped) (
received
)
- kickman88 (1,OB) (1,TB) (contacted) (paid) (packed
) (shipped) (
received
)
- kittspropshop (2,OB) (contacted) (paid) (packed) (shipped) (
received
)
- kylash (1,OB) (contacted) (paid) (packed) (shipped) (
received
)
- LAMike (2,OB) (contacted) (paid) (packed) (shipped) (
received
)
- LOM (1,OB) (
contacted
) (paid) (packed)(shipped) (
received
)
- Loneken (1,OB) (contacted) (paid) (packed) (shipped) (
received
)
- LordHaru (1,OB) (contacted) (paid) (packed)

(shipped) (

received

)


- MAXIMUS0011 (1,OB) (contacted) (paid) (packed) (shipped)

(

received

)
- maxspr1 (1, OB) (contacted) (paid) (packed) (shipped) (
received
)
- Mech10 (2, OB) (
contacted
) (
paid
) (packed) (
shipped
) (
received
)
- MDC92 (1, OB) (contacted) (paid) (packed) (shipped) (
received
)
- mgoob (1, OB) (contacted) (paid) (packed) (shipped) (
received
)
- ms80444 (2,OB) (contacted) (paid) (
packed
) (
shipped
)
- nailuj (2, OB) (2,TB) (contacted) (paid) (
packed
) (shipped) (
received
)
- Phantom Pickle (1, OB)(1, TB) (contacted) (paid) (packed) (shipped) (
received
)
- Poikilotherm (3,OB) (+3, OB) (contacted) (paid) (
packed
) (
shippedx3
) (
receivedx2
)
- PrinceZip (1, TB)(1, OB) (contacted) (paid) (packed) (shipped) (
received
)
- Raiders March (1,OB) (contacted) (paid) (packed) (shipped) (
received
)
- Reel Fakes (1,OB) (contacted) (paid) (packed) (shipped) (
received
)
- ReploidRX (2, OB) (contacted) (paid) (
packed
)
(shipped) (
received
)
- Roygilsing (1,OB) (1,TB) (contacted) (paid) (packed) (shipped) (
received
)
- SaiyanCookie (1, OB) (contacted) (paid) (packed
)
(shipped) (
received
)
- ScarfMan (1,OB) (contacted) (paid) (packed) (
shipped
) (
received
)
- Sevi2801 (1,OB) (1,TB) (contacted) (paid) (
packed
) (shipped) (
received
)
- skoota73 (3, OB) (2, TB) (contacted) (paid) (packed) (shipped) (
received
)
- Spyhunter2k (2, OB) (contacted) (paid) (packed) (shipped) (
received
)
- starwrslover (1, OB) (contacted) (paid) (packed) (shipped) (
received
)
- suntzu707 (1, OB) (contacted) (paid) (packed) (shipped
) (
received
)
- teecrooz (2, OB) (contacted) (paid) (packed) (shipped) (
received
)
- thd9791 (1,OB) (contacted) (paid) (packed) (shipped) (
received
)
- The 48th Ronin (1, OB) (contacted) (
paid
) (packed) (shipped) (
received)
- theh0rse (1, OB) (1, TB) (contacted) (paid) (packed) (shipped) (
received
)
- TheUnchosenOne (1, OB)(1, TB) (contacted) (paid) (packed) (shipped) (
received
)
- thundergod124 (1, OB) (contacted) (paid) (packed) (shipped) (
recieved
)
- Trooper_trent (1,OB) (contacted) (paid) (packed) (shipped) (
received
)
- turok96 (1,OB) (contacted) (paid) (packed) (shipped) (
received
)
- ventuoguy (1,OB) (1,TB) (contacted) (paid) (packed) (shipped) (
received
)
- verity cosplay (2, OB) (contacted) (paid) (packed) (shipped) (
received
)
- xbadcardx (1, OB) (contacted) (paid) (packed) (shipped) (
received
)
- xwingercrash (1,OB) (contacted) (paid) (packed) (shipped) (
received
)
Facebook:
-Vitaly O. (2,OB / 2,TB) (contacted) (paid) (packed) (shipped) (
received
)
Old Blue tally: Capped at 100 (until more can be made/sourced)
97
True Blue tally: Capped at 150 (If left unspecified I'll keep it at 'TrueBlue')
27
Last edited: