Well I started this suit 2007. I dreamt about having one ever since I saw some pictures of them on predatorstuff.com. I promised myself that I would make one and with the help of a couple special people I did. Although The Hunter's Lair is who I should thank alone here are a couple special people who helped me.
Grusderk Introduced me to the lair.
Julie (Ei'luj) Gave me dreads and a bunch of other goodies.
Scott (TMI) He painted a snyder mask for me for free and it was a very badass mask sold it for 3 times it value which got my started on my real suit which is the one you see below.
Mario (Ronin) Sold me the mask and gave me to scrap masks he had for me to sell awesome guy.
Ernie (Big Bad Wolf) good friend through all my problems ( you know) and painted stuff up for me.
Andrew (Kithunter) Inspiration to try to top his Elder suit hehehhehehe and you created the Lair.
Lance (Celtic yautja) created the help garo fourm which helped me out a hell of alot and sent me some stuff I could sell off and buy pieces for the suit.
Zero (sorry bro never got your name or I just can't remember it so srry) offered to send me some armor but thankfully I didn't need it.
Colin (Irricanian) Sending me 4 wolf claymores I sold got some doe for mi costume thank you plenty!
But Last annd oooh certainly not the least.... Dwayne Mullet! (inkmonster) Took my suit painted it but it together and put his blood sweat and tears into it I think I have enough to make a clone of him lol jk. Through all the **** he went through and he was still about to keep his promise thanks Dwayne your a good person and a good friend.
Parts-
Mel AVP Mask sold to me by Ronin
Chest skin and chest armor and backplates and shins (soon to be replaced) butt plate and thigh armor sold to me by Snyder sure it took 7 months to get it but hey what the hell at least I got it.
Gauntlets- Ruffkintoy
Cod Piece- Pete Mander Cod Piece Dwayne hooked me up with who he got from I think Mr. Fett if I am not mistaken.
Bottom Skin- Pete Mander first P1 skin. Casted by Dwayne and painted up.
Cape- Some guy from ebay.
Dreads- Bambooie given to me by the most kind Julie
Feet are snyder also
Bio which is not seen since I could not hold it lol is from Casey
Well Here are a few pics my friend and his family are sending me the rest I went to his house for the weekend. Could not trick or treat in it due to the fact that I was not prepared (nothing to keep me from dieing inside that suit) like a fan or cooling vest or somthing. The parents left for a halloween party and the kids I was left with did a bang up job helping me put the suit on so the bottom was falling off I am thinking of installing supenders inside the pants to keep it from falling down. So I had it on for 10 minutes and I felt like a GOD! Thanks Lair thanks for making my dream come true. Now I have to perfect this costume then I move on to the long planned Tauren costume which I plan on sculpting and...never for another thread lol. Enjoy the teaser pics till I get the rest of them.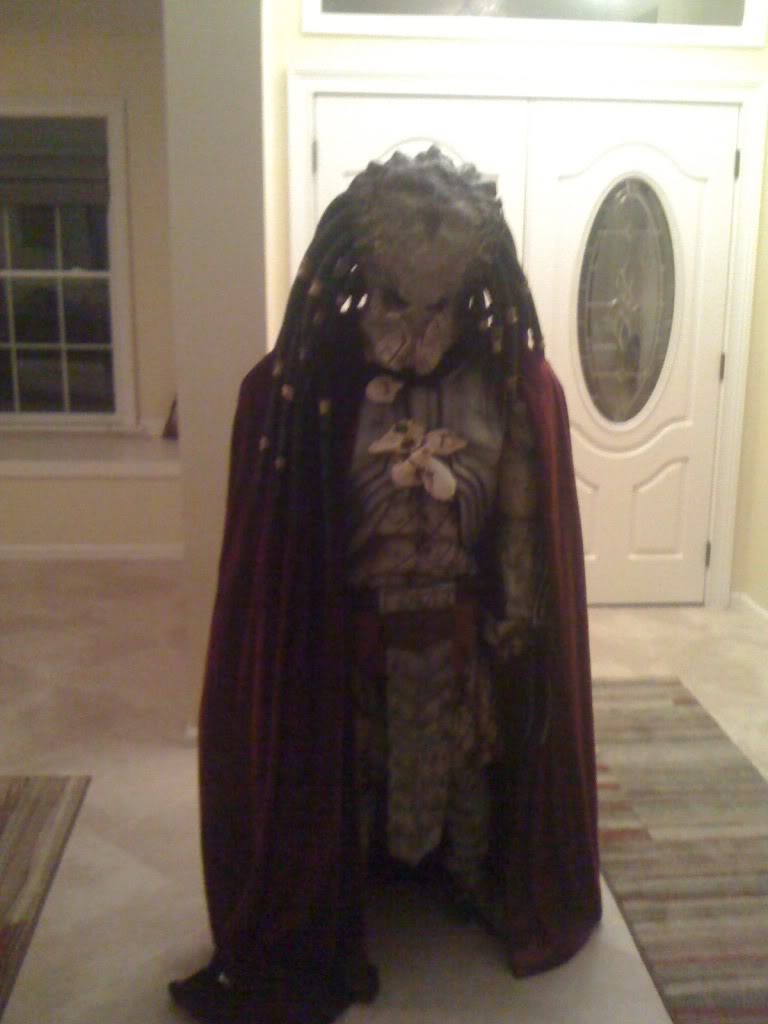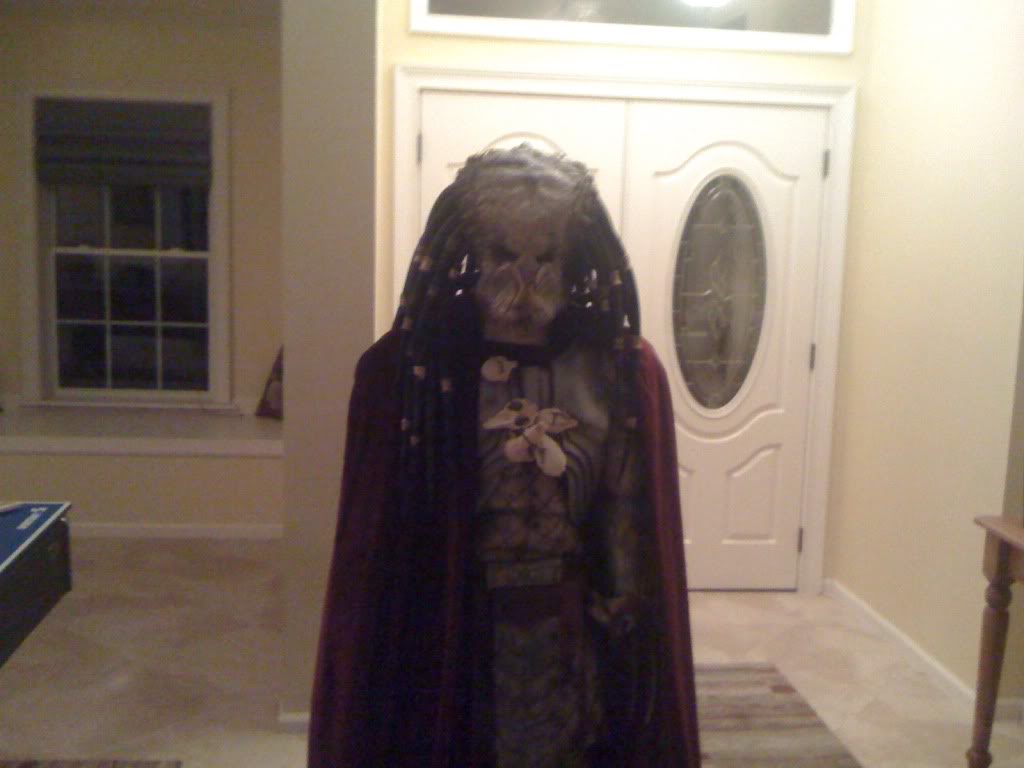 More to come.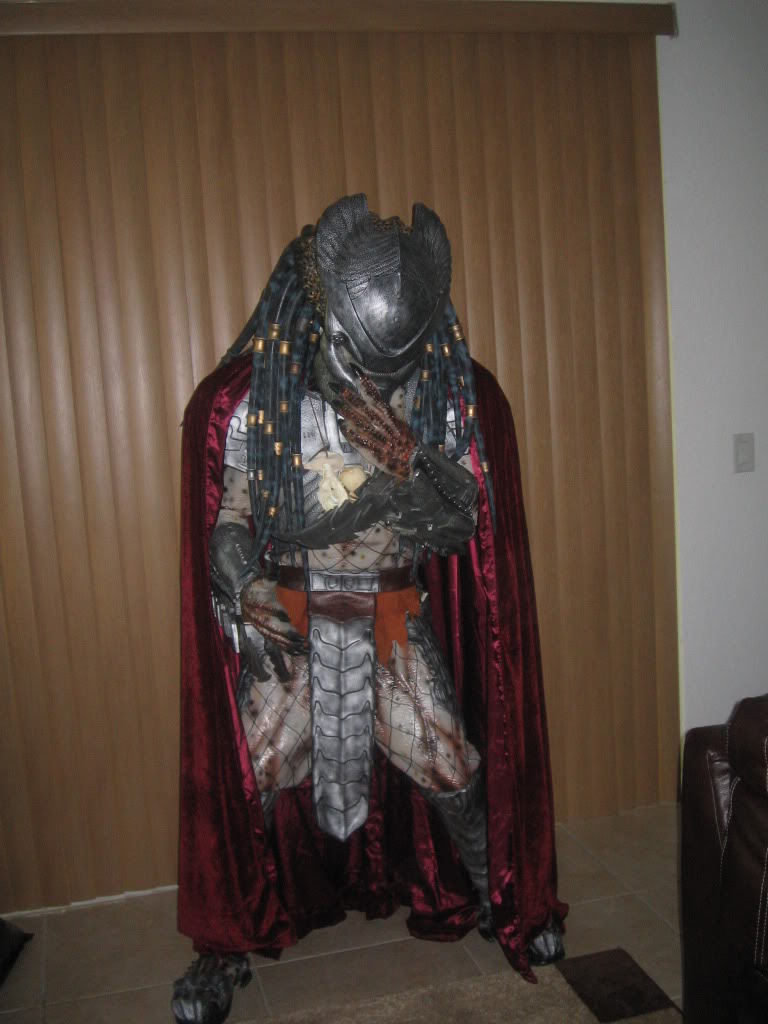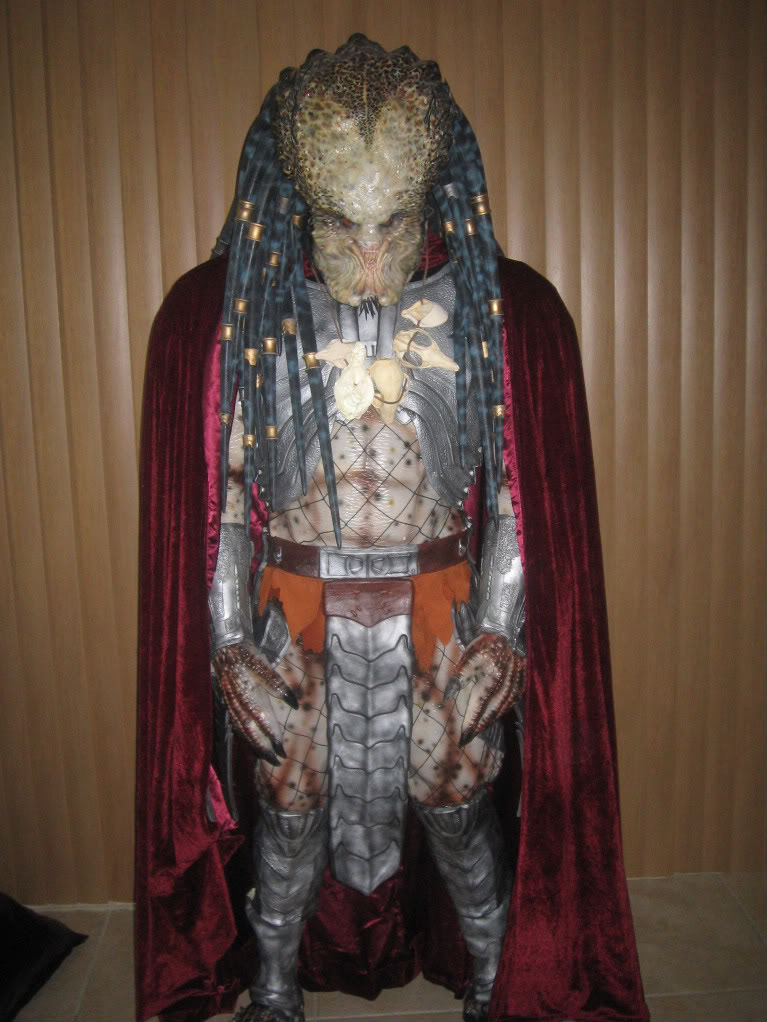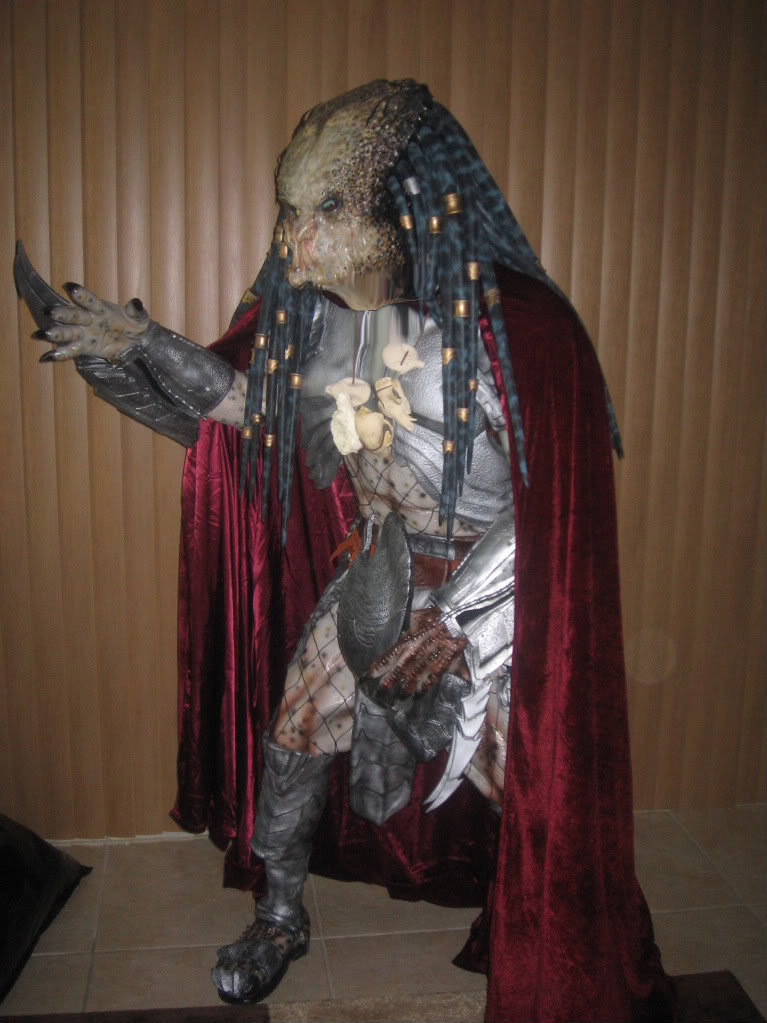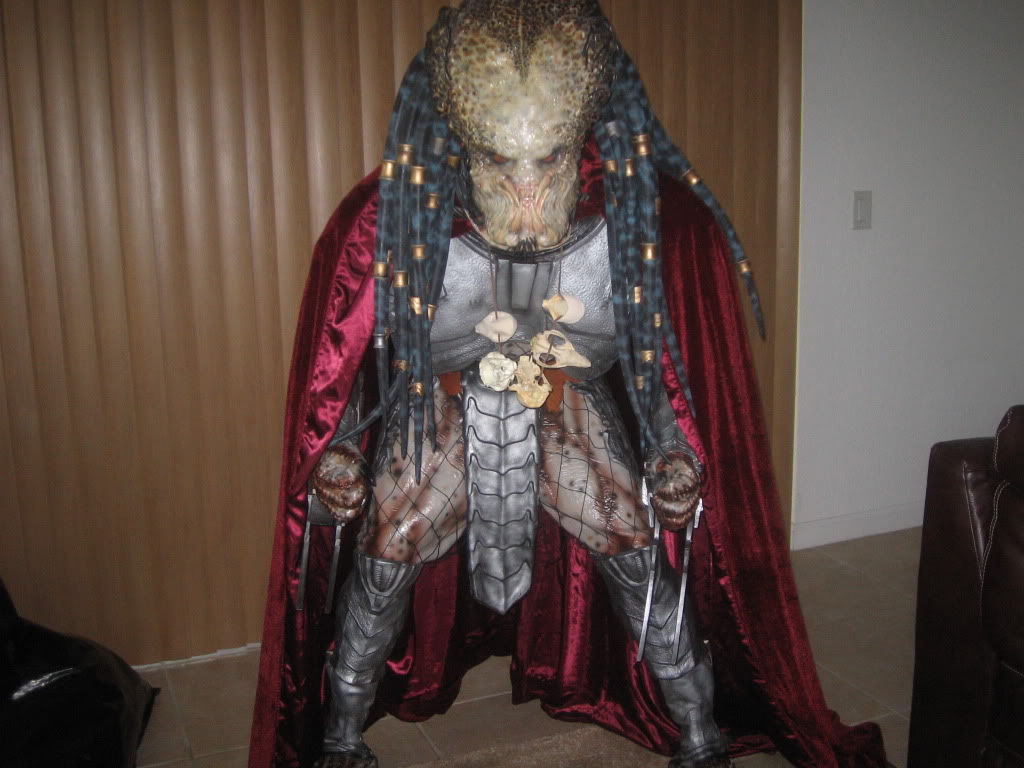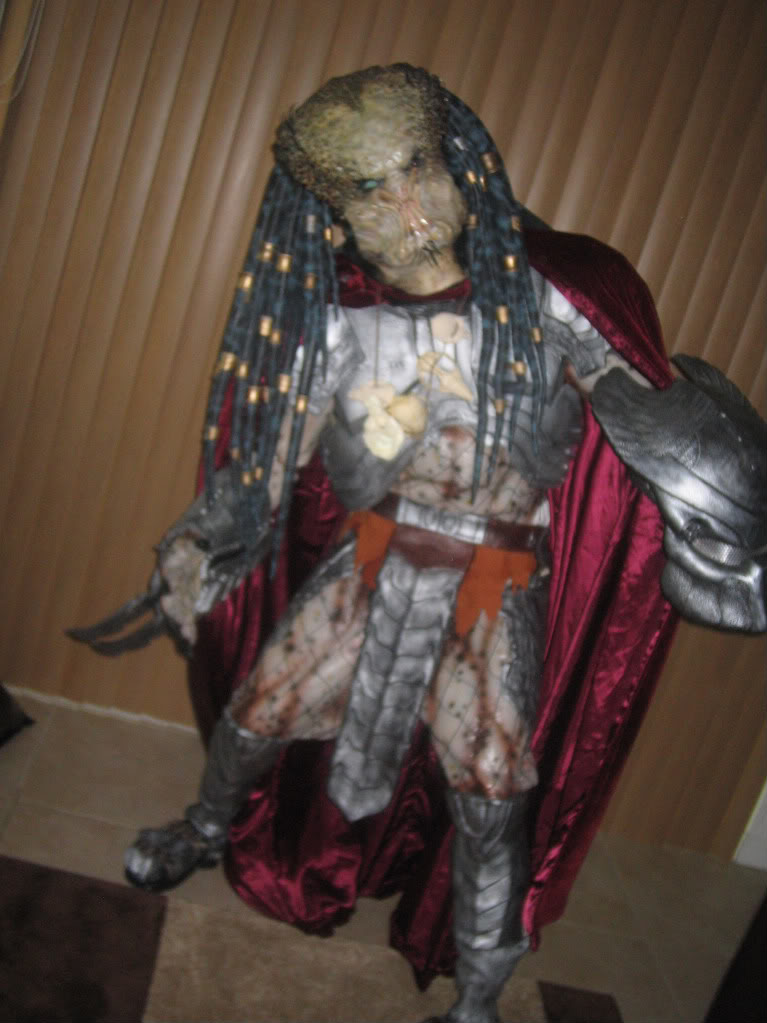 Dad being a goof ball
Peronsally I think it looks more badass on me lol