What's up? 1st post on the RPF and 1st project. I've been reading through forums for months now and can't believe the level of talent and info that's here.
The goal here was to make a Boba Fett helmet that was good enough to wear or have in my office but far from official requirements. I also needed to be able to build this indoors for the most part fairly inexpensively. I'll include some specific notes or links for anyone starting out like I am and hopefully save you some time.
I used ¼ in. 9x12 Craft foam sheets from Michael's found
here
and for the dome I ended up using ½ in. floor mat foam tiles from Costco.
This build originated from a paper pep file with no designer name and I later realized not all pep files are created equal and so a note, that if you're using foam don't use a pep file for paper. Instead I'd use
Fierfek
or
JDcustom's
foam templates.
The face and cheeks went well with the ¼ in. foam but the dome trying to build with all those seems was a mess as you can see. It hurts to look at.
I found a post by familyman
here
that mentions he heated the foam up in the oven and shaped it inside a plastic helmet. I ended up using ½ in. foam and some mixing bowls for the shape and I think it came out really good but a little shallow. I've since bought a plastic helmet and some other mixing bowls for a better shape and will try and improve on the dome next time around.
For hardening I did a coat of gorilla wood glue on the dome only, which I don't think I'll do again. It dried clear but didn't seem to add much as far as hardness and didn't fill many gaps or holes.
I added 2 coats of black Plasti-Dip for durability.
In hopes of sanding away paint to show the silver damage underneath, I tried 2 coats of Krylon CoverMaxx Metalic Silver (at Walmart). This did NOT work though and the sanding just seemed to fray the foam. If you have suggestions on this I'd love to hear them.
I sprayed 2 coats of each color using Krylon spray paints which were awesome since they dry in 15 min. I masked and painted my colors in under an hour. Walmart has a ton of colors and both the Krylon CoverMaxx and Krylon Fusion for Plastic seemed to bond well with on top of the Plasti-Dip.
Colors:
Krylon CoverMaxx Italian Olive/Satin and Burgundy/Satin. There was a darker green color that ended up looking too blue, so I just misted some black over the green for the darker cheeks.
For the silver damage, since sanding away the top layers didn't work, I tried out a
Silver Bic Mark-It Metallic
permanent marker and it went on pretty well.
I really like the t-shield I found on Amazon which was easy to cut down with scissors and the color is more of a gray-blue. This is a
Hobart 770580 Face Shield Replacement lens on Amazon
.
I still have the yellow kill marks to do, which I've found the stencils on thedentedhelmet.com
here
. I also need to do the viewfinder that drops down and of course the Dent! Learned a lot this first time around and have some definite improvements to make. I'll keep posting the final details.

Resources
Thanks to these guys for the videos and info they've posted. They're ridiculously talented.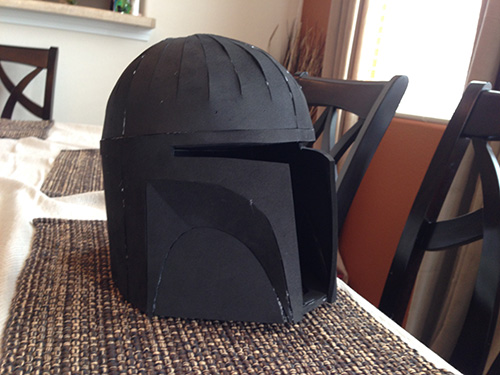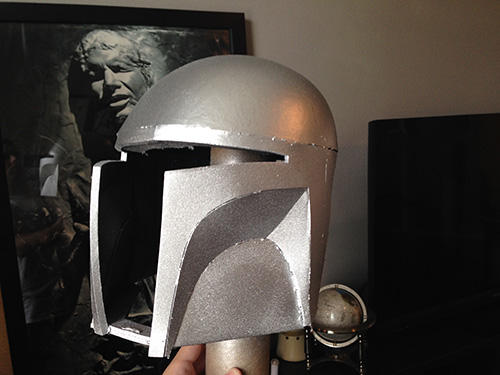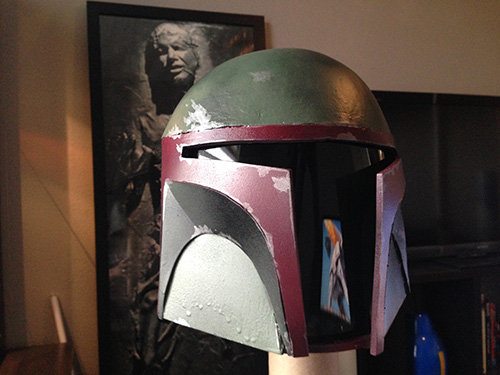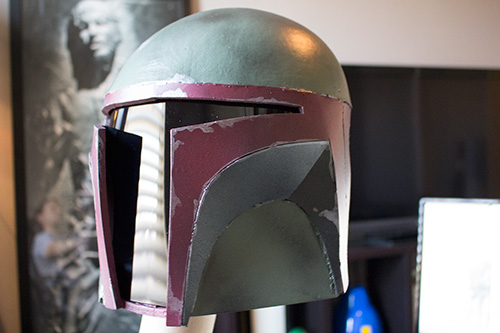 Last edited by a moderator: