EDIT:

For the finished SLICE OF LIFE film and lots of BTS documentaries follow this link:

Blade Runner SUSHI BAR + SLICE OF LIFE making of

If you would, however, like to delve into the long and complicated creation of this film, then please read along. Enjoy
!
------------------------------------------------------
Hi!
I'm sure most of you are familiar with the "Sushi bar" building. It was just one of randomly put together buildings and used in most of the SFX shots in the movie called Blade Runner. I was fascinated with the shape and look of that building since I discovered it. But why make a replica?
As it happens, I'm a young filmmaker. Mostly I'm doing music videos and commercials, but every now and then I try to make something for myself. A friend and I are huge fans of science fiction films of the 80's, so he wrote a short SciFi story a couple of years ago, and we decided to make a 20min movie out of it. We've been in preproduction for a couple of months now. Story-wise it is not related to Blade Runner in any way, but we figured - since we need it to be in a dystopian universe anyway why not put some random BR stuff in it, right? Most of the story is set in a deserted gas station high above the city level, and "Sushi bar" fits perfectly to what we imagined. We figure nobody will really know we "borrowed" the building except us fans and it could be a nice hommage to model builders and designers of BR.
I must point out that due to limited reference on the subject this will not be an exact replica, and I will take some liberties whenever needed. :lol
All of the special effects in the movie will be done with models and miniatures - the old school way! So there will be a couple of ships and flying cars as well, but more on all of that later!
So let's start the - Sushi bar/gas station build!
Before we actually started building anything I made the 3D model of the building just to figure where the bigger parts generally go, and to help myself with measurements.
All of the measurements are in centimeters. This thing will be around 2 meters high.
One of the most important and recognisable parts of the building is the water bottle at the top of it. There is no way for me to find the type that was used in US around the 80's so we found something similar. Here is my friend sanding the bottle.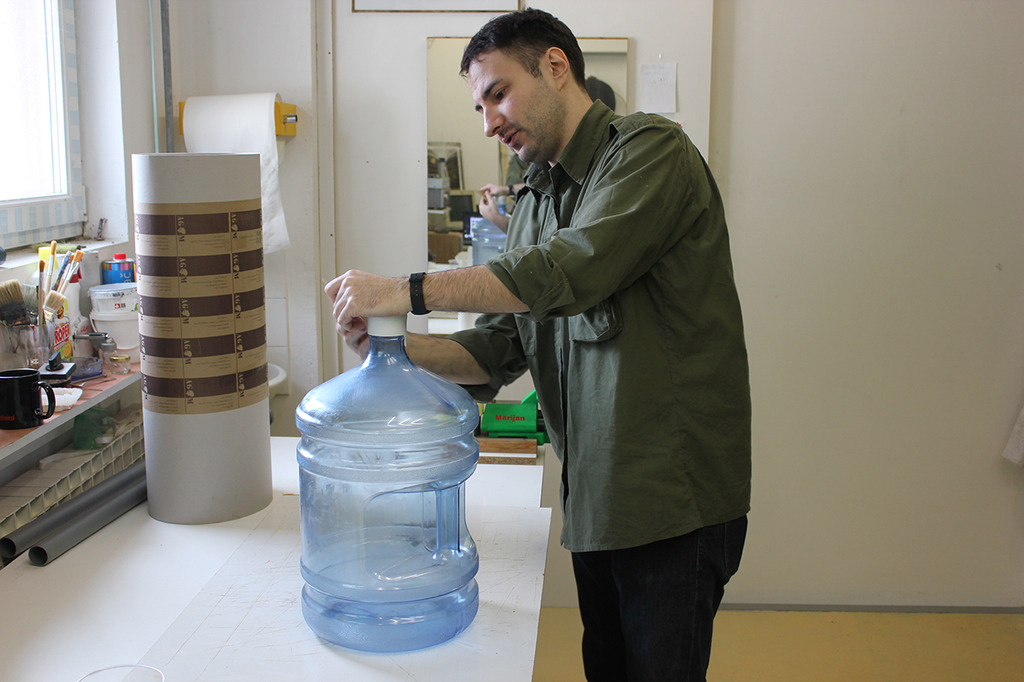 I tried to replicate the underside grid as close as I could: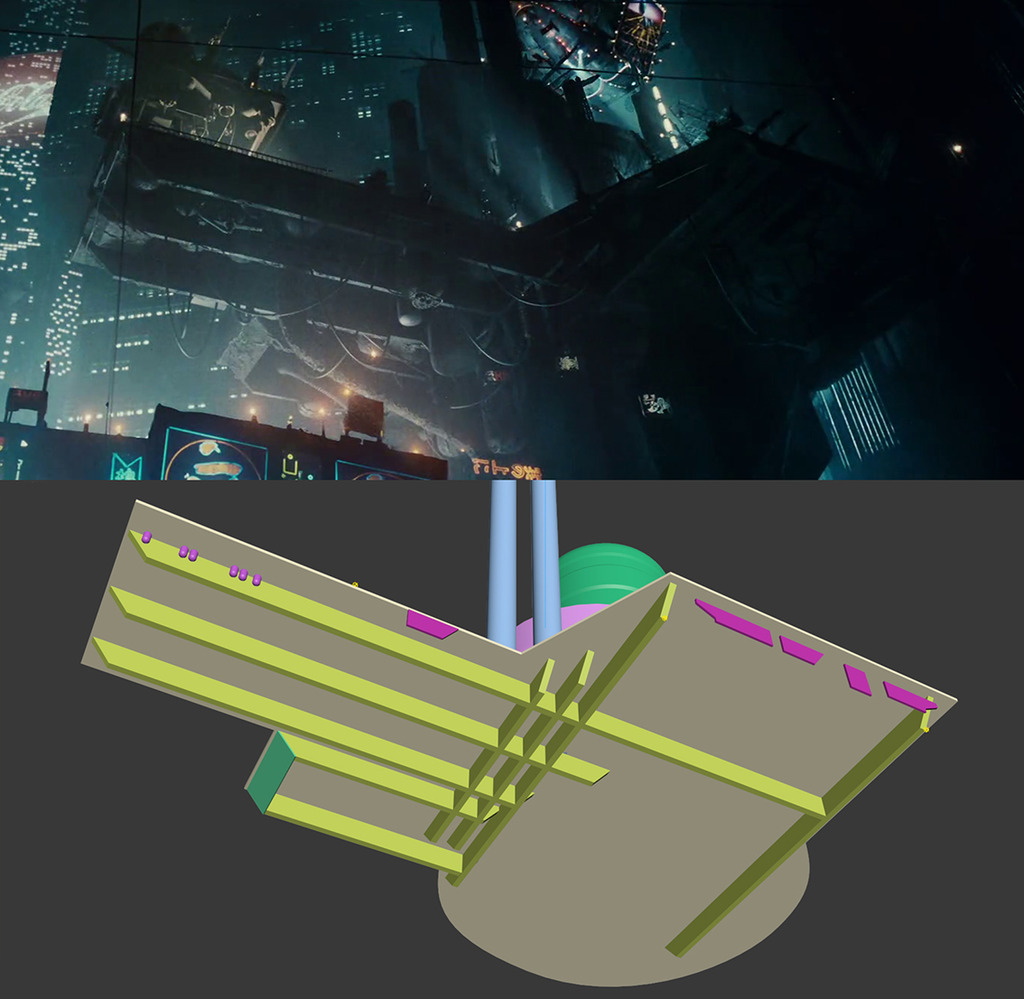 For the lower part of the building we just glued together cardboard tubes, and later we'll dress them with wires and random junk: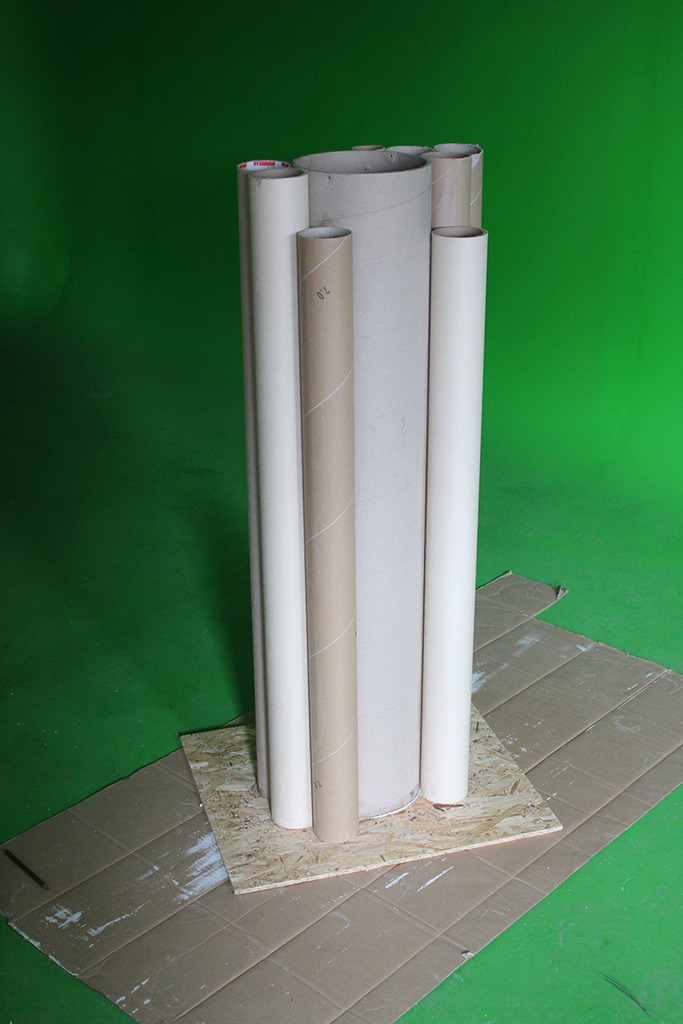 The main part of the building has a lot of levels so we cut them from styrofoam, and covered the sides with cardboard: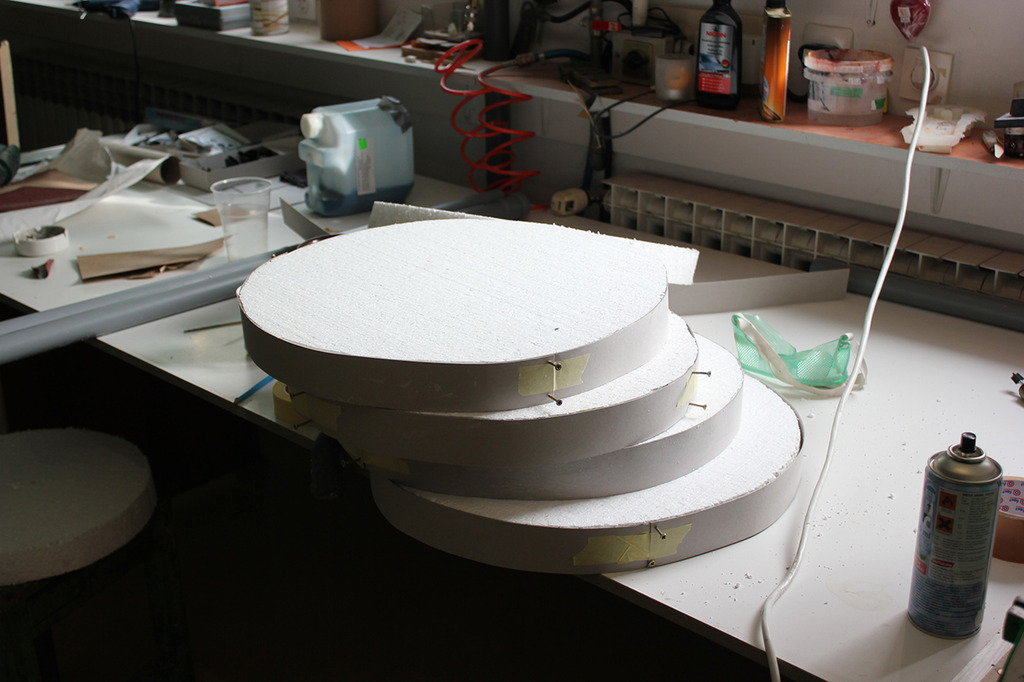 It's starting to take shape:
The last shot for now is not that glamorous...
Nothing is glued yet so its not at the angle. We covered the main part of the building with paper-mache technique. Water thinned wood glue + newspapers. It is totally cheap, very hard when it sets, and it gave us an uneven texture that the original had on these parts:
I downloaded all the pictures from Douglas Trumbulls site, and the one I posted at the beginning I scanned from Cinefex. Apart from that I'm working with screencaps from the movie. If anybody has some rare behind the scenes photos apart from Trumbulls site and wants to share them, I would be grateful.. If they even exist.
I'll post some more photos soon! Hope you like it!
BYE!!!
Last edited: