Sr Member
RPF PREMIUM MEMBER
Hi everyone,
After considering the interest, and talking it over with the shop owner to get the ok, I'm please to say that I will be starting production on the cylinders. I'm now taking orders. The production run is now started.
I have the steel on hand and the stainless has been ordered, I should have it tomorrow... the rest of the tooling is also on it's way. The first go with these will be 10 steel and 10 stainless steel, but depending on demand, I may tack on a few more as required. As of today, May 27th, 7 of the stainless steel cylinders and 4 of the steel cylinders are spoken for. If you want in on this first round, either full payment or a 50% deposit is required.
They will be CNC machined from your choice of either steel or stainless steel (aluminum or brass can also be done - contact me for info).
The Tomenosuke cylinder sent to me by userd1402 arrived today. Now I get why the Tomen kit is so expensive... the casting and plastic used are all top quality. Very nice.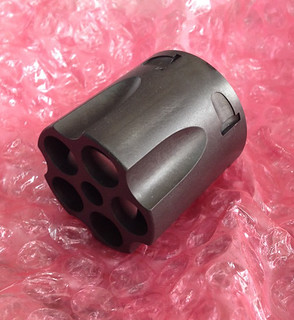 Cost for the cylinders:
Steel
-
100 euros
Stainless Steel
-
140 euros
Aluminum/brass - please contact me.
Shipping:
12 euro
s inside European Union
15 euros
for everywhere else
Finishes available:
Machined Finish - standard finish.
Mirror polished (usually for stainless steel)
- 30 euros
.
Gun-blued Steel - 10 euros.
Payment:
The choice is yours as to either a 50% deposit or full payment. Payments via Paypal:
propsbyted@gmail.com
Please remember to include your RPF name and what you're ordering in the paypal note.
Last edited: