Alrighty... I am now working on a new and improved version of my original drawer-slide-blade design that just fell short. After having a look over at
Gauntlets Complete
and seeing the truely AMAZING working simple (as in non-complicated, not cheap) design by Master Anubis, I decided to take a crack at a re-do... I am soooooo happy I am.
Hokay, so, what I'm going to do is attempt to make a extending/retracting modular wrist-blade gauntlet based off of Master Anubis' tut.
Materials are: Sintra (sign maker's plastic, PVC like, but better), ABS Plastic (septic tubing at HomeDespit), rubber bands/surgical tubing, various sizes of screws/rivets, HEAT gun, furniture foam for insulation, Smooth-On brand polymers/resin/urethane/etc. and a whole lotta B.S.&T.
First off, a snapshot of what I did last night:
I've begun cutting THE new-and-improved-tried-and-true-blade-guy method... I got a hold of some sheets of 1/4" sintra from my bud at the campus sign shop, sketched them out and started to cut/trace out the design. I'll be going just a tiny bit longer (~ 17" x 3.5") for the bigger return draw, and a little closed to the original curvy style (higher arch) for that "wicked" edge... no pun intended. I'm just going with the sintra now as a) I don't have any ABS and
this is just going to be my negative anyhow...
I'll be modding the placement and small "sliders to get a good "
SNIKT
" sound as well as holding them in place.
Here's an image of it so far... sorry it's not all pretty-fied, it's just a snappy. I also included an Xacto handle for comparison.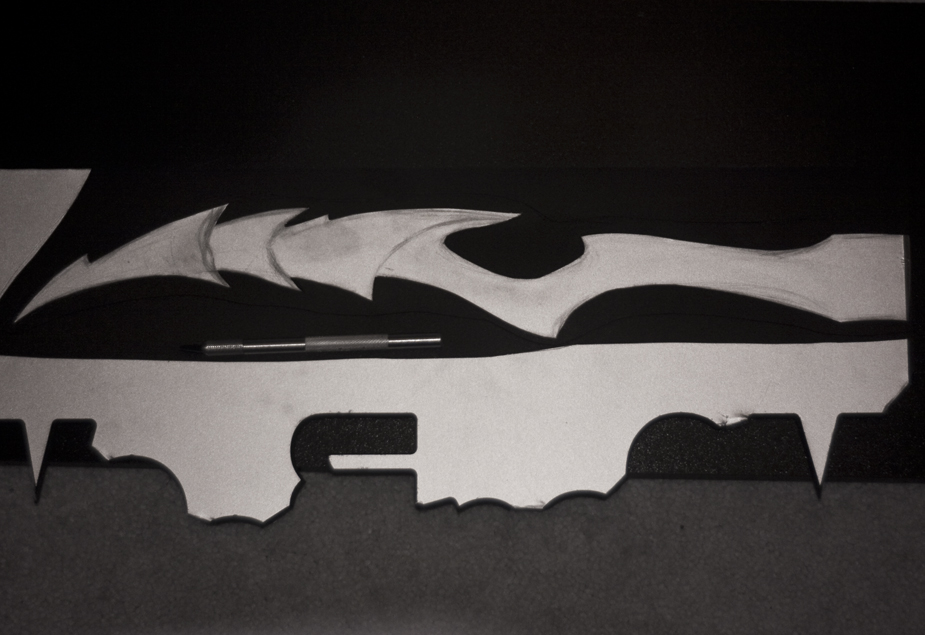 the silver on it is a common laminate for sign gloss/pre-cut so that's why it's all metallic...
Then after all that was done, I arrived at this point:
Along with my old design (bottom blade) which was machined for me... seemed bit TOO perfect on the lines, so on the new one for casting, I hand carved and sanding as well to give it a more wild build feel. the new material is also NOT lamination of two separate sintra boards, and is so streamline.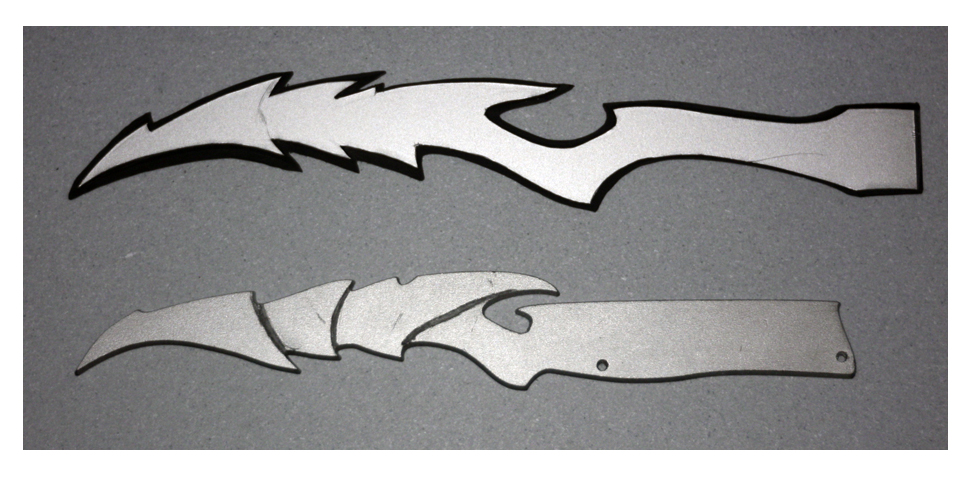 I'm actively working on found (home depot) ABS now, as again the method M.A. described works wonderfully!
I'm going to modify the spacers just a tad so that there will be some slight lateral movement (popping down closer to my knuckles) that will also serve as my forward locking mechanism (ABS lock-bracket).
I will also be testing out an idea to have a return action as well - but we'll see...
Last edited by a moderator: