In the two weeks prior to the release of HBO's new Game of Thrones spin-off "House of the Dragon" I decided to put together my own rendition of Blackfyre, the sword used by King Viserys in the show.
Since I made this before the show actually aired, the only reference images I had for this were 2-3 shots from the trailer. As such, it's certainly not 100% screen accurate. I was trying to finish this prior to the premiere of the show, so I omitted a couple of small details for time's sake and I just don't have adequate references to ensure total accuracy.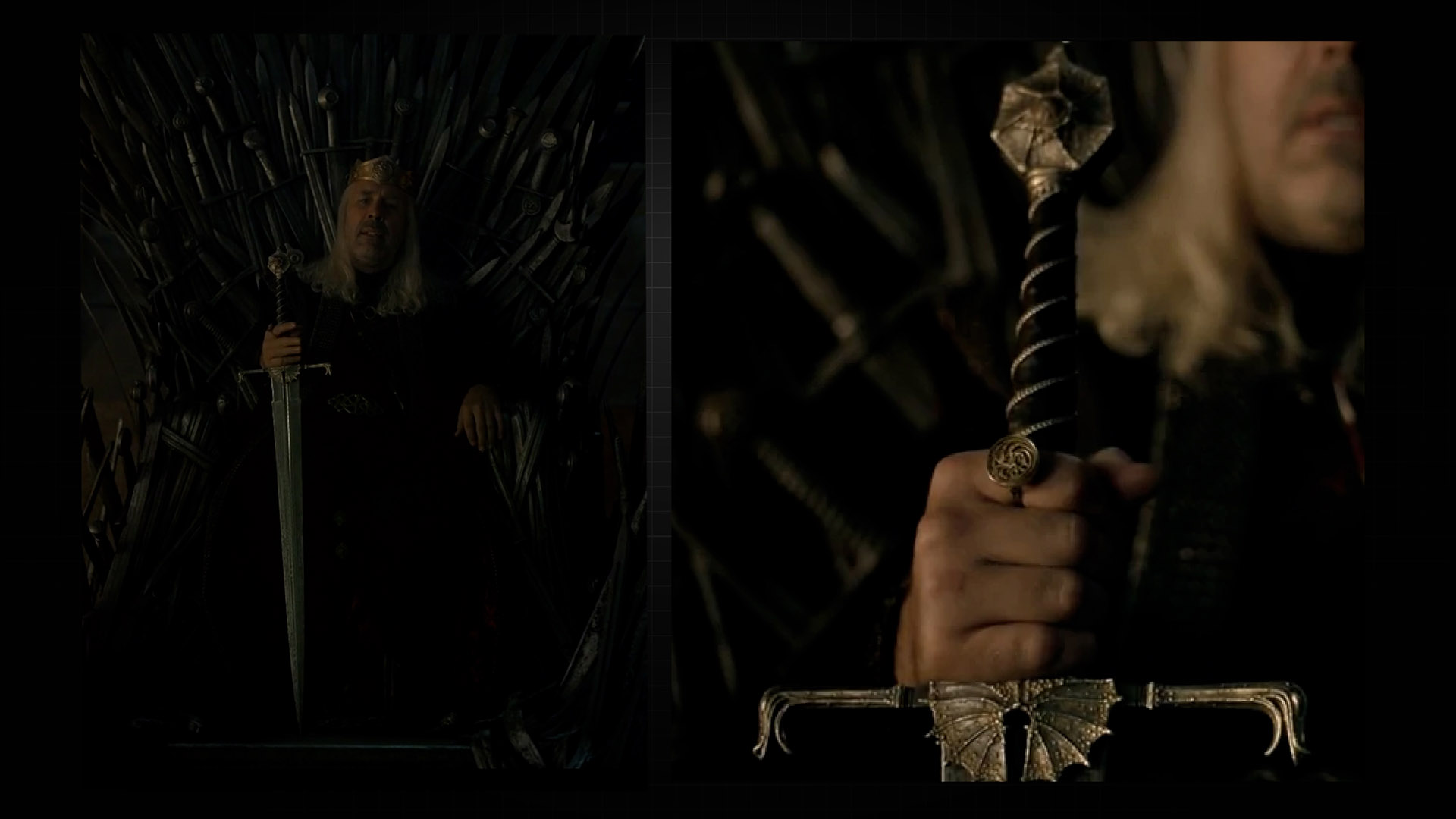 I started by designing a template for the sword in Adobe Illustrator:
I made the blade and handle out of maple wood. I started by cutting to the general shape on the bandsaw, then refined the shape and added bevels on a 4" and a 1" belt sander.
The handle of the sword has spiral grooves with what I believe might be a really fine metal chain inlaid. I'm not 100% sure what it is, but I went with a twisted steel wire. I cut the grooves with my dremel, twisted the wire using a hand drill and wrapped the handle after staining it.
The guard and pommel looked tricky to try to carve in wood or model with polymer clay. I've had a little experience with 3D modeling in Maya so I decided to borrow a 3D resin printer from a friend and try it out. I created base models for each piece in Maya and then added detail in Zbrush, then printed them on an Elegoo Mars.
I primed and then spray painted the blade, pommel and guard pieces with metallic Krylon spray paint. This is the aspect of the build I think could use the most improvement. In the future I'd like to get a decent airbrush and try some Alclad Chrome or something for a better, smoother metallic finish. Also, in the show this should be a Valyrian steel sword, meaning it should have a damascus pattern. The best idea I could come up with for doing that on wood is hydro dipping and I didn't have time to order damascus pattern hydro dip film so I omitted that detail.
I attached the 3D printed parts using super glue. Certainly not the most secure way to attach the guard pieces, but this is probably going to be mounted to a wall and never handled, so I'm not too worried about it.
Here's the finished product.
If you'd like to see a video of the full build, it's on my YouTube channel. Not sure of the rules on promoting, so you can find the channel link in my RPF profile.
Let me know what you think!