Master Member
RPF PREMIUM MEMBER
22 years ago
I put together a custom Mandalorian costume that was inspired by the white Boba Fett of Ralph McQuarrie's concept paintings and Joe Johnston's concept sketches. I used a Mark Bradley armor kit and a Don Post helmet.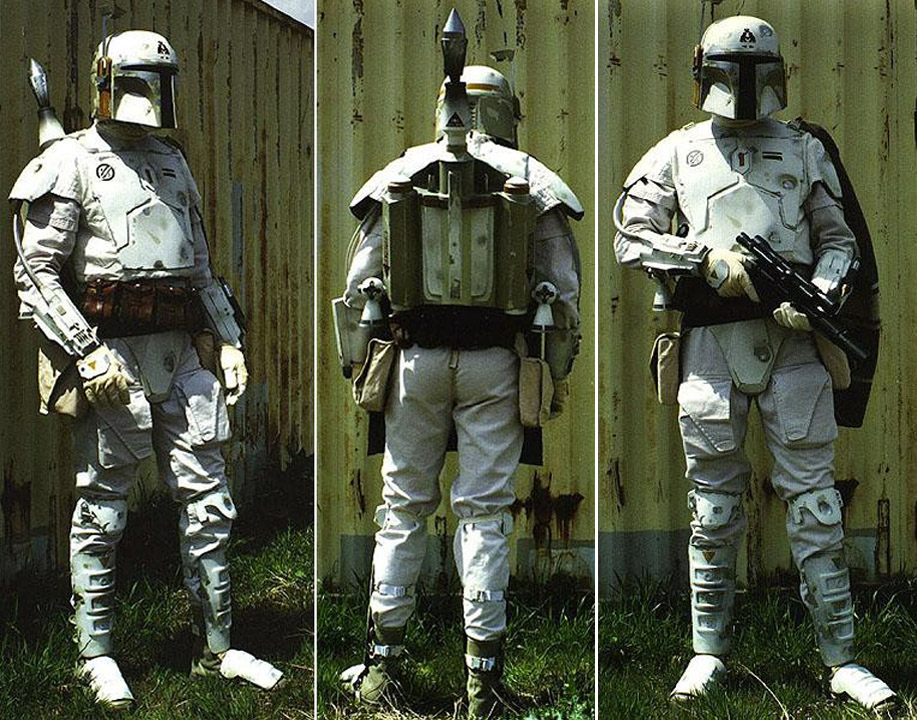 A pic of that helmet has been my avatar here on the RPF for all these years since then.
Cut to this Spring, when
Scott D
mentioned that he was planning to rework a Rubie's Fett helmet that he'd had for a while, and was drawing a bit of inspiration from mine. I in turn was inspired by Scott, and decided to revisit my old helmet and do an "update/upgrade" after having gotten one of Hasbro's Black Series helmets, which I was impressed by (plus, Amazon had them marked down one day, and with free Prime shipping it was a no-brainer).
This time around I had the advantage of using the pre-existing paint chipping/damage, so after completely disassembling the helmet I set about masking off that damage...
The process that I used was to lay a strip of clear packing tape down on an area that I wanted to mask - I rubbed it down really well and then traced around the shape with an ultra fine point Sharpie: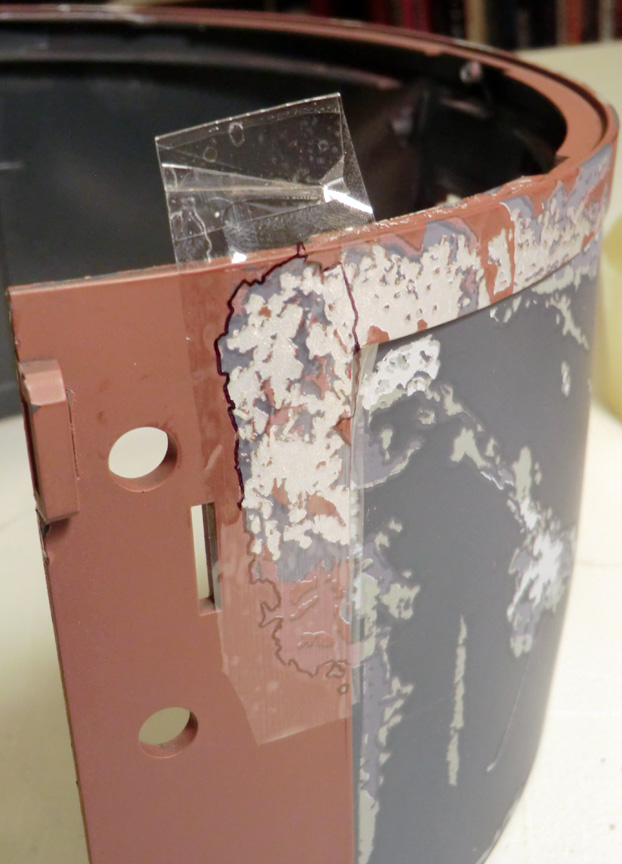 I wasn't super-fussy about getting every little micro contour - 90% of the shape was good enough. If the area to mask off was particularly large, I'd break it down into "chunks" to trace - that way the final cut piece of masking tape wouldn't be too big to handle easily and get stuck down in the proper orientation.
Then I would lay a strip of blue painter's masking tape down on a sheet of styrene (the styrene is easy to peel the tape off of). I then peeled the packing tape off of the helmet and rubbed it down on top of the strip of masking tape: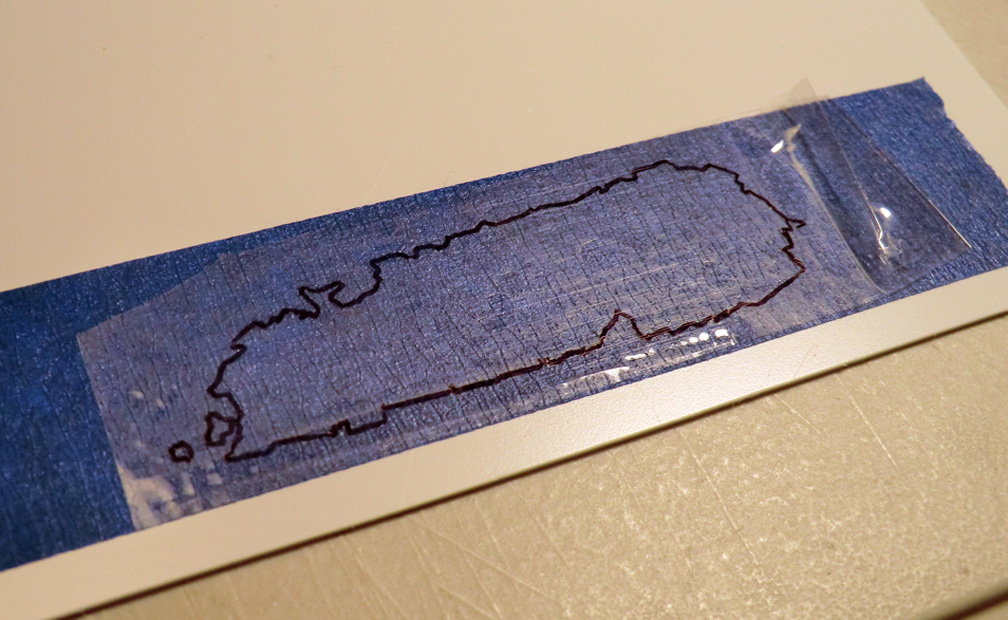 Then I'd cut along the Sharpie lines with an X-acto knife. Again, I wasn't too worried about trying to exactly match every little contour and divot - stuff that small gets kinda' tricky with an X-acto. After I cut all the way around, I peeled away the excess and then peeled the packing tape layer off of my final masking tape shape: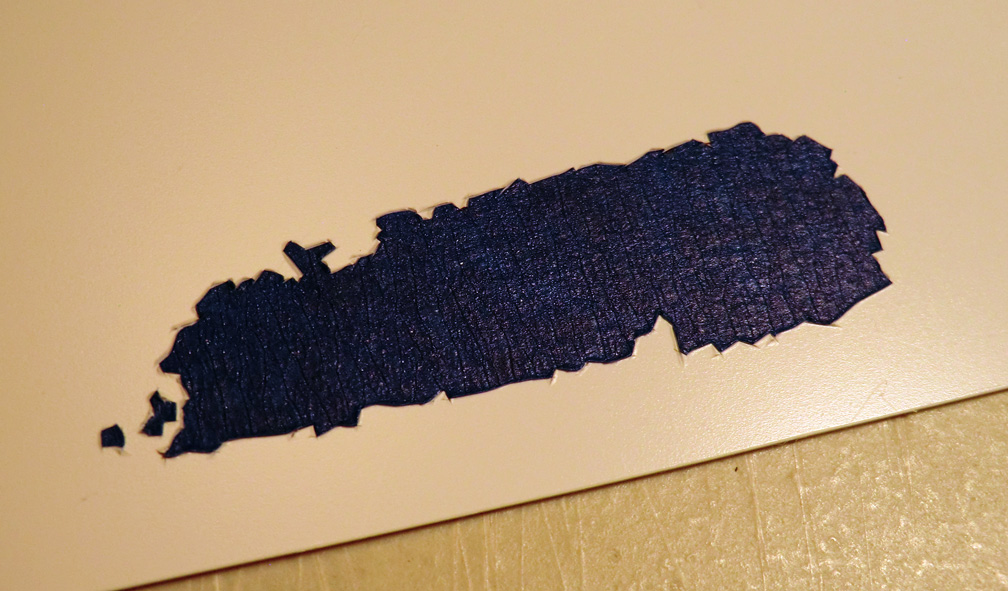 Then using the tip of the X-acto blade, I'd carefully pull up an edge of the tape and then slowly are carefully peel the whole thing off of the styrene. Then it was just a matter of lining an edge up with the chipping on the helmet and slowly laying it down. Sometimes I'd have to peel it back up to reposition it slightly, but once I had it where it needed to be, I'd first lightly press it down all around the perimeter to make sure that it was registered properly, and then press it down more firmly all over to make sure that it was completely down:
Then I'd move on to the next "chunk" and repeat the process until all of the areas that I wanted to mask were covered:
Here you can see that I skipped some areas. The process became rather tedious after a while, and I wasn't too concerned about being super slavish to the original - this was a custom after all. Plus, with
all
the areas of chipping, it just seemed too "busy." That became painfully obvious when I did the dome first. I actually ended up re-doing the dome, and eliminated about a third of the areas of chipping.
All of the paints that I used were rattle can colors - primarily Krylon Fusion, with one can of Rust-Oleum, and one can of Montana Colors, which I lightly oversprayed with a Design Master color and then a Design Master transparent tint. After the base colors were done I did a dirt/scorching/spatter pass in some areas with airbrushed Tamiya acrylics. Then those areas got spritzed with a spray bottle of 99% isopropyl alcohol - the alcohol dissolves the Tamiya a bit and breaks it up, giving it a blotchy pattern. A couple final steps were some scuffing with a piece of Scotchbrite pad and 80 grit sandpaper (lightly) and then hitting all of the edges with an extra fine point silver Sharpie paint marker - plus adding a few scratches here and there while I was at it.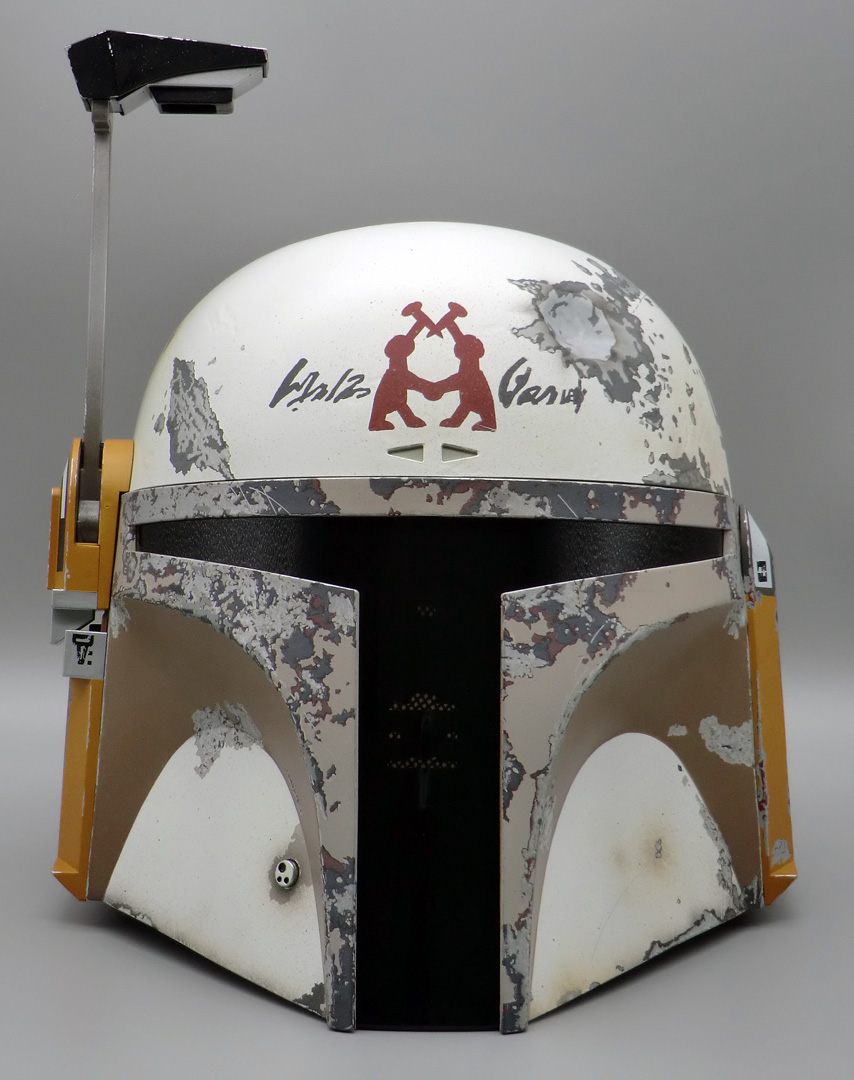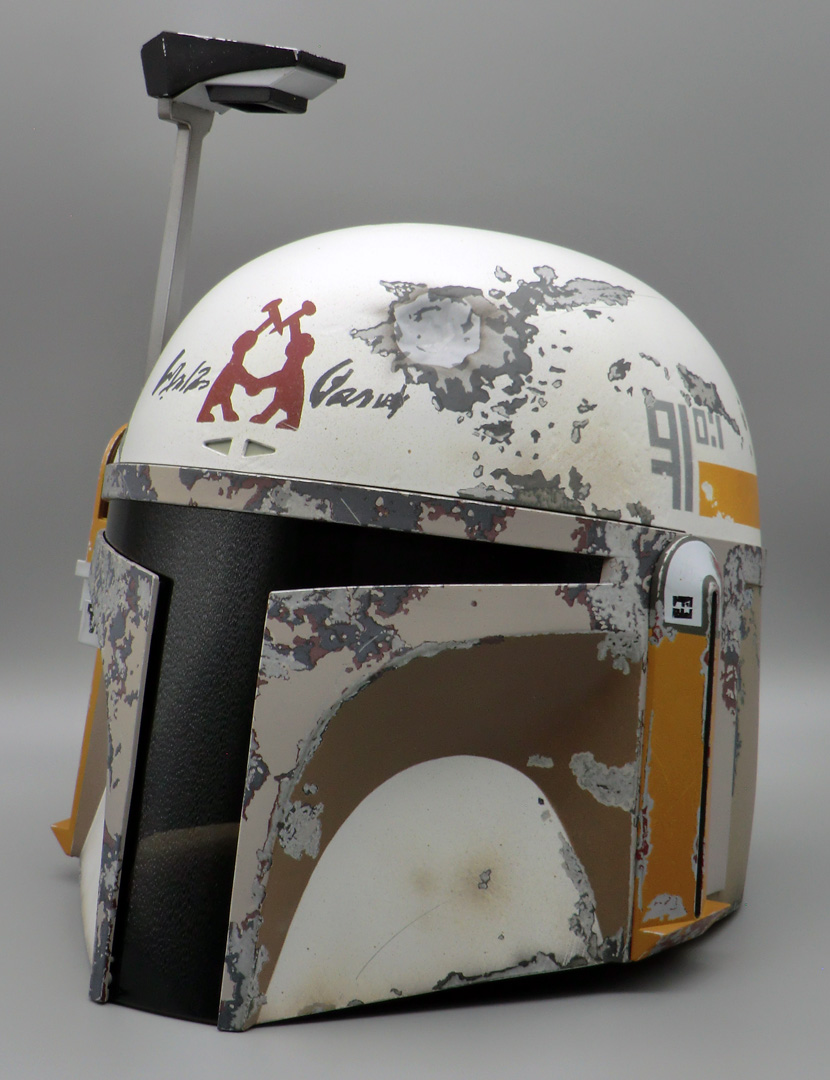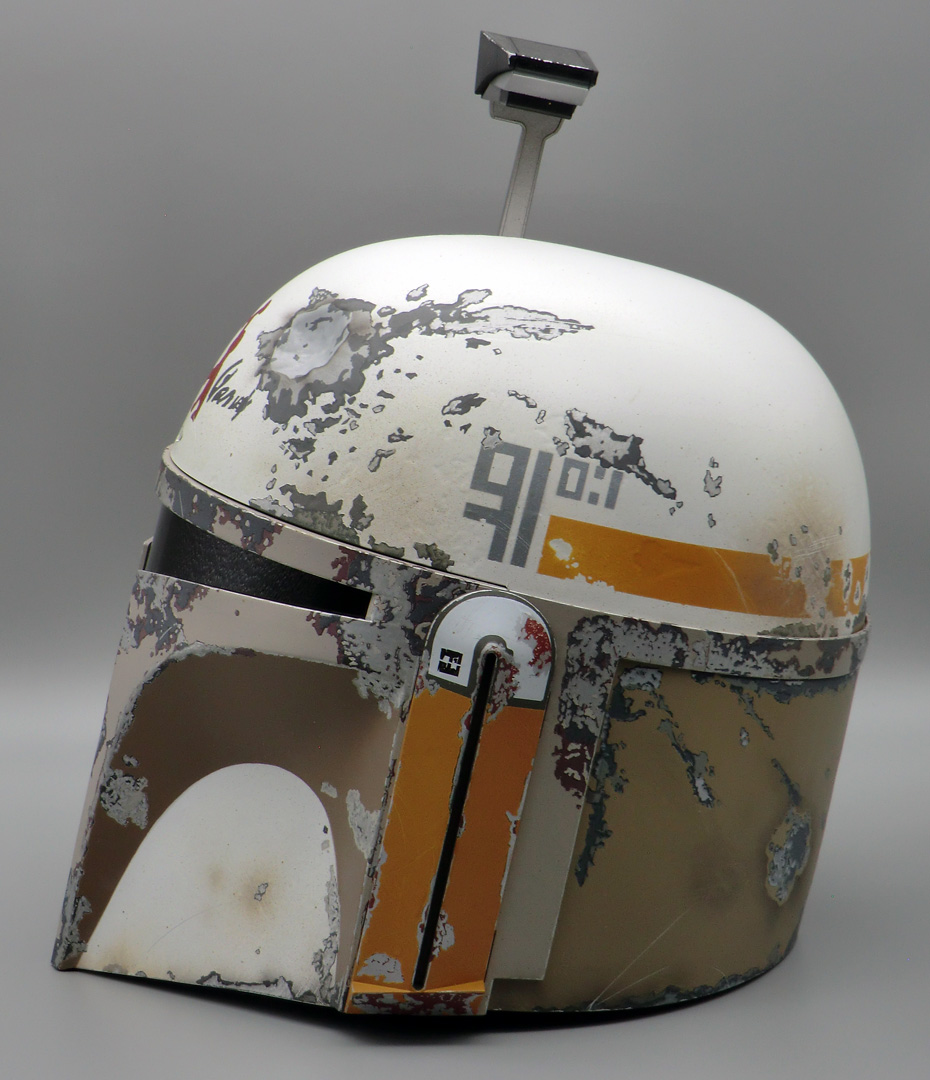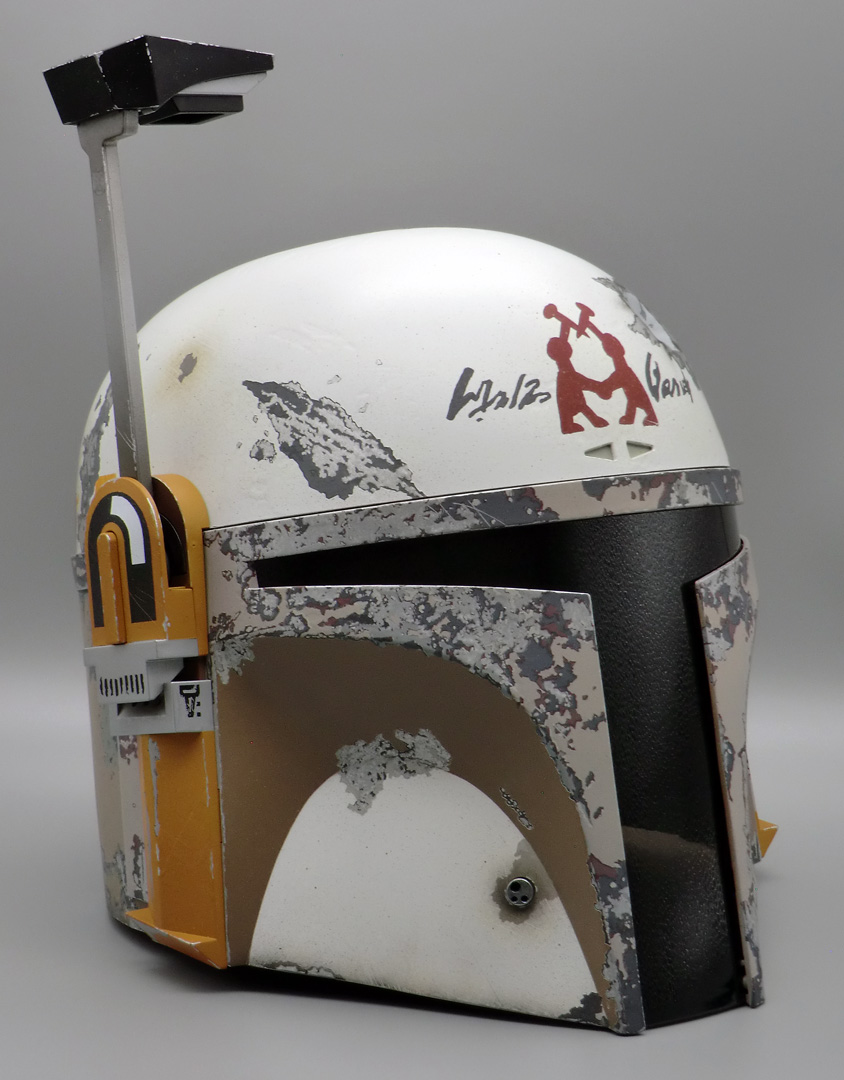 As far as the graphics on the helmet... when I was a kid the Art of Star Wars books and the Star Wars sketchbooks were like Holy Tomes to me - I would look at them over and over and spend hours imagining "what if..." I had great admiration for both Ralph McQuarrie and Joe Johnston, and was just in awe of their imagination and skill. When I did my costume back in 1998 I wanted to include some graphics from each of them.
I had plenty to choose from with Johnston, but I was invariably drawn back to this one, which I have always interpreted as two primitive warriors grappling, with raised war clubs (a rather appropriate symbol for a warrior race).
As for McQuarrie, that graphic with the stripe on the Snowtrooper helmet always caught my eye whenever I would flip through The Art of The Empire Strikes Back. Since it was unused (at that time, anyway) and had a great look I figured "why not?" I just reduced the size of the symbols and dropped the stripe down low, as that seemed to work better with the raised midband around the back of the helmet.