So im new here as you can see and I had a couple questions.
The mysteria bios.
Ive heard that all of them are small except the scar AVP one. I liked the Delux one but was wondering if it would be too small to it a mask. I read through all the mysteria bio threads I could find but they didnt tell me if it will fit a mask I do have a small head though so then the other question is are there any people who make small masks. Ive seen the prop maker list but I dont know which ones will fit.
Deluxe version
Scar AVP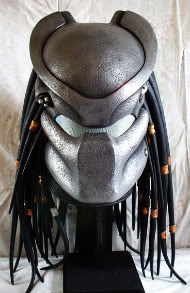 So in short will the deluxe bio fit a mask or is the AVP the only one that will fit.
does anyone have any suggestions for a good bio from predator 1 and a good small mask or half mask (ive only seen 1 person make a half mask.)