Hey all! I am going to give a quick step by step on building a jacket mold for a bio helmet.
1. First step, build a wall for your mold. Here we used cardboard covered with duct tape.
2. Next fill all your voids with dirt clay.
3. You want it to be about one-third of and inch thick. The reason for that is to build space of the silicone.
4. When finished it should look like this. Notice the keys on the clay that will help hold the fiberglass shell on.
5. Then gently put a pour spout on the top of the clay to pour the silicone into. The reason for this is to help fill the mold to top with silicone. Photo shows plastic wrap on dirt clay, this is only to keep dirt clay from drying out. REMOVE plastic wrap before you begin to fiberglass.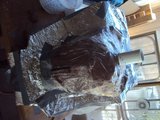 6. Then fiberglass your form. We like to use a mixture of talc and cabasel to thicken the fiberglass to be able to trowel it on mold verses using mat. Add rods to jacket mold before it cures to create handles for your mold.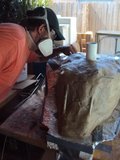 7. Next step, when the glass dries, drill small holes into it. You will only need about 4 of them. The reason for this is to let air escape when pouring your silicone into your form.
8. Mix your silicone; we used smooth-on OOMOO quick set. It is a 1:1 mix ratio. Very user friendly.
9. Pour your silicone into form, try to pour silicone as high as you can, this helps keep air bubbles out of silicone.
10. When the silicone is dry remove the dirt clay.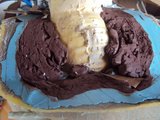 11. Next, remove sculpture remove all the clay from the mold.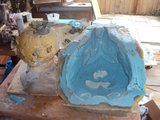 12. Start applying your plastic to the silicone form; we are using a Smooth-On product called Plastic Paste. This is mixed 3:1 by weight. You could certainly use glass to create your helmet but in this application we used plastic.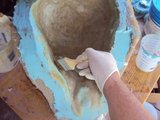 13. When finished it should look like this photo. The product takes about an hour to de-mold.
14. Here are the photos of the pulled casting.
15. Dremmel and clean all flanges, now you should be ready to paint.
This is just a quick example of one way to create a bio helmet mold. If you have any questions please feel free to ask and I will try to answer.
Thanks,
Ant