Hey members,
I thought you'd get a kick out of some pics of our first suit up and convention appearance. I say first suit up because that's exactly what it was. We really were idiots and waited til the last minute. I put on a Halloween haunt, so we had been working on that up until two weeks ago and this weekend's Comic Con in Austin really caught us with our latex'd pants down.
We had imagined getting there early on Saturday, but as it turned out we did last minute stuff until almost 4pm on Saturday. Here is just one example of our last minute preparations...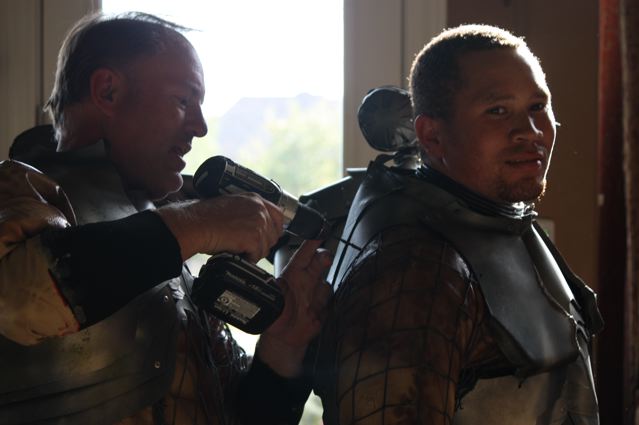 proper use of a drill. Attaching shoulder bells at the last minute.
Suiting up in the parking garage was no fun. Now I see why Lair members suit up in a hotel room. We rode in the car with everything on except our masks, bios, gauntlets and hands. Buckling up wasn't easy with a butt flap.
Oh... btw, all our armor was of 3mm sintra /pvc sign plastic. Looks cool, but not bendy unless you carry a torch with you. We had never put them on before, so things like arm holes and neck areas were gouging and bruising the whole night.
Here are two Predators waiting on an elevator. Stairs were not an option when you can't see so well.
On to the show... well not really. We were mobbed before we even got there...
May I part your hair?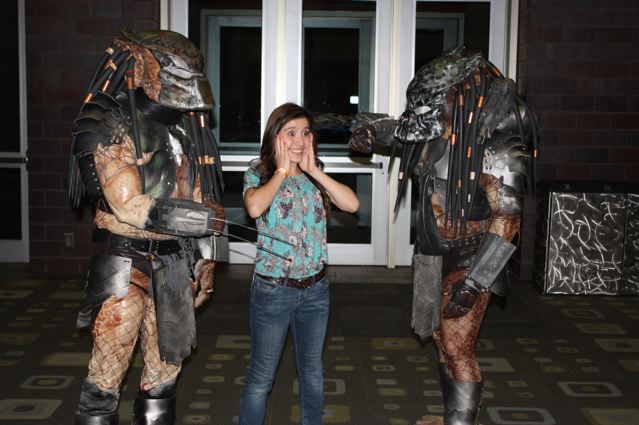 Ok...how do you battle against a magic cane? Blades of course.
Sometimes you just don't know where to gesture... I couldn't see anything but now know I was almost grabbing her breasts.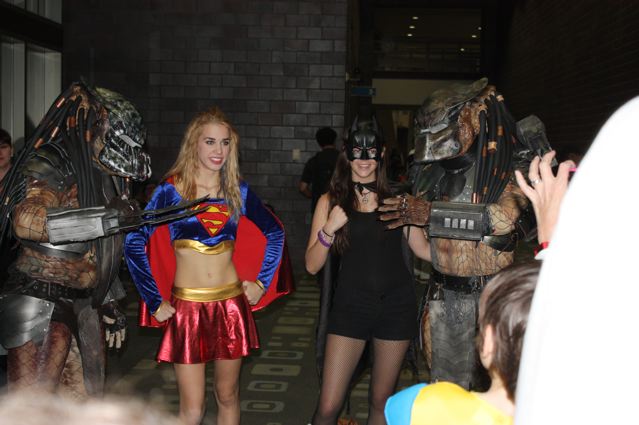 Uh...really kid?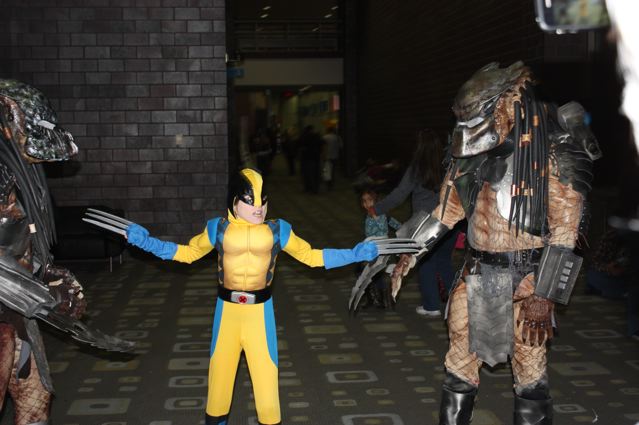 Finally after an hour, we make it to entrance.
Making it legal...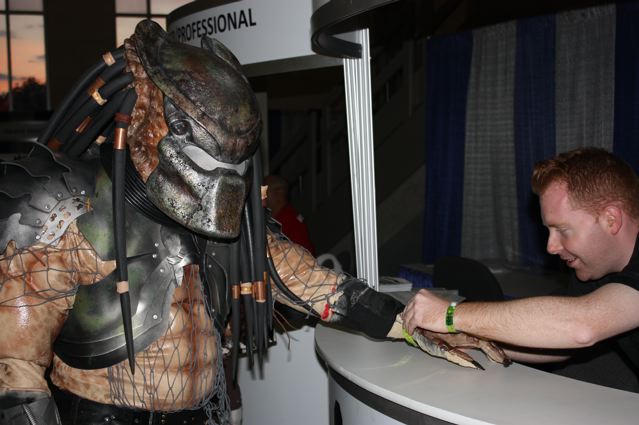 Be my new best friend.
They're just plastic kid.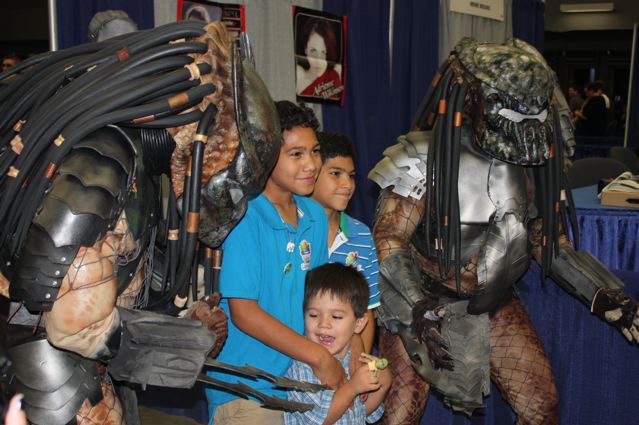 The standard pose...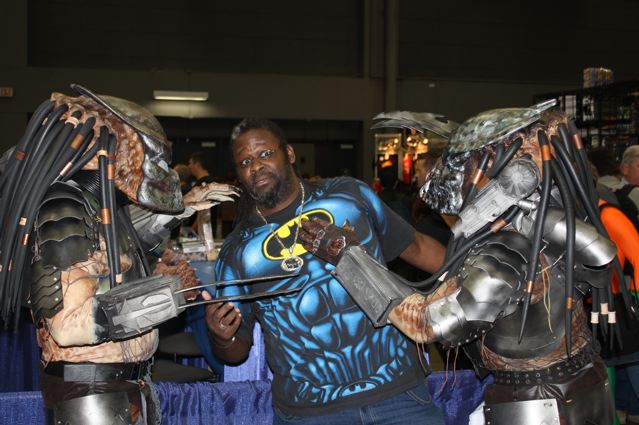 How did we even get up here? We didn't even know about the contest until the show promoter people kept telling us that we needed to enter the costume contest. It was painful just standing for so long until we could get up on stage. More air holes are needed in our suits. I was dizzy from my own breath for so long.
Oh...and to communicate (ha!) we had to get close. No, we're not whispering, more like yelling.
This we really couldn't believe. Are you kidding...best in show??? Man is this ever going to piss off Jack Sparrow! It did too.
Wow! We knew everything that was wrong with our suits and we both were concentrating on all that was WRONG with our suits. In the end, it didn't matter. We were well loved.
On that last note, even though we knew all that was incorrect or wrong, it's somewhat like when I put together a haunted attraction. It's the 80/20 rule. 80% is correct and the other 20% that may be wrong is filled in with people's imagination or the darkness. Well, we didn't have the cover of darkness at the convention center, but we definitely had imagination on our sides.
I'd encourage all of you sitting on the bench with part of your suit made to get out there. It was an absolute blast.
Things that went wrong:
Not ever trying on your suit until the day of
Riding in a car with armor
Armor that pinches and bruises
Cracking the mount off my cannon on the car door
My feet foam looking like Donald Duck's feet, so I just ditched them last minute.
Not enough air or cooling.
Not having cool retractable blades
Not having click sounds ( i had an amp and everything, just out of time )
Not allocating enough time!!
Things that went right:
Pretty much the whole experience of walking in downtown Austin, and making some kids happy.
Thanks for reading.