Well-Known Member
RPF PREMIUM MEMBER
Hi Folks!
I've been reading posts on the RPF for several months now. Reading and learning about all of the creative and innovative costume building. I've been intrigued ever sense and have been inspired by many people on this forum. I wouldn't say that I'm a creative person but I decided that I would try my hand at building a suit. There were many suits that I considered doing including Spidey, Cap, and the bat. In the end I decided that I would do Batman, one of my favorite characters, but in the style of Sandy Collora's Dead End Batman. Also, it had elements that seemed achievable and not entirely out of my ability.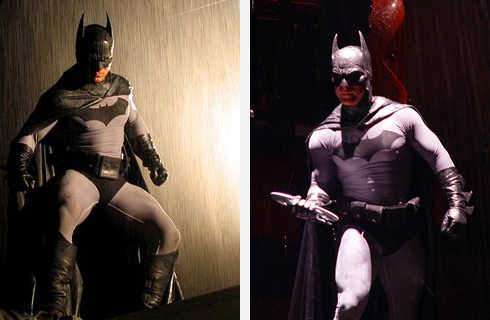 So here's the basic outline of how I plan to build this suit.
Cowl: Dead End Cowl (Reevz666)
Compression Suit: White Under Armour dyed Grey
Shorts: Black Lycra
Boots: Gotham 100's until I can afford an upgrade
Belt: Black military ammo belt - 10 pouch
Emblem: Either acrylic fabric paint, latex, or urethane
Buckle: Scratch build based on Dead End style
Cape: Another Scratch build using satin and latex
Gloves: Basic motor cycle gloves
Gauntlets: Foam/Plastic scratch build
A few shout outs to the kind people on this forum that have been so helpful and informative: Batiman, BatTexan, and Reevz666. I wouldn't be this far along without their help.
So let's get to it. I actually started planning at the end of Sept, figuring I might have enough time to complete this before Halloween. I've already ordered the Dead End cowl from Reevz666 and I'm totally stoked. Can't wait to get it. I've got the under armour gear, black lycra shorts, a pair of the Gotham 100s, and a black 10 pouch military ammo belt on the way.
I ordered up white under armour compression gear because the heather grey just didn't seem right, and it's what was used in BDE. I used regular Rit dye, applying several applications, and the base suit came out pretty good. Here's how it looks so far.
Before:
View attachment 70758
After:
View attachment 70759
Next I've order the belt but started on a buckle based on the Dead End style, but it won't be accurate. I'm going to modify it to be smaller since I'm not as big as Clark Bartram
I'm going to make it from modeling clay, silicone mold, then cast a black resin plastic version. Here's the model so far:
View attachment 70760
I've got way more thoughts to add but I'm short of time. I'll post back later on the emblem and cape builds.
Cheers,
Craig
Last edited: