Howdy all,
I just realized it's the 30 year anniversary of Batman 89. I was 30 years old at that time, and put together a pretty cool costume, (by 1989 standards, on a married father's budget!)
Back then, I bought the rubber costume pieces licensed by DC and used a full rubber wet suit. My mom and I made the cape.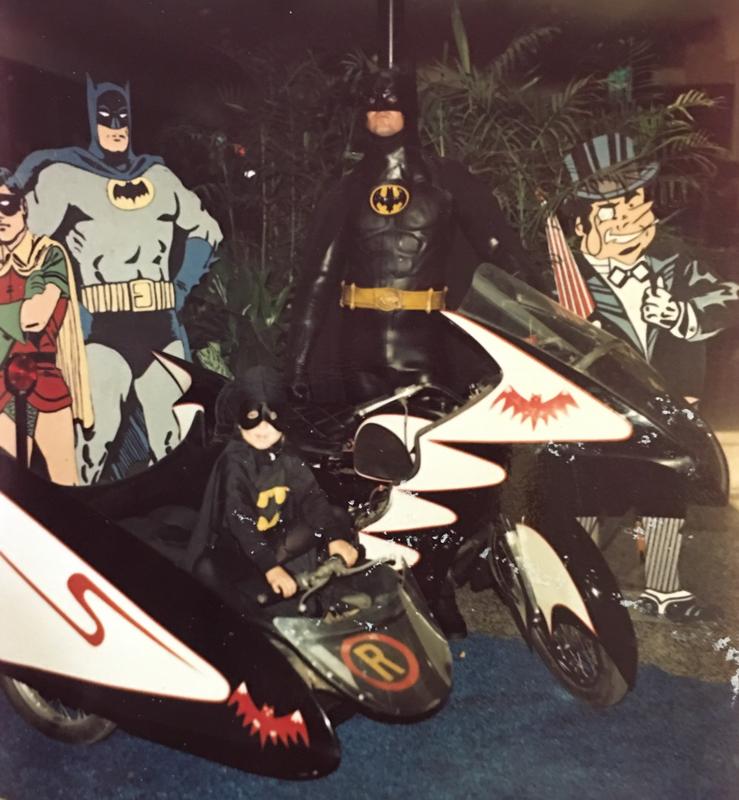 (That's my son in the sidecar!)
Anyhow, though there have been some great renditions since, I've always felt the Michael Keaton/Tim Burton concepts and films were best.
I still have my old costume hanging in the batcave, but it's not nearly as impressive these days, (nor am I,) as costuming has evolved so far since then.
Granted, there are incredibly well made Batman 89 outfits on this site that are absolutely stunning, as if Keaton himself stepped off the screen. But honestly, I no longer have it in me to do the painstaking work of obtaining the proper pieces, figure out sizing issues, (I'm 6'4" and 220 lbs,) obtain the best offerings and glue pieces to bodysuits, etc.
So, I had an idea, and did some searching here to see if it's been attempted, but found nothing on it. I thought I'd reach out to other Batman 89 fans to get their thoughts.
UD Replicas makes this "Dark Shadow" leather jacket and pants.
They also make these great boots:
As well as these very nice gloves:
It seems to me, (and I'm hoping for your input) that this suit, (including gloves and boots) would make a really nice, sturdy, easy, real world foundation for the costume. I'd only need to add my own cowl, cape and belt, or upgrade to something nicer from the RPF.
Definitely not "screen accurate," and the zipper goes right up the chest, but it's also sturdy and tough like we'd expect a real life batsuit to be.
Not to mention how easy it would be to put on and wear, plus how durable the whole thing would be. I imagine with proper care it would look great for many years.
To the hardcore Batman 89 costumer, it might be a travesty. But again, I'm thinking more along the lines of a "real world" homage to the suit; a "rough and ready" and "screen reminiscent" rendition, as opposed to being "screen accurate."
Thanks for taking the time to read this and if you have any thoughts to share, I would appreciate them!
Sincerely,
Michael