The SDCC LImited Edition one came with one battery operated LED for the engines. Both versions include all the clear pars for lighting but the limited edition included the Bandai Yellow LED which runs off a watch style battery. You can buy these as standalone pieces on places like Amazon
Amazon.com: Bandai 258254 LED Unit (Yellow) for Plastic Model Kit: Toys & Games
The SDCC limited edition one also had no box art. It was originally sold at San Diego Comic Con but I believe it was available to the Japanese market as a Bandai store item. The SDCC release had no box art and just a black box with lettering
As far as the models themselves...
On the left is the SDCC limited edition which I refer to as the "no dots" version, the right is the Standard one I refer to as "orange dots"
Items labelled A are differences in decals B are physical tooling differences.
There is really only two physical difference beyond the decals and the markings in regards to the ship. The open panel right below the cross wing of the orange dot version is changed to a closed panel on the "no dots" version. The "no dots" version also has an open panel along the back edge of the main wing that is not on the orange dots version. Based on the greeblie detail in there, it looks like it could possibly represent landing gear?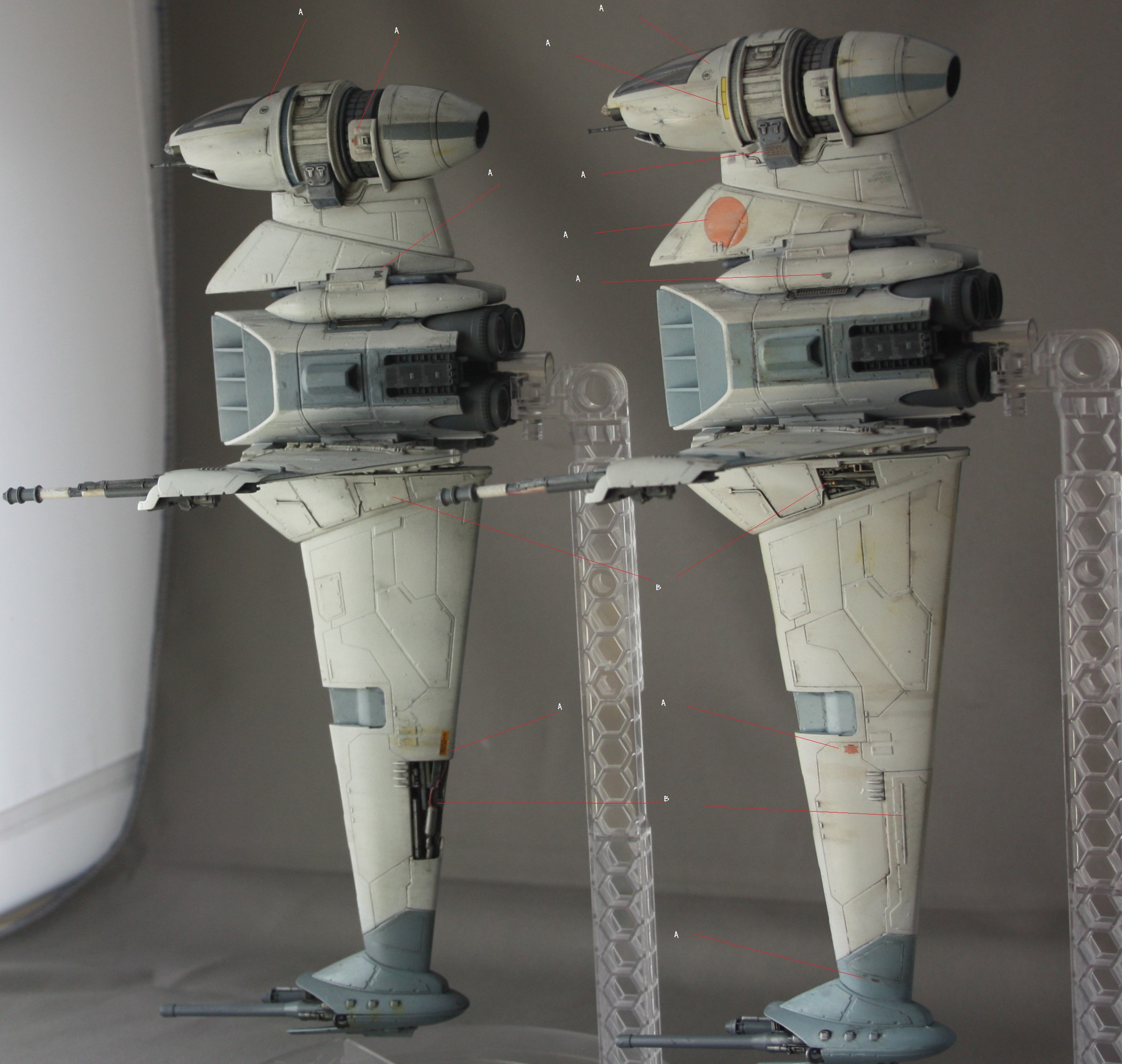 Sorry these two pics have some blurry spots. I could not find any I took that had the side by sides with everything in focus. But this give you an idea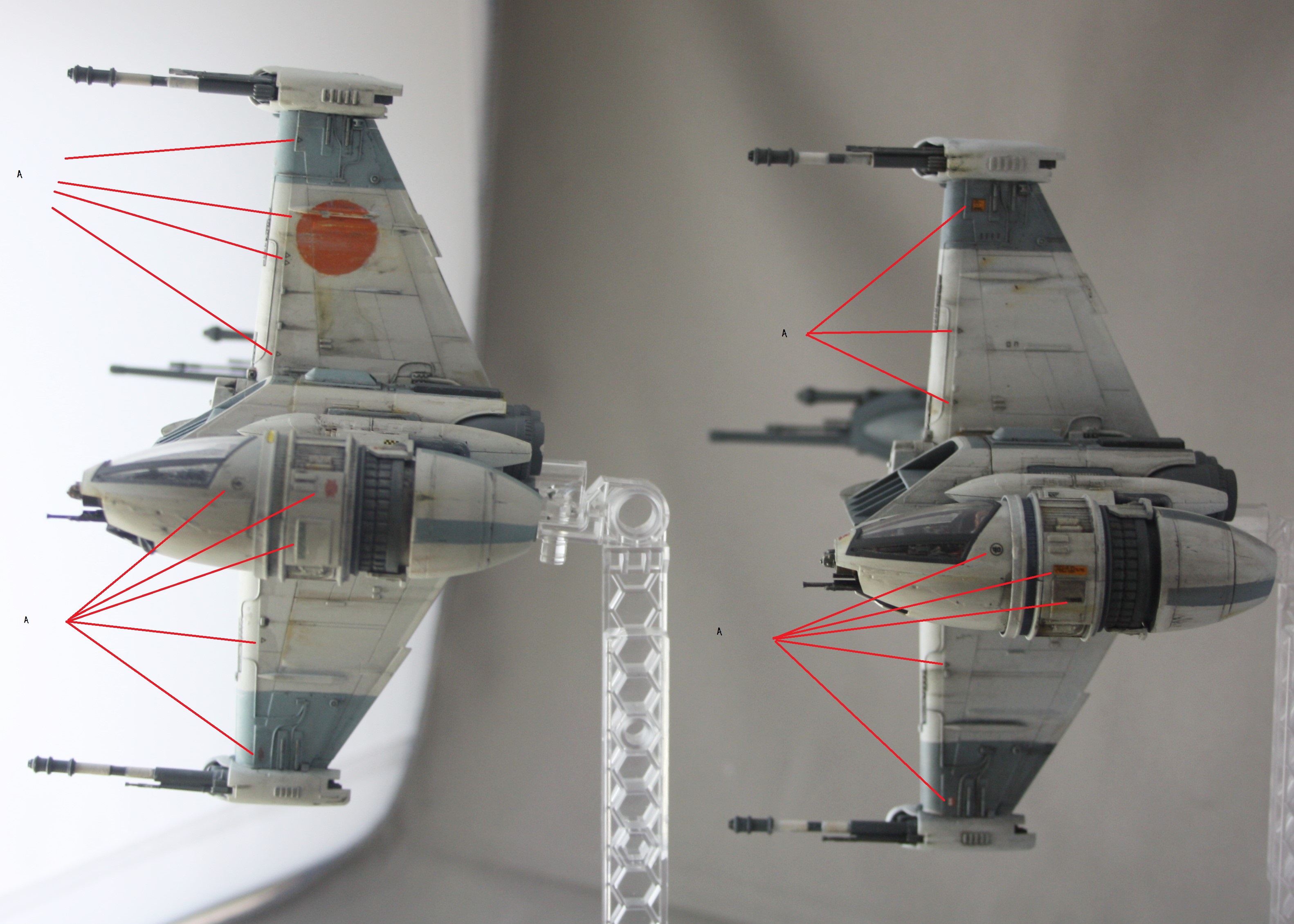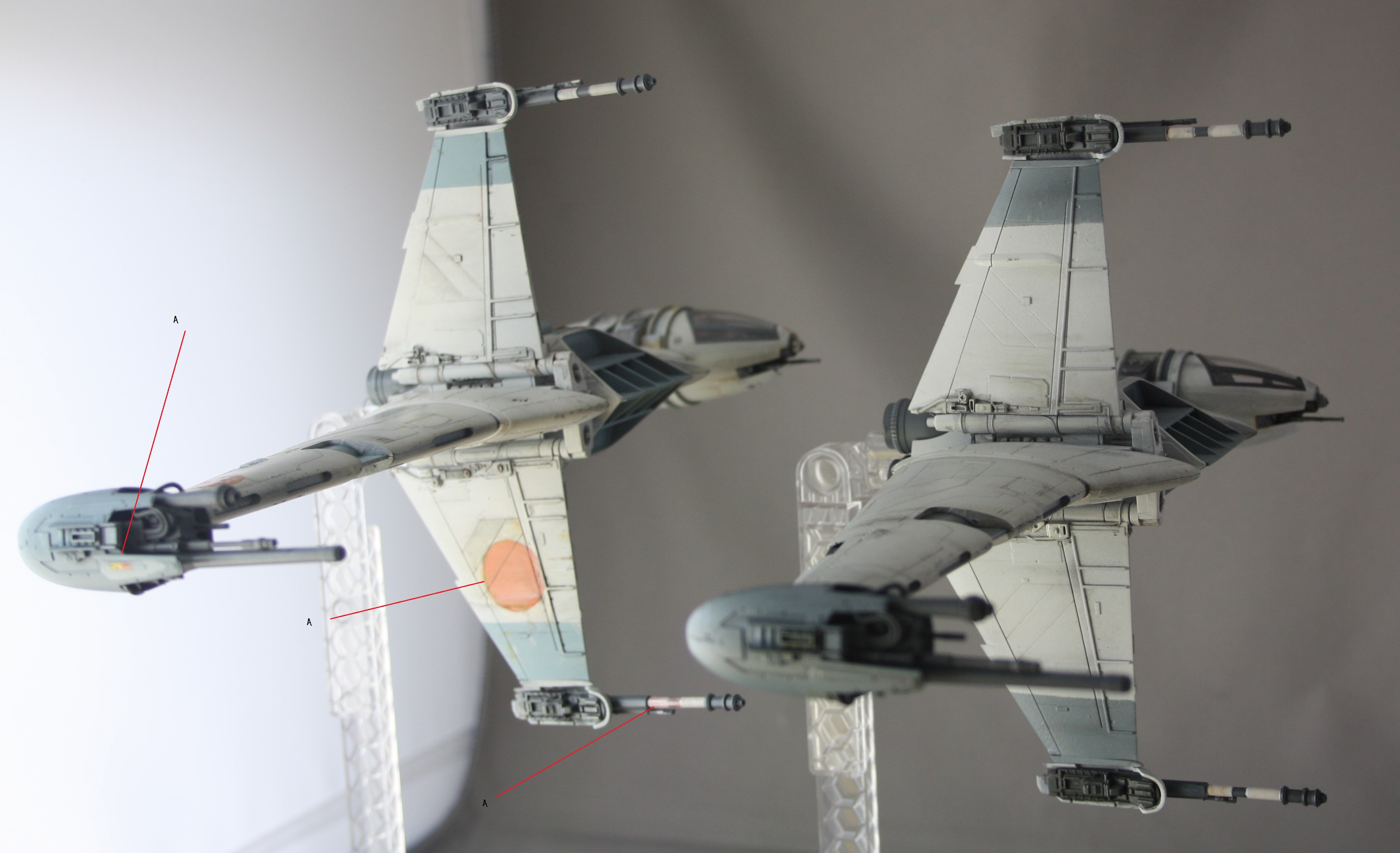 And of course here the big difference is the human vs Sullustan pilot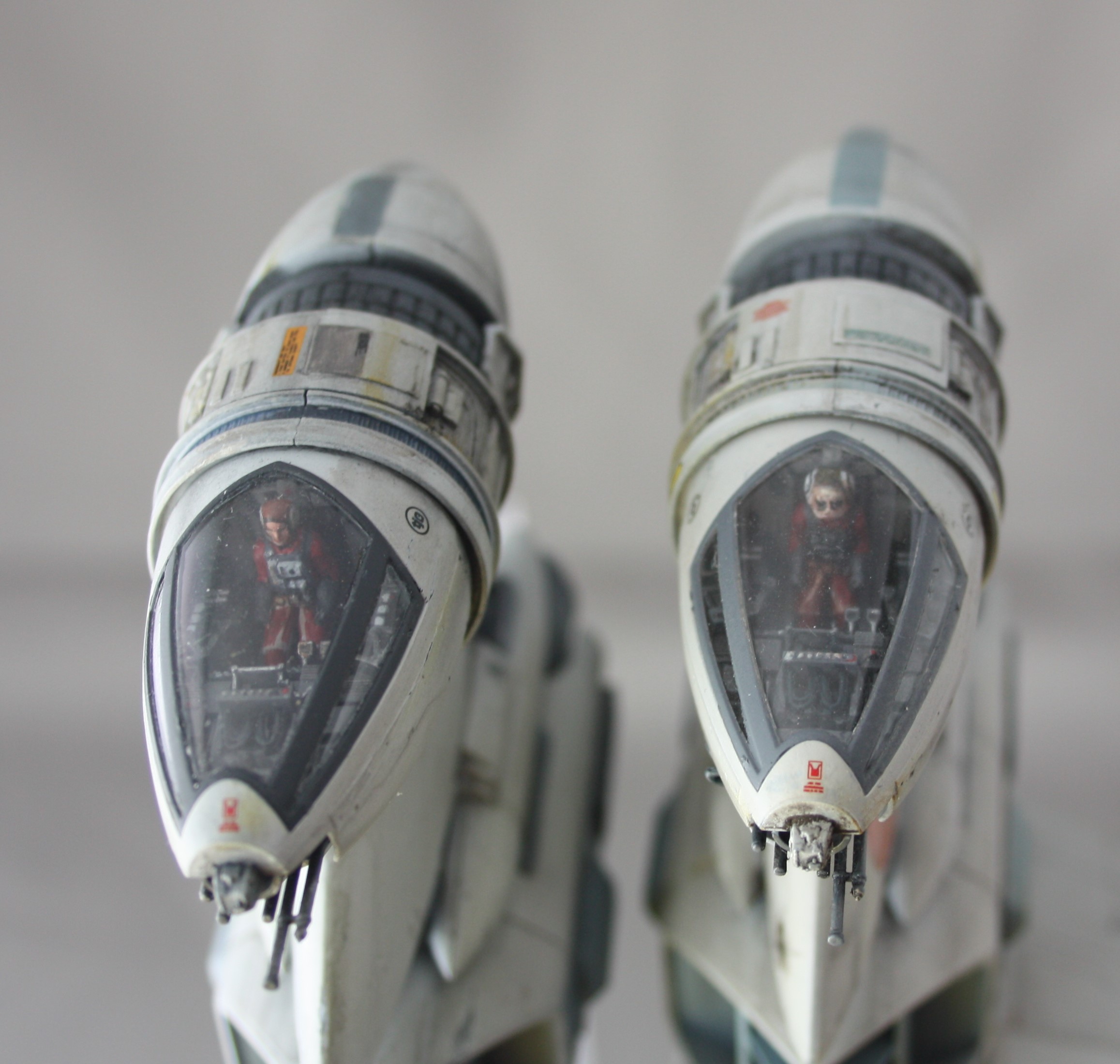 An oddity, I am assuming is accurate, the plastic sprue's color for the darker grey areas like the engine thrusters, cockpit and canopy is noticeably different. The "no dots" version is darker compared to the orange dots version. All the other plastic sprue colors are the same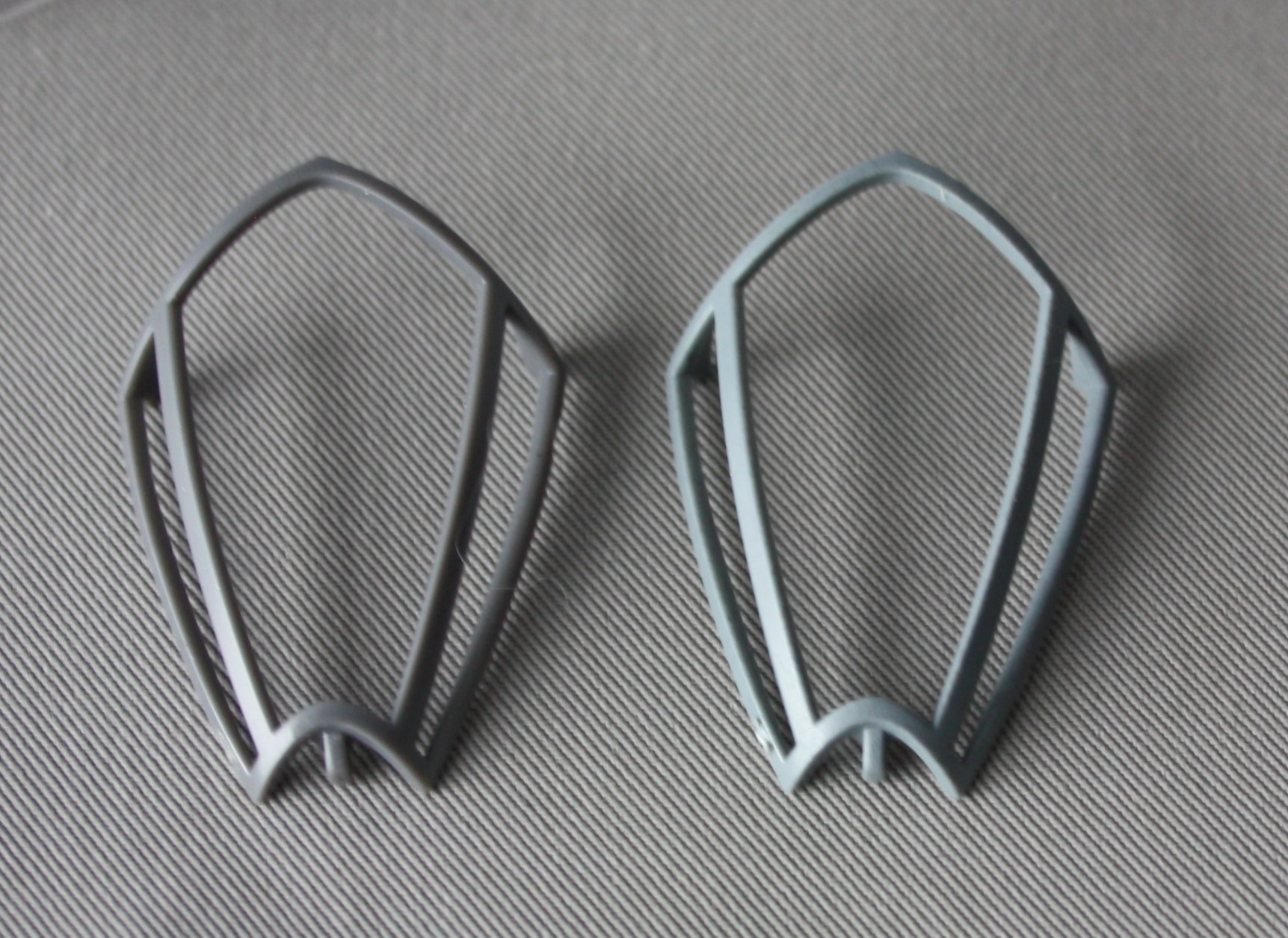 As far as painting, I used a mix of mainly Tamiya XF-2 Flat White with some XF-55 Deck Tan for the body color and added in just a very small hint of XF-19 Skey Grey.So little that it probably makes no real difference
For the cockpit and engine areas on both I found Army Painter Grey primer made a great match for the lighter sprue color
for the other darker one I used XF63 German Grey mixed with XF-82 for the darker grey areas
Although the color is the same on both versions, as far as the engine striping and the wing markings, for the no dots version, I used Haze Grey for the blue/grey markings. I kind of wanted a darker look than Bandai went for.
For the No Dots version I wanted a light color closer to the studio model so I used a mix of XF-23, XF-82 and XF-2 and tried to get close to the sprue color. Basically the same kind of blueish grey that is on the Y-Wing canopies
And some "beauty" shots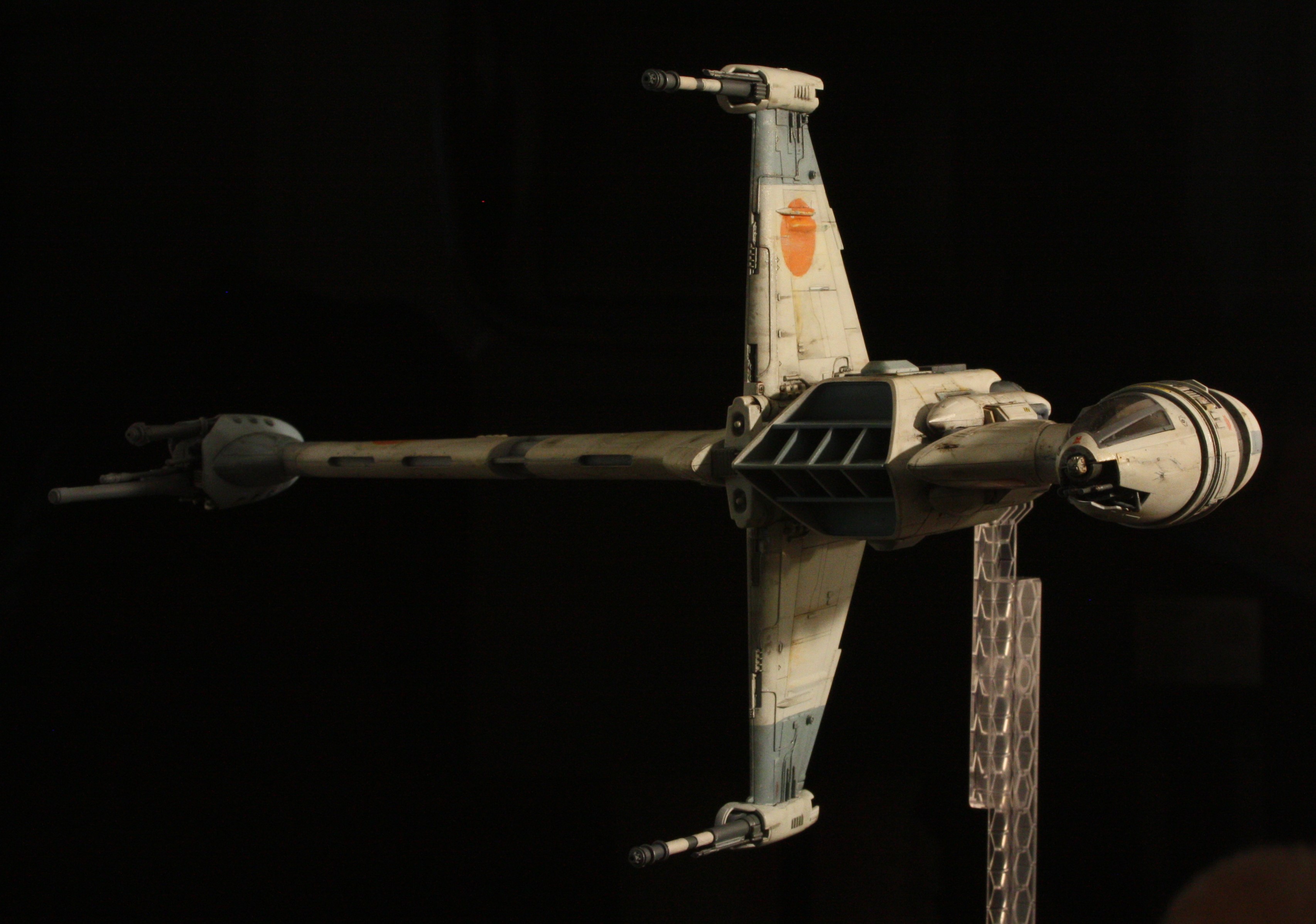 Last edited: