Sr Member
RPF PREMIUM MEMBER
This thread is to have all necessary information to make a decent Back to the Future Gibson 345 replica. For decades it has been that the only way to have this guitar is to have the real thing for thousands of dollars. This information will get you a supurbly adequate replica for under $500.
First things first is the guitar. Right now a vendor on Aliexpress sells a decent guitar for $308 shipped to the US.
http://m.aliexpress.com/item/2004586413.html?tracelog=storedetail2mobilesitedetail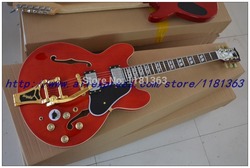 The white varitone switch you see is in an inaccurate spot, but you can custom request for it to be moved in the right place like I did. You cand also request that the silver pickups be changed to gold. The vendor was very helpful with the modifications.
Now the things you will have to change yourself are, change the tone and volume knobs to black and gold top hat knobs. These can be purchased on ebay or probably any guitar store. Next would be the black three position switch. To be screen accurate this would need to be changed to an amber color. Also on ebay or a guitar store.
Ok so the next piece is going to be difficult to find. The gold varitone switch plate. This stock guitar comes with a white one. I was lucky to find a reproduction plate for a decent price of $36.
The Bigsby on this guitar is a cheap Chinese one. The movie Bigsby was all gold. You can probably request that the Bigsby not be included to install a real one, but that would jack the overall price for this project up about $200 more. So for me I am just going to paint over the black to get at least a little more accuracy.
As for the bolts underneath the bridge above the Bigsby, these are tunomatic bolts. Again, ebay or guitar store.
Next is that the silver guitar cable jack should be gold. I recommend that you get this professionally done if you don't know what you're doing.
The last thing is the pickguard and bracket. Also available on ebay. The god brack is called 2004 Gibson USA Custom Shop Pickguard Bracket for es 335 330 345 355 347 225 EB on ebay. Andone seller in particular is willing to custom make an accurate pickguard for me for $64. I just have to give him the measurements of the stock guard and he can create it. This seller has a pickguard under the name Gibson ES-335 LONG 1959 Pickguard 5-Ply Black 60 Deg Vintage Guitar Project NEW. It's the first result. The stock pickguard is just a generic black one with a white border. The screen used one was a 5 ply pickguard with a 60 degree bevel. The gold screws on the guard should also be changed to black. On the pickups they should be grey on the two corners and silver in the middle. For the pickguard, if anyone decides to do this project I could inform him that more people will want the custom one I will order.
For the 12th fret inlay since it needs to be one solid slanted rectangle, I just ordered a cheap set of decals for $11.50 ond ebay. Block (White Pearl) Fretboard Markers Inlay Sticker Decal Guitar. I will have to just use one of the decals and cut the corners off myself.
I have not yet received my guitar to replace all the necessary components, but I have them on order and I have pictures of what my guitar looks like before it shipped.
With everything combined for this project you're looking at around $450. If you have any questions just ask. I'm happy to help.
Last edited: