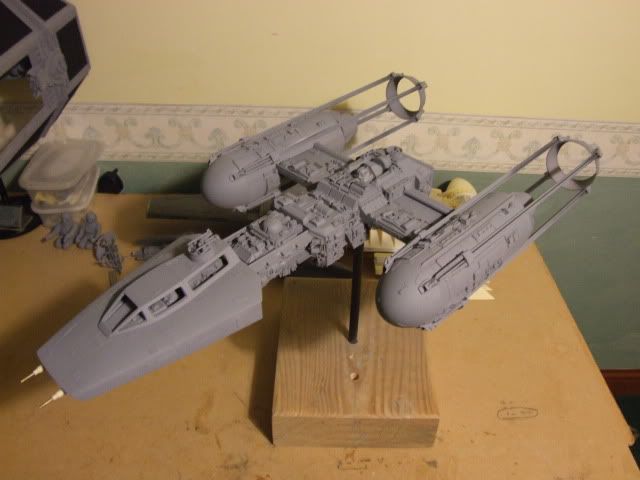 Well, I've decided to combine two builds together. One has taken me two weeks and was a breeze to finish. One has taken me two years and alot of patience. Not too difficult to guess which was which. I've figured that as I will end up painting both at the same time in the spring anyway, if I post them together the one will eventually force me to complete the other.
First off the mark then ,the Red Jammer Y wing.
I've not much to say about the kit other than it exceeded my expectations hugely in almost every area.
When I was finally able to download the build instructions ( I've also had to rebuild my computer drive so I would recommend all members give all their files and drives a through scan with their security software some time soon) I was greatly impressed by the detail and documentaion that had gone into it. Thats pretty rare for most garage kits and given the complexity of RED Jammer Y wing,its absolutely necessary.
I just gotta say thanks again for them Jason. They made building this bird a very much easier process than I would have ever guessed and more importantly a fun one.
There is very little I did differently other than NOT attatching the two engines to the aluminium plate first. I'm wiring this for lights so I wanted to be able to get access to them relatively easily. Be warned. If you do this it is a lot harder to keep all the elements of the engine build lined up with the rest of the ship. I sketched and marked positions onto them by slipping them on and off the strut frequently. Otherwise , given all the angles involved with the T strips etc its dead easy to get them wrong.
As I've said great instructions without which getting all those greeblies on would have been difficult.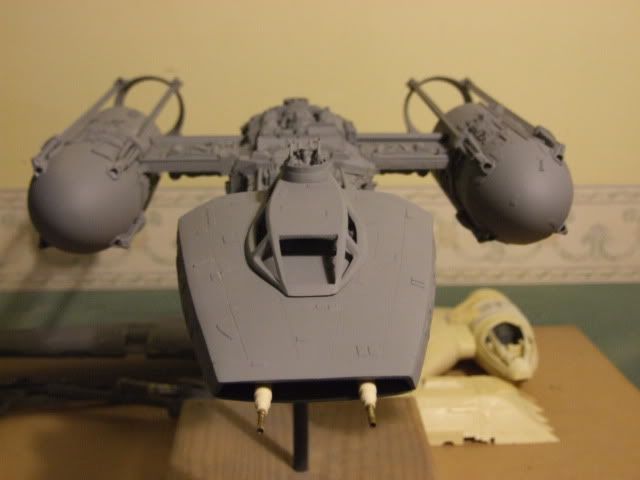 Talking of greeblies the detail captured in this kit is hugely impressive considering just how many small pieces are in it. Besides the small blurry bit that everyone is missing I had only two tiny pieces that will need replacing. The parts were really clean and required very little clean up and prep. I've used less apoxie sculpt on this build than almost any other I've had. Mike did a fantastic job with this kit and after doing fifty odd of them in such a short period will probably need a very long holiday!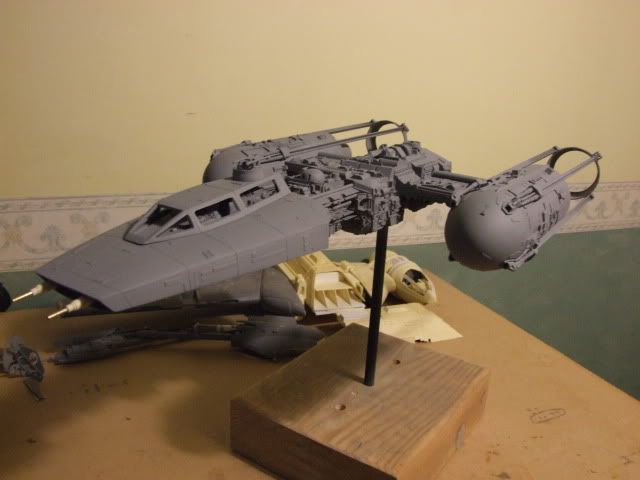 Its an iconic ship and one I've always to get hold of so thanks to Steve and everyone involved for producing it. I got a kick from building this that I had not had in a while. Anyone thinking of lighting it ,its been made pretty simple to do, at least the engines anyway. I moved the magnets up on the back plate and put two runners in the bottom to hold the batteries dead flat against copper strips at the back. You only have to solder the wires on and put another strip in to the back plate to make a circuit. I'll finish the lighting the same time I finish with my next build.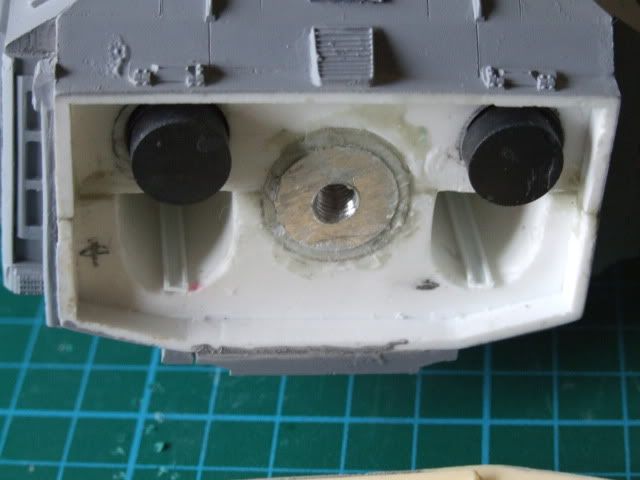 And this is it. Two years and some many months on since I got the B wing. This is NOT Frank and Moes kit. This is the Robert Burns kit and its been a difficult build for many reasons.
Firstly the casting was not good at all. The big wing actually looked like an aero bar when I tried to clean it up and I've filled and sanded it so many times I almost gave up on it . Infact nearly all of the parts needed significant revision and clean up to make them usable. If it had not been for TJ (Shadowknights) help with replacements and some advice this would still be in the loft in a box.
I know its a representation of a B wing and as such its a damn sight better than I could ever have managed but it really did stretch my abilities to get it into the shape it is today.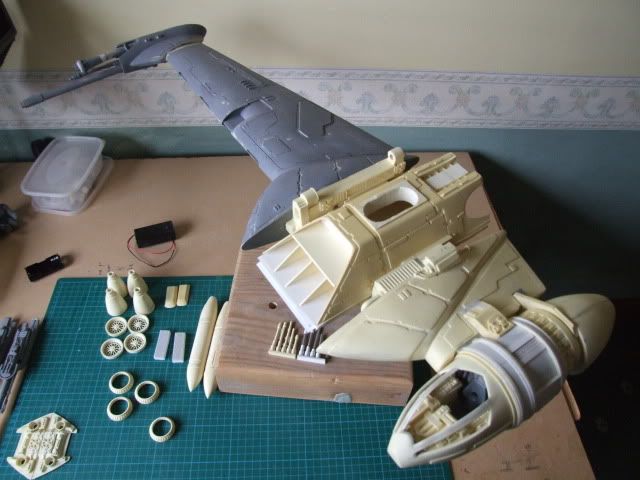 One thing it has taught me is not to be afraid about cutting up a model. if you aren't happy with it you may as well change it because its you whose going to be looking at it everyday once its finished. So I've redone the cockpit as best as I've can to more closely resemble the original.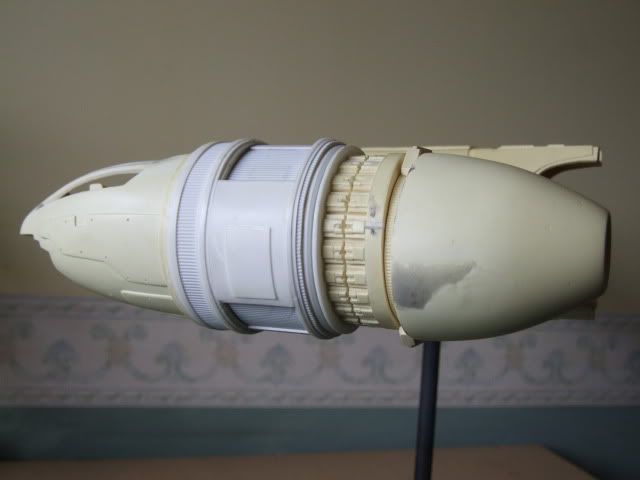 Theres also lighting the engines to consider, so I've bored the hull out to take some batteries. I've also put two additonal steel rods in to keep the two sides connected so it won't ever sag.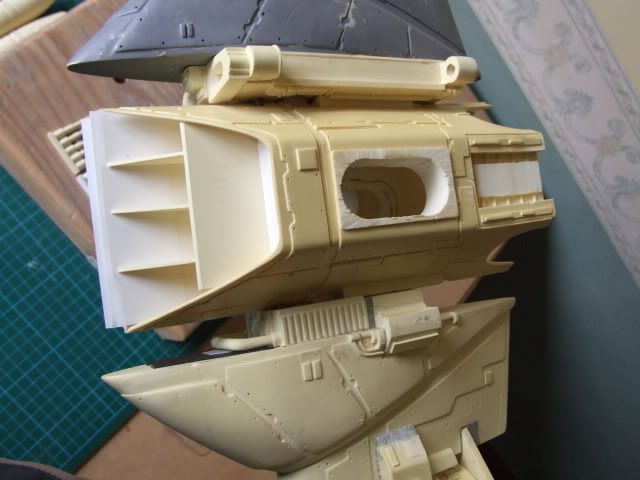 Nearly all the guns have been updated and had detail added into them to take them alittle bit closer to the original. The tail gun array really needed the most work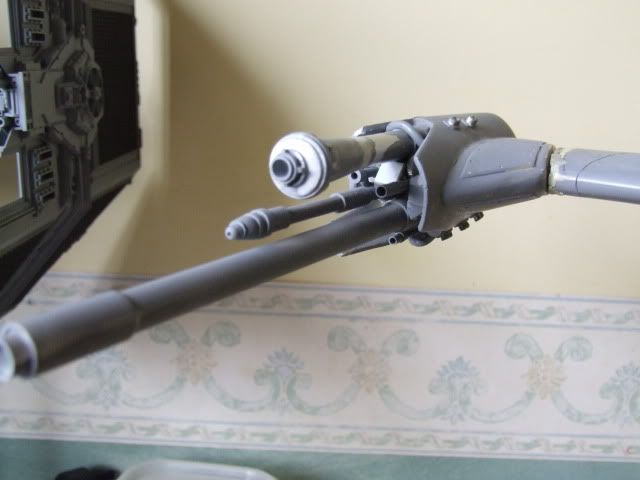 The bits left are the most time consumming to finish. I am rebuiding the heat sinks for the top and bottom hulls, but does anyone know from which kit the four engine rim rings come from?
Similarly I've drilled the old detail out of the rear of the cabin. Where did the part that goes in here come from (looks like jet turbine blades.)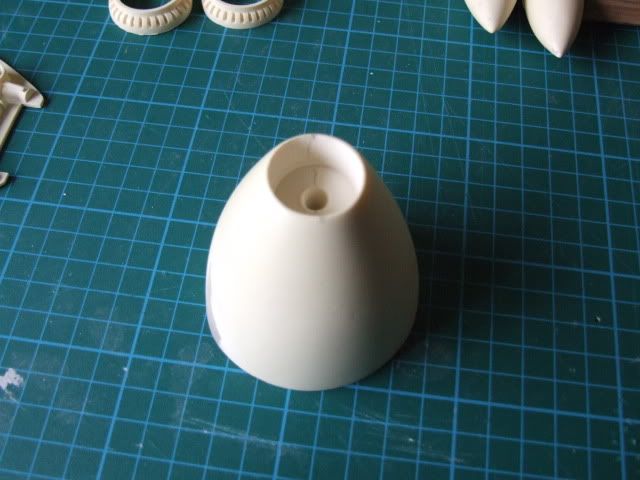 If I can get those bits sorted then I'm in striking distance of finishing this off, which I'd really like to. It a decent model that could be made better and unfortunately for me I can't leave well alone if I think I can improve it.
On the plus side I've been able to combine two kit builds together and I'll finish them both at the same time. As there are only about five or so kits that I want now I might as well try to make as good a job of them as I can.