I have been receiving a lot of messages about my N7 armor progress, how it was built, and what I used to make it. So I decided it would probably be a better idea to just post that information here for all to see rather than continue to answer messages one by one! I don't have a blog or another build thread, but if you like my work, would like to see updates on what I do, and have a facebook account you can find me here:
So I have been wanting to make a set of this armor for a long time, but I just never had a moment to sit down and actually start it. In fact, this project actually began by accident. I wanted to experiment with foam building starting with the smaller, easier parts. Well one thing led to another and then there's an entire space suit sitting in my garage.
The templates were made by me, from one of the 3D models that are floating around out there on the web. I don't like to just take any old 3D model though and try to unfold/assemble it. I find that it's easier to breakdown most objects into smaller sections. So I take the 3D models and project texture information (typically from reference captured in game as a screenshot) then add geometry to follow the texture information. This allows me to unfold the patterns with minimal distortion -and results in a cleaner, more accurate build. Now while that sounds simple, let me clarify that reworking the models took several hours to do. This isn't just a "build by numbers" project.
Before I go into the details I would like to thank EvilFX and the rest of the talented artists who pioneered this build method and sharing their discoveries with the materials used. Here is a link to the blog of EvilFX and Volpin which I used for research before starting my project. Thanks!
N7 Armor Build by Evil FX
N7 Armor by Volpin
What is the goal?
This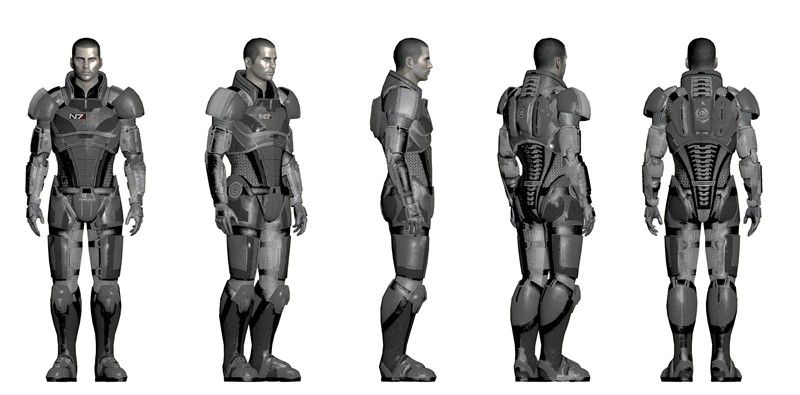 Alright, cool. Now lets talk about how to get there. I used those EVA interlocking foam mats you keep hearing about. They really aren't that rare, they just seem to be overlooked a lot and placed in different departments of different stores. Mostly because no one seems to have any clear knowledge of how or when they are supposed to be used. I've found them in Target, Walt-Mart, Harbor Freight, Ebay, and Amazon.
Templates, Blueprints, & Patterns
So you have patterns and foam. Wait, you don't have templates you say? Evil FX and Volpin made their own? Oh yeah, there is a really cool guy on the RPF (and 405th I think) Named Narayas that was kind enough to do that for you...
Be aware that he created those in illustrator/photoshop and he has detailed a way to scale and print those properly on his blog mentioned in his thread. So you'll have to do more reading, sorry bro.
EDIT - The patterns I made for this costume, as well as many other very good resources from other members can now be found on this forum under the Mass Effect Pepakura File Archive
http://www.therpf.com/f24/mass-effect-pepakura-file-archive-check-regular-updates-186674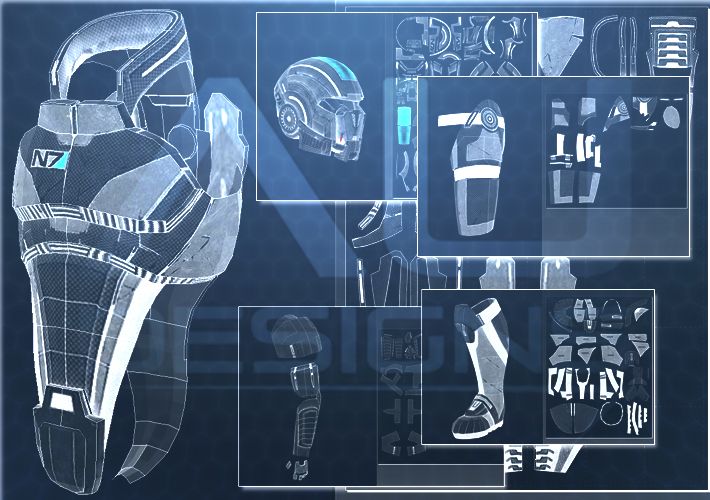 They are pretty simple. There are NO TABS, this isn't a paper build. The only tabs that are active are only active because you are supposed to attach those two parts together to make a larger template to trace on your material.
Establishing Scale

I just made a 3D mannequin based off of my own nearly naked body (sorry, you gotta use your own) and scaled that within Maya. Then I take whatever object, in this case the entire N7 Shepard Armor and scale it up to my height. I actually didn't scale the parts individually to fit me. I find that if you scale each part to fit specific areas of your body then you always end up looking like an alien grey. So I took a chance and scaled the entire armor grouped to 72 inches and prayed that it would fit. Turns out that at my height, Commander Shepard and I have similar builds except he has a much smaller head and feet, sucka.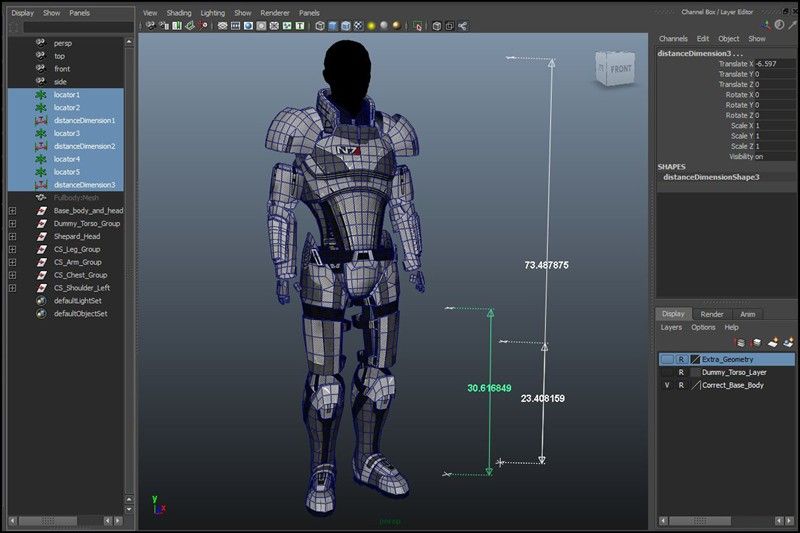 I should also mention that I didn't just take the model as is and scale it up. The model imported triangulated, and since Maya's quad function NEVER works for me I had to clean up the parts manually. I also took the liberty of deleting the under suit and "soft" parts that weren't going to need templates. There were also times where I had to split polygons and change the actual 3D model to properly follow the texture. Thankfully these are problems that you don't have to worry about
Using the first image of the thread, along with other turnaround sheets that I made, I was able to print off reference pages to have available as I worked in shop. These gave me good visual ques on how far parts should sit from one another.
Build Time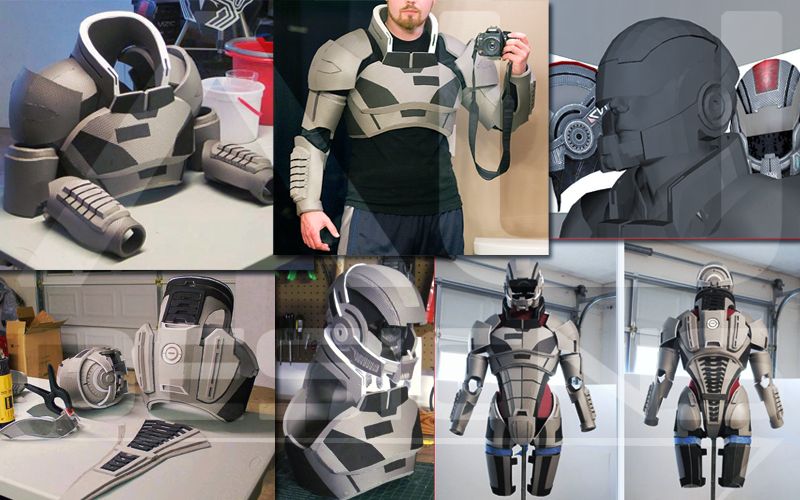 As I mentioned before. The project kind of took on a life of it's own. I started with a gauntlet and biceps using left over foam from another project. The next thing I know I'm stealing my girlfriend's dress form to keep all of the parts off of the floor.
As far as building it, there is no trick to it. The templates only really give you an outline and you have to figure out how to get the part to look the part and fit where it is supposed to. There are no easy answers unfortunately. The best advice I can give you is to take your time, try to build one part every 1-2 days, and constantly look at your reference.
And yes, that helmet is made of foam. The only reason I decided to go with the open face helm initially was so that I could drink my beer comfortably at DragonCon. But, turns out I don't really like wearing an oven on my head very long anyways and I thought that I might be able to upgrade it to the "Breather" version.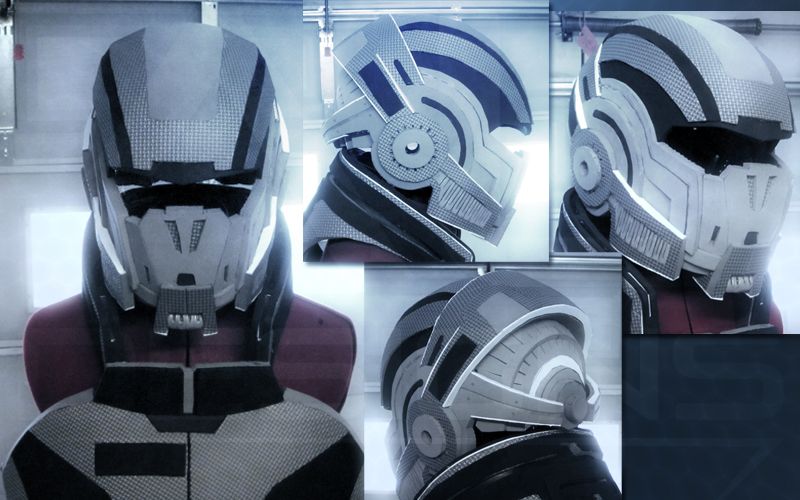 Which I could, neat! That helmet is about 118 different parts and took about six hours to build. The entire suit is at about 104 hours for the main assembly.
It kind of feels like building with LEGOS, only you have to measure and cut out your legos and sometimes they don't fit perfectly together so you just have to force that s*** to work - actually, it's nothing at all like LEGOS. But DO think of each small part as a puzzle
Final Test Fit - Yes, that is the battle rifle from Halo. I didn't have my Mattock at the time and needed to see what carrying a prop would feel like.
Updates to come. Thanks for reading and good luck on your projects!
Last edited: