Hello everyone. I'm new to the RPF but have been in the prop hobby for a few years now. I figured the best place to start here was by featuring my first project build. Here we have:
Aurea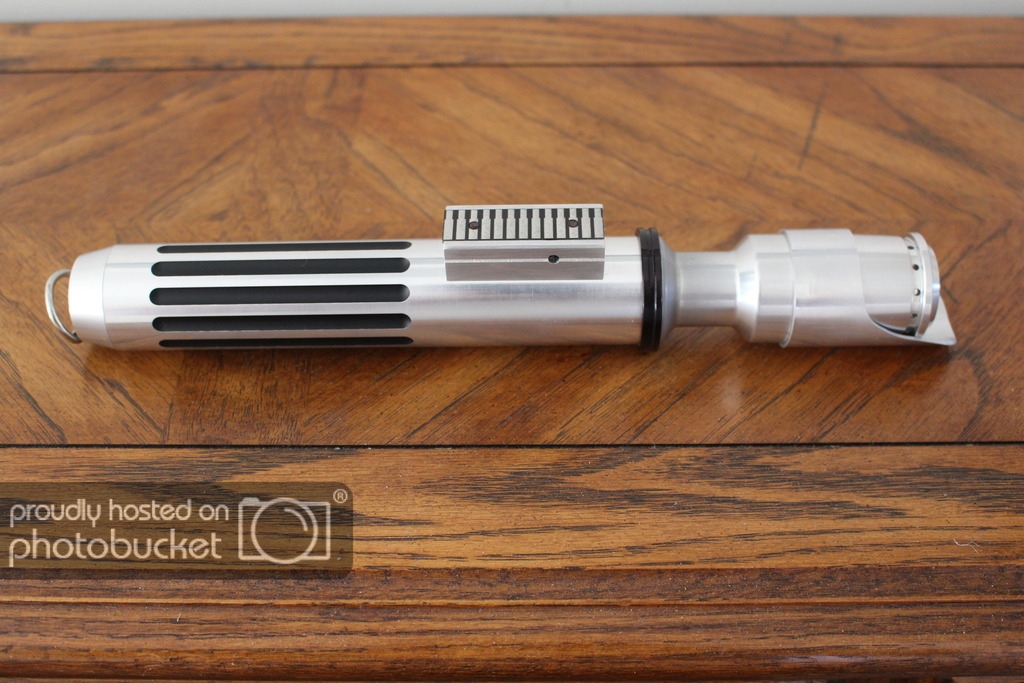 I began planning for this project back in May of 2011 and it came to life a little over a year later. I designed this to be my personal saber. I was going for an aesthetically pleasing yet simple look and I think it was well achieved. It is very easy to hold, nothing gets in the way of my hands, and it is a great spinner. The work done by Tim at the Custom Saber Shop is absolutely beautiful. This saber has come a long way in 3 years. In fact the LED, shroud, control box with computer card, and d-ring are new additions/changes I completed only a week ago.
Specs:

Plecter Labs Crystal Focus v7
7.4V 18500 Li-Ion Battery Pack
3D Printed Chassis from Shapeways
Tri-Rebel Lime-Green/Red-Orange/White mixed for Yellow with White FoC
TCSS Premium Speaker
1.3 mm Recharge Port Installed in Control Box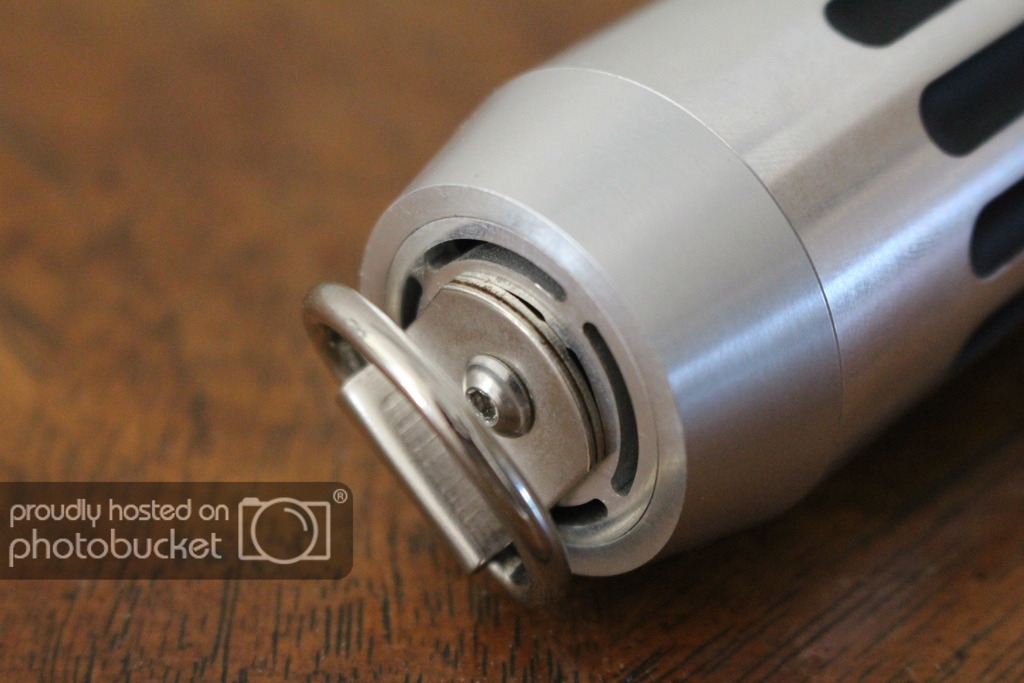 The Crystal Focus is by far the coolest thing I have ever seen in terms of FX lightsabers, especially this version which has the most accurate swing detection ever! I had seen videos of CF sabers in action on You Tube even before getting into the prop hobby but I never thought I would own one myself. Thank you Erv for a magnificent piece of work. Some of the soundfonts I have loaded are as follows:
Novastar by Novastar
TOR Crucible by Nightstorm
Knights of the Old Republic by Machinimax (Me!
)
Form V: Shien/Djem So by Machinimax (Me again!
)
Grey Meat by Sekrouge1985
Kanan by Link
The Red-Orange and Lime-Green dice on the Tri-Rebel are mixed for a nice yellow color, the best yellow I have ever achieved. This is the third LED I have used to create the perfect yellow, and I think I have have finally found the best recipe. Both are wired in series and being powered by 1 amp. The white die is used for Flash on Clash. At just 1 amp, this sucker is BRIGHT! Even in the natural light it's still pretty bright and my house gets a lot of outdoor light. The color is really brought out and very evenly lit by the TransWhite Dual Diffused Blade I got from Vader's Vault. The name of the saber comes actually from the color of the blade as Aurea is Latin for golden. When deciding on names for this saber, this one took the cake. It's short and simple, describes the saber a little, and has a bit of an elegant ring to it.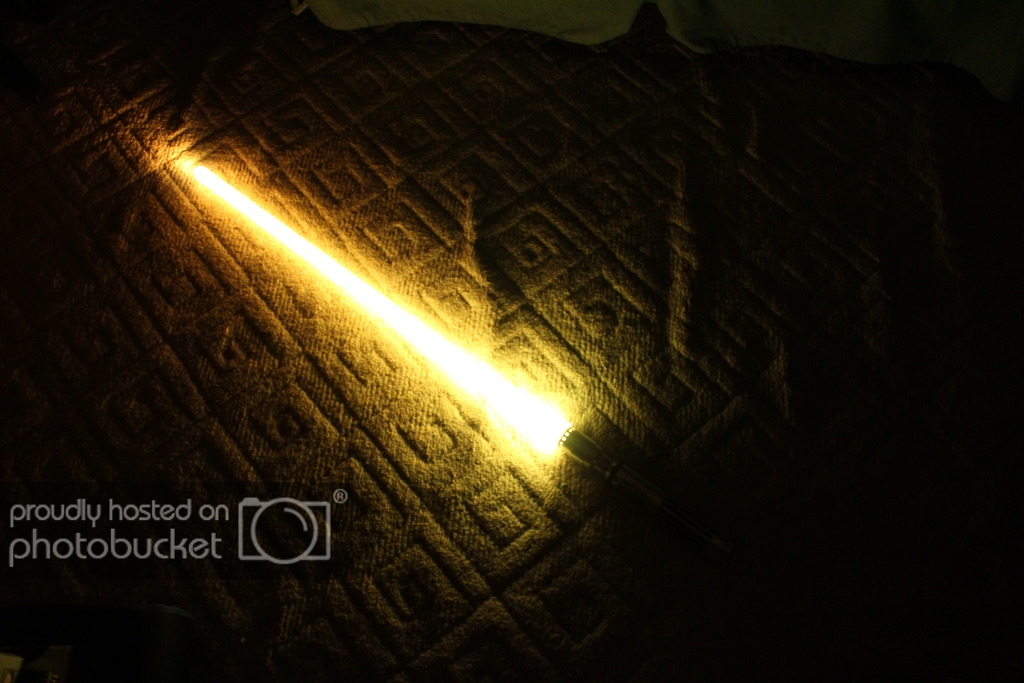 A few build pics: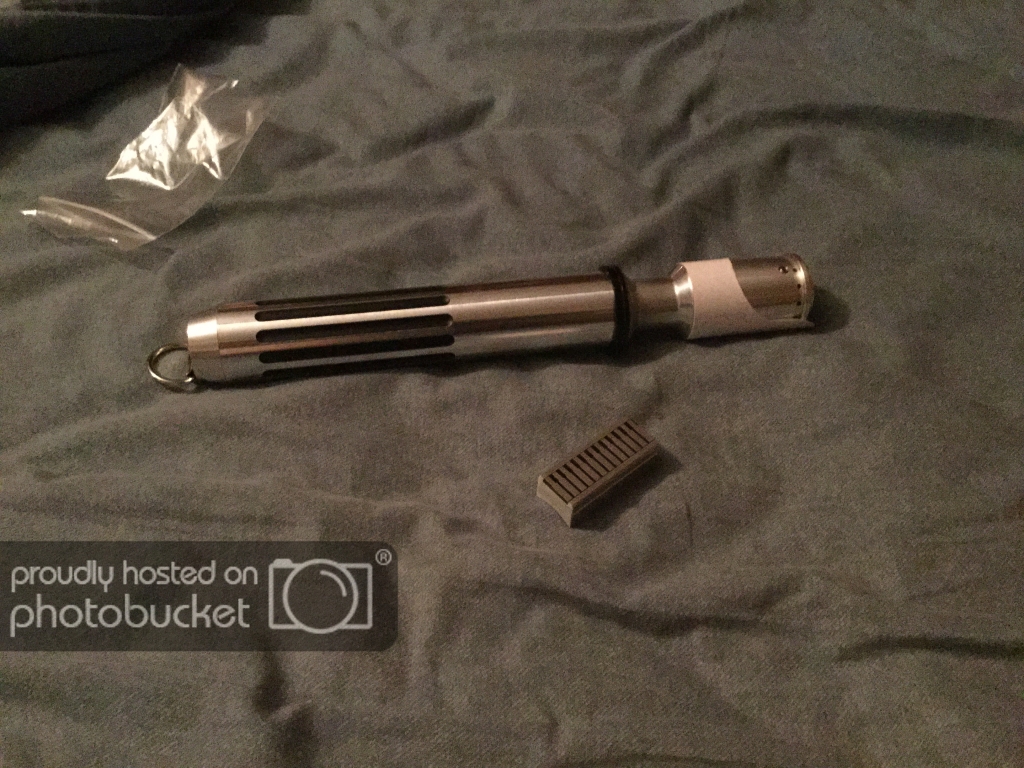 Video

The purpose of this video was actually to test the capabilities of my new DSLR camera but it gives a short and sweet rundown of the new design and what it can do!
https://www.youtube.com/watch?v=g7XR61ubZDc
Many people were tremendously helpful in the research I conducted 4 years ago for this project. With their guidance and patience, I was able to make something great. I have come a long way since that time building even more sabers, blasters, and soon my first set of armor. I have always loved the thrill of putting something together with my own two hands and this is by far one of the most fun and exciting things I have ever made. Can't wait to show you all more! Thanks for looking!
​
Last edited by a moderator: