Apparently, not everyone's favorite Alien franchise movie. I enjoyed it- just take it for what it is. Effects were not the best, but the movie was good and the ending is spectacular- rather than drag it out into yet another sequel, Ripley takes her own life, along with the new queen. Wait, there won't be any more, right?
I'm a fan of the "used" universe of Star Wars, Alien etc. The "clean" universe of Star Trek I never connected to.
Who cares, right?
So, I decided to make up an Aaron costume.
The jacket
is a readily available It is the "N2-B" with the white faux fur ruff removed from the hood. Since the film was from the 90's, and jackets were surplus, I had a self-imposed date of "pre-1980" production to closely match. They are available brand new, if that's your thing. I found one from 1978 in my size.
Then we have the
"bird" patch
on the left breast, and the
"W 161"
red round patch on the right sleeve (quite a bit lower than typical location). The readily available bird patch available on eBay has an error, that is easy to correct. It needs beak reduction surgery, which is actually quite easy to accomplish.
Name and rank/position tapes
are made from cotton webbing and lettered with a Sharpie. Using 3/4 and (perhaps) 1/2" stencils to letter neatly. US spec (58 pattern I think) webbing is the popular choice, but I found some UK issued cotton webbing I'm planning to use. The weave pattern is different on one side as compared to the other, so note this when making your tags. They are fixed with Velcro; black seems to be the popular choice, since Ripley's jacket (with no tape; only Velcro) appears to be black.
Shirt
is a Hanes mock turtleneck, white. They don't sell them under their regular brand now, but they have them under the "Port & Company" brand name. Shirt gets a "W" logo stenciled on the back- I made a drawing of it based on measurements taken off a screen used shirt.
Boots
are 20-hole cap-toe "ranger" boots. These are also readily available in many sizes. Popular "punk rock" boots. Not terribly expensive either. Screen used were steel-toe variants, with the toe exposed through accelerated wear. (I don't think I'll be tearing mine up that much).
Belt
is a German belt- plentiful and cheap. I've bought a couple now for various projects for $5. The green paint is stripped off the brass buckle for this outfit. Otherwise, use as-is.
Aaron (and others) also wear a WWII
Leather watch cover
. We never see anything inside it, and it was probably worn empty. These are available as reproductions as well.
Dog tags
were most likely recycled actual issued (to some random serviceperson) dog tags. Only the top two lines are debossed, and they stuck a bar-code sticker in the open space below that. I had some made locally, but then found an on-line vendor to make something special...
Hat
is a little tricky. It is probably a dyed OG-106 cap (or OG-504). I found a brand new 504 for myself, but I'll keep looking for a 106 in my size, which might be a better match. Dyeing is challenging...
The real problem part of this outfit is the
pants
. (It seems I always have trouble with pants). They seem to be custom-made for the movie. Very odd design, with elastic, drawstrings and lacings. And they're sweatpants. They have shin-reinforcements as well. There was a rumor some were going to be made, but I'm not holding my breath...
Let's get started!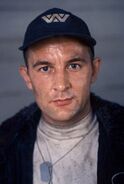 Last edited: