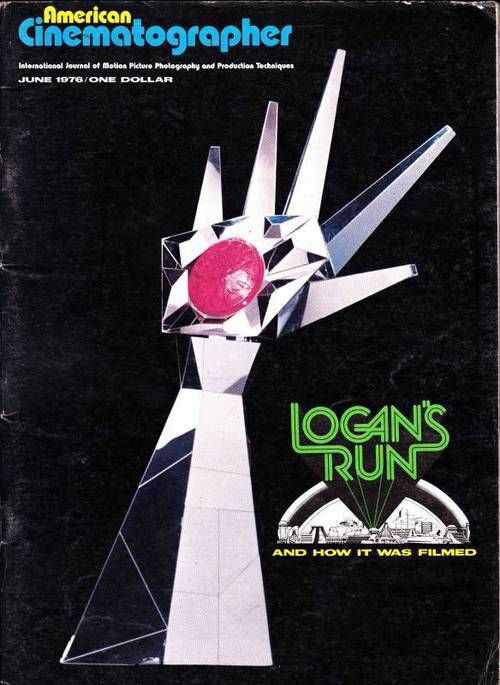 The film Logan's Run has some my favorite film images. I love the concept of a sealed city under domes. I loved the mazecars moving through the city in their tubes of glass. I loved the curved designs of the structures in the city. What most people gravitate to is the Sandmen, whose job is to execute Runners, citizens who rebel against the city's mandated death upon reaching 30. And, especially the Sandman Flamegun, which shoots green flames out of side vents when fired.
But my favorite prop in the film is The Hand in Arcade, so named in the film by a would-be assassin who intends to strangle Logan near it to protect the secret of Sanctuary.
Though the statue is only seen a few times in the film, it was used heavily in promotions: you can see it in most movie posters, and it was featured above on the cover of American Cinematographer (thought it looks as if they flipped the image.)
I have long wanted to make one for myself: in fact I already have. I have built it in 3D, I have sent it out via Pepakura to be hand cut and built into an 8-inch figure. It's been my dream to output it as a 3D print, and cover it with laser-cut acrylic mirror facets. It looks perfect in the film, and I want to make mine as perfect as I can.
Last edited: