Hey all, I'm still new here and will post more of my stuff soon, but first I wanted to ask anyone about this. I recently purchased (recently as in 2 days ago) this stunning looking Arc Reactor Replica on eBay for only $50~.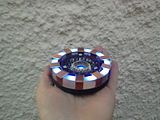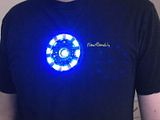 It ships from Great Britain (so god knows when I'll finally get it) and also comes in White or Red for collectors of War Machine or builders that want the white glow under armor. The seller (and I think builder) told me it has a little aluminum stand and plaque with it too but hasn't responded to any other of my questions or supplied any higher rez photos. Looks amazing and tho it doesn't have the full core like in the movie (it's flat, and not egg shaped like in the movie) the detail looks amazing and I can't imagine how great it'll look glowing next to my other stuff.
What I want to know from you, is...well...did I get ripped off? Lol. I can't find ANY other evidence of this thing. I've scoured google images and forums like this one. I've bled YouTube dry and the only thing I've found is this single low rez picture on YourProps.com that I'm 89% sure is the same product.
Again, if this is it, I'm even MORE excited but still with nothing but these few low rez photos, I'm losing it not knowing what I ordered. I mean, the next most detailed model (for sale that is) that I've ever seen is the "Tony Stark Has a Heart" model from Museum Replicas and that runs for $600, not $50, so either this guy is the deal of the century or there's gonna be some issues when I get it. I've found 2 videos on YouTube for what I THINK is the same model, but their descriptions of it are different than the eBay description in just subtle enough ways to make me slightly concerned.
Iron Man Arc Reactor 1
This one looks like it and the price is the same, but the little ring in the center with the three screws is missing. I've seen the ACTUAL prop from the movie and that ring is on it, so if it's missing I'll be upset. Also, this requires an external power source while the eBay shows it self contained.
Arc Reactor Replica Review
This one looks the most legit and has me the most excited but it clearly shows watch batteries powering it, and in the eBay it says its powered by 3 AAA batteries which makes me worry about the external power source again. Also he talks about a magnet that can cling it to a shirt, however in the eBay post it says that you can hang it around your neck with a necklace. That sounds like a step backwards in design.
Anyone out there can calm my nerves a bit? Have you seen these, know these, MAKE these and can tell me what I'm expecting? I'm VERY particular about my collectibles (which I'm sure most of you are too) and I ordered this very shot in the dark, which I never do but it's eBay, may be gone tomorrow ya know. Anyone have any feedback, hi-rez pics, more thorough video, etc. etc. of this? I feel like if this guy is mass producing these at such a low price that you'd see them everywhere. Also, worried that the pics in his eBay page may differ from the actual product if those two videos show them with differences as such. Since the product will take some time to get here, I'll be O.C.D.'ing the internet with my excitement the whole time unless I get something to stare at to settle my nerves that I got a good product at an insane price.
Note: I'm not posting the eBay page for many reasons, however he's not hard to find. I suggest getting the guy business so he can keep building but I don't want him swarmed with business to the point that my order disappears in a flood. Also I dont want the mods to think I'm selling this (i'm not!) and pull my post for being a newb. I just want to know what I ordered from anyone who may know.
Last edited: