I've completed a costume from Fullmetal Alchemist. I'm not completely satisfied with the ponytail on the character's helmet.
I used a technique for doll hair, unsthreading a lot of synthetic yarn into long single threads, then straightening them to a shiny ponytail with a hair straightening iron.
After that I was at a loss as to how to get the majestic curve. The ponytail was lush, like very long barbie hair, but very limp. Even the strongest hair gel couldn't make it stand.
To get the curve, I started gluing strands of the hair together with white glue.Not fluffy anymore, it's a congealed mass. It also required 3 wires inside, to provide an increasingly relaxed curve, and to support the extra weight of the glue. The shape is ok, and it has some bounce at the base. It also retains the translucency of the hair strands. But it's not wispy and flowy anymore.
Although the mangaka Hiromi Arakawa draws it stiff and defeated sometimes, like so: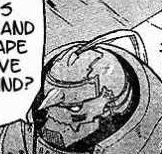 oftentimes the ponytail looks light and sweeping as below. So anyone know of any techniques or materials to get this sort of a result? Bear in mind, in the live-action film the whole character is CGI, and I think they tried to emulate a very thick strand of horsehair. I don't see how horsehair could stand up like that on its own either...