Master Member
RPF PREMIUM MEMBER
So, after about a 2 year wait, I finally got the three Anovos proton packs I had ordered. I ordered three, so i could go trooping with my kids or they could go as a group themselves. I also ordered the Alice pack frames, which came a few months later, so held out on building the full set until everything arrived.
Once I had everything, I set up in my daughters bedroom since she has set off to Kent State and it unofficially became my prop building area.
I decided to build one proton pack first, see some of the issues that might arise and then apply any fixes needed to the next two packs. This did have some advantages and disadvantages.
I had read that if someone went at this from start to finish without a break, it would take a well stocked and tooled person about 8 hours. Since I have all the tools anyone could need for something like this, I put that to the test. That brings me to the good and bad issues of this kit. Took about 16 hours for my first pack to build by the way although I added a light kit as well.
The good:
A well made fiberglass shell, high quality, strong, and accurate to the screen piece.
Anovos added quite a bit of screen accurate pieces and brass fittings, not real elbows but over all, they did an excellent job of all the greeblies needed. If you wanted to get something similar through the hobby boards, you would spend quite a bit of time and money, to get everything and at a lower cost of these kits now ( $900, were $ 600 when first offered) to assemble all the parts needed. The Clippard valves are a resin base with a machined aluminum top. Actually looks good once it is all together.
Easy to make modifications, takes a little more effort but easy to do.
Once they are together, quite a nice looking quality pack. Very good actually.
The Bad:
Not all the parts that should be there, are there. Missing a green hose for one pack, screws, bolts and connector varied from kit to kit. Some of the screws and bolts looked rusted, like someone in China really scraped hard to get the needed screw added into the kit. Luckily between three kits, I had most everything I needed with the exception of one missing hose and lots of missing nuts to the bolts in all of the kits. Had to make a few Lowes hardware store trips. The pre-drilled holes for many of the parts to shell did not line up. Expect to spend time drilling the shells and parts to get things to properly fit and set. No sound or lights, you need to add additional third party kits, expect to spend a little more time modifying the packs to do so. The motherboard the pack attaches to is made of plastic, strong with all the securing bolts set, but still slightly more flimsier than I would like. Speaking of flimsy, the ion wand brass piece is actually made of cheap pot metal, so be careful screwing it in or you will snap it as I did with my first pack. Stickers are not waterproof, if you go trooping, stay out of the rain, surprised to see one disintegrate as I wiped it down with a wet cloth. The Clippard valve sticker was replaced / renamed Anovos Valve company, I am guessing intellectual property issues, so if you want an accurate replica, get a sticker set some place else or add on actual Clippard valves if you can.
The built packs...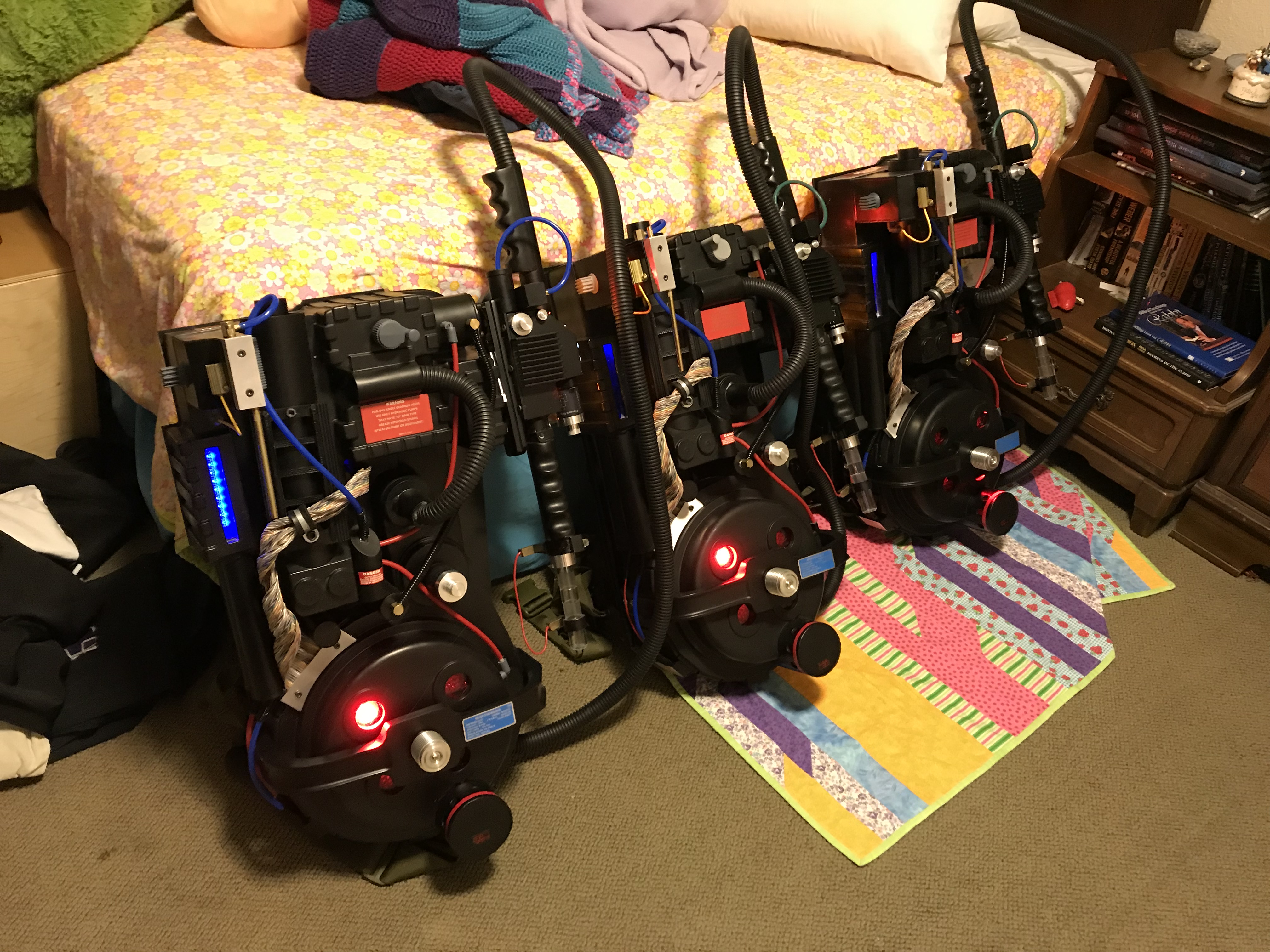 As you can guess from the bad issues, this was a little frustrating to put together, have a drill and many drill bit handy. Given what other options are out there to assemble a good quality proton pack, it was actually a pleasant surprise how nice it all came together at the end of the build. And as to value, it IS the first licensed Ghostbuster Proton Pack on the market. A good value overall, especially since I made my purchase at the pre-order price. I can say the wait was worth it. Worrisome but worth it. If I was looking to start a build again, I would definitely consider this kit. What really makes these worthwhile is getting a good quality shell and (most) all the parts you need immediately to build a good looking accurate prop.
Due to the modification I needed to make, both for the issues of poorly place pre-drilled set holes for the screw attachments and that I added a third party light kit, building multiple sets at the same time side by side is a good idea. I was able to immediately drill with the same bits and ore make the needed modification with the tools in moment at hand.
Anovos recommends using super glue to attach major parts. Now I am experienced at Ghostbusting trooping in the public, and people tend to grab at the parts on your pack. Parts will pop off if you just glue them. So I drilled from inside the shell to the parts and used wood screws to lock pieces in place whenever possible. You can still glue, but the wood screws will hold them on tight. I would drill top / outside the pack in the middle of the set post and then drill from the hole behind into the outer piece whenever possible to make sure the set screw was centered in the piece.
I used a third party light kit from Jupiter Electronics, an awesome set for both the wand lights and pack lights running off two 9 volt batteries. A very simple pre assembled set, you just need to add in the switch for the pack to the wand to start it all up. I altered the switches slightly using all the spots on the main body of the wand to use all the features offered with Jupiter's kit, which makes this pack pop visually. You will have to Dremel the top blue light area inside the pack, as well Dremel away the blue lenses to fit it to the frame. All the lenses are top quality thick acrylic pieces.
I have not added sound yet, most of the nicer kits out there require you to find extra parts and pieces and do a poor job of explaining how to wire everything together. For price and simplicity, hard to beat Replica Props:
Sound board for props and costumes model 4M
Still need to assemble the sound board parts but the price and simplicity is a big sell for me having used them before and it requires a small set of batteries which is a huge plus. So that will be the final mod down the road with the switches being added to the front end of the wand and wires ran down inside the barrel.
Finally, lucky to have some metal and foil sticker kits from past projects, definitely would recommend upgrading the stickers if you can find a set.
The nice thing about this pack is that even though there are some cheaper aspects to the add on parts, you can go looking and find authentic parts to later go back and add them on later if you like. The shell is accurate and very solid, overall, even with the new higher retail price, these are still a very good deal and well worth the purchase for any Ghostbuster fan.
Last edited: