I've never really considered myself a Han Solo. In my mind, I was always a Luke Skywalker... more recently, Anakin Skywalker. I'd like to think I was more Jedi than Smuggler.
Let's face it. When it comes down to it, Han Solo is a bada$$, and all the ladies (that are worth the trouble) love him.
After really not a whole lot of thought, it was time to get started on my journey to ANH greatness. I originally joined this forum as a prop replicator/builder/buyer. Costuming, as I hate the term "cosplay", was a hobby that seems to have become more socially acceptable, therefore I feel more comfortable bragging about what I do, to what I like to call "normal people". :lol
Over the last couple years I've put together a few outfits that, while not necessarily finished (are they ever?), I was proud to show off to these normal people when the situation called for it... ie. Halloween.
It started with an Anakin Skywalker back in 2005. Pretty much every piece was put together by me. It really helped growing up with a mom that was a Home-Ec. teacher and an awesome seamstress at home. I learned a lot! I'm currently waiting on a new lambskin glove from Claudio, and am trying to find the perfect pair of boots.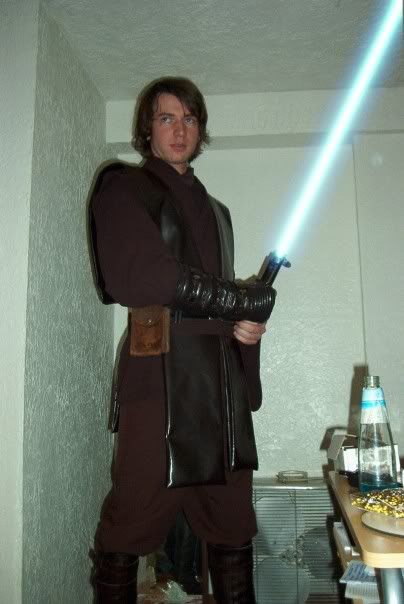 The following year I started to put together a mildly-accurate Indy costume. Unfortunately, I have no pictures of this. It consisted of a Wested Raiders goatskin jacket, and an Akubra Federation. I was fortunate enough to upgrade my WPG bag with a Wade Egan Raiders strap.
The sewing bug lead me to the TDK Joker in 2007. After an ungodly amount of hours in photoshop working on replicating the hexagon pattern for his shirt, I was fortunate enough to offer my work to Indy Magnoli for use in his fantastic Joker shirt replica. This costume included real Tabio socks. The T&A tie was too nice for Halloween use, so it sat safely at home.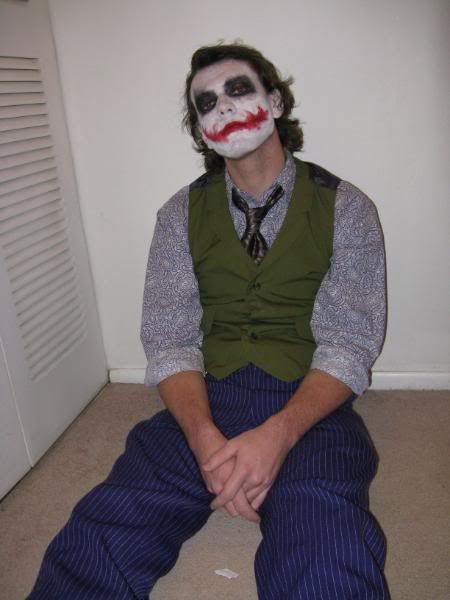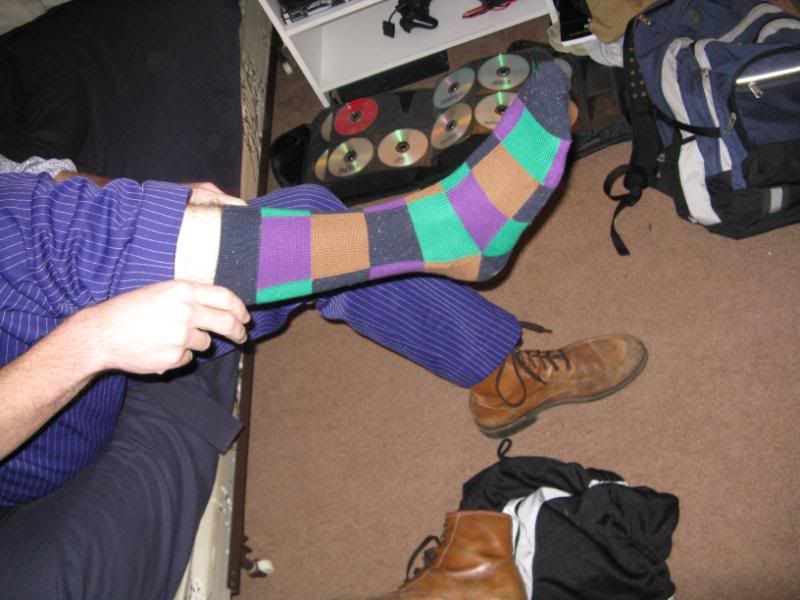 Eventually, I decided to jump in the deep end and go for a Jack Sparrow, like everyone else. This originally started as a DMC/AWE version. I'm currently upgrading it to OST with as many authentic pieces as possible (that'll be a different thread).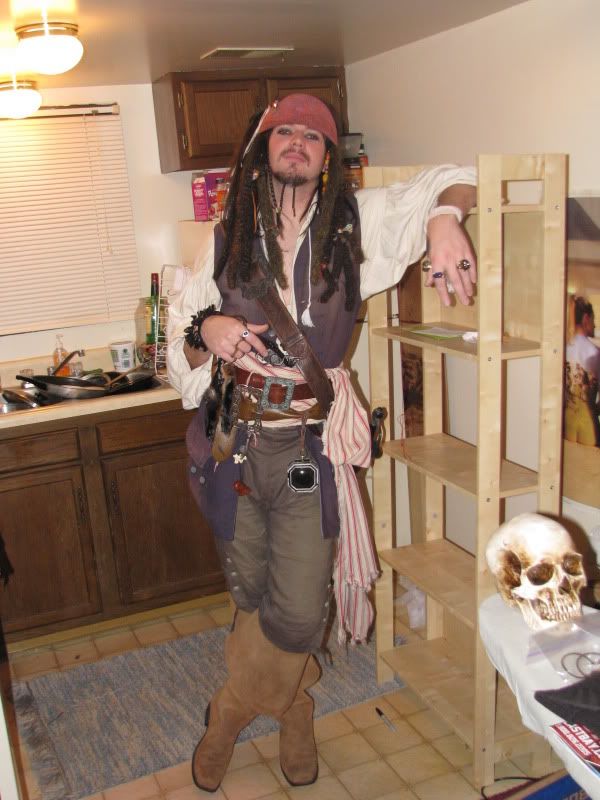 Jack took a lot of time and money, so I went with something that would not only leave me sane, but my GF as well. What better than the Dexter obsession? Thanks to Risu (he was the first person that I saw ID'd the screen used henley) , Zombie_61 (ID'ing the Diesel boots), and DarkPassenger (for ID'ing the G-Star pants and watch). This all lead me to this.
This past Halloween I tried to do a lot for a little. I was previously working on an Evil Dead II Homelite XL that obviously called for a complete outfit. This ended up being rather rushed and needs more work/weathering. With only some minor sewing to make the harness, I ended up with this.
With another opportunity to use what I had, I basically opened my closet to find a complete Michael Westen from Burn Notice. Combine this...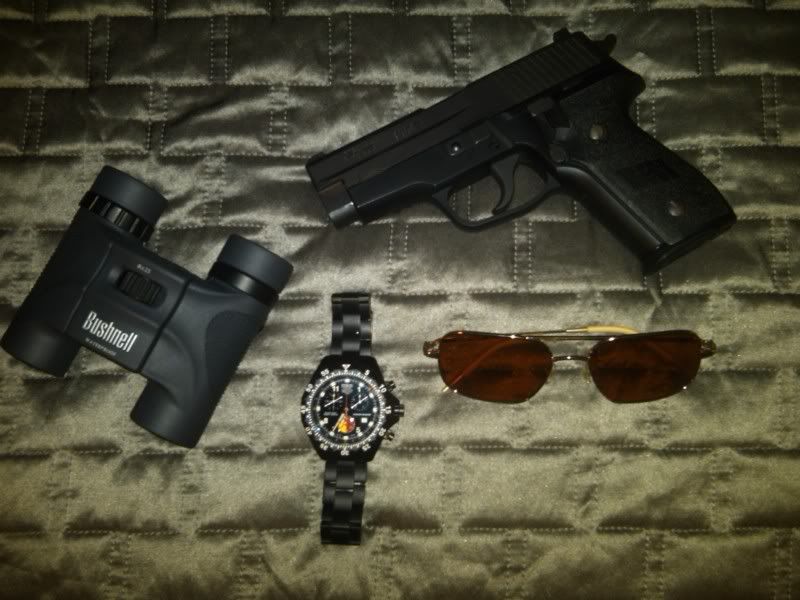 with a tan suit yields this.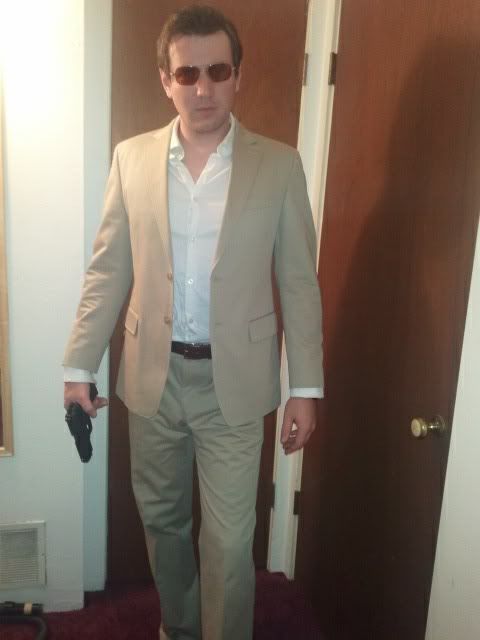 So here I am. I started to do my research for Han. It was looking like boots were going to be a big struggle area. I'm 6'1" and wear a size 12. Apparently this size is rather hard to find in vintage WWII Russian and German Officers' boots, which seem to be the go-to choice for OT costumers. After some time searching ebay and other forums for potential modern equivalents, I stumbled across an auction for "Biltrite Horse Riding Boots Size 12 Black 20" High". The description was very minimal, but I contacted the seller with probably more questions than I needed to ask, but after some back-and-forth I ended up buying them for a ridiculously cheap $25.

Upon receiving them, I stumbled across this little gem...
They fit great. I followed up my findings with Google to discover these boots are Denher's stock riding boots with an MSRP of $600. Score! :love
Like most Han costumers, I snatched up a Denix.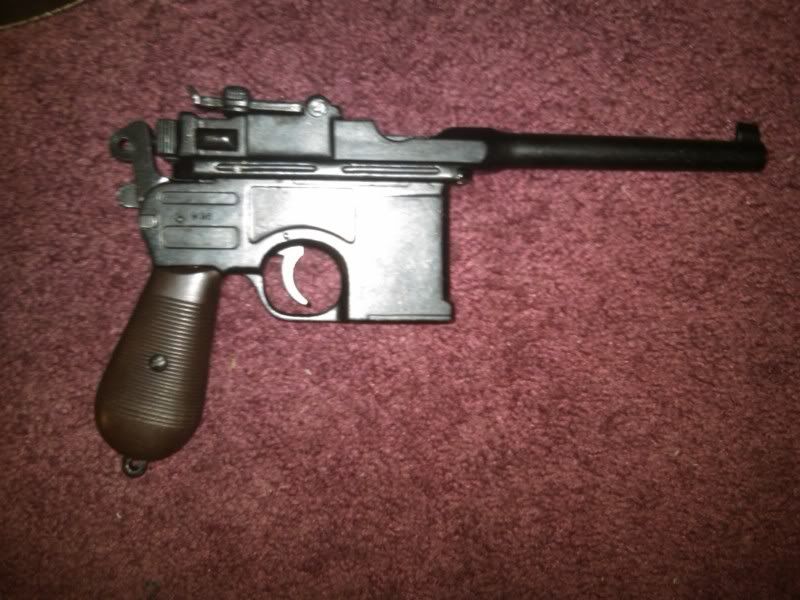 During more research, I was learning how difficult it was to find a buckle set. One of the most popular sellers, who had previously been selling buckle sets, was no longer selling them, and it was not looking good. Thankfully, Wade Egan came to save my butt again. Many of the Indy costumers know of his amazing leather wares, so it was easy to pull the trigger on his buckle set. After a quick e-mail, my package was already en route. :thumbsup
I also lucked out while looking into Han's belt tools. It turns out, that the CO2 cylinder is not really the Micronox cylinder that so many believe, but something a bit different. I luckily scored one of these for a more than fair price from our very own lonepigeon.
Here is a shot of these amazing items.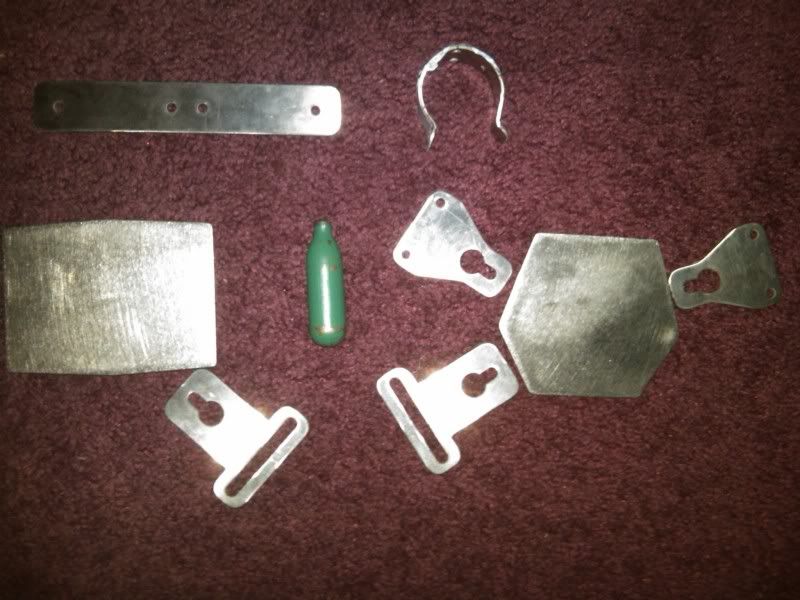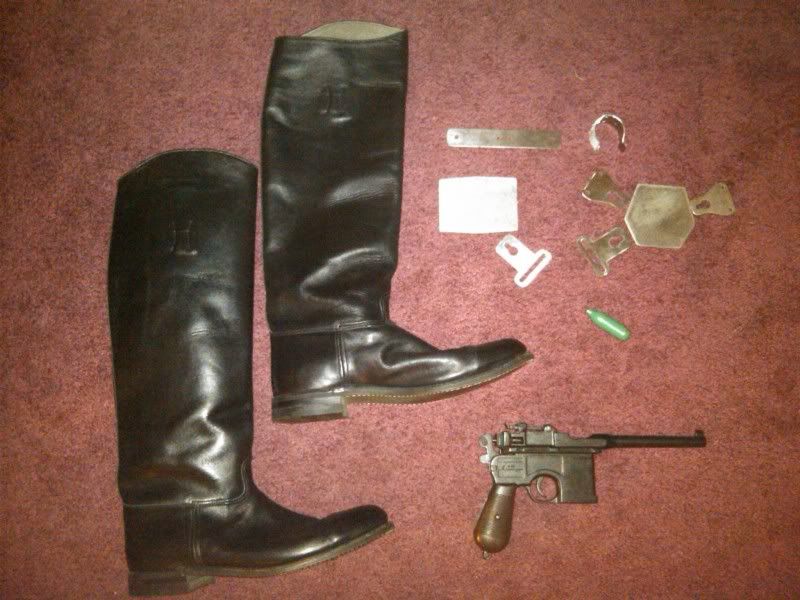 My deadline for the project will be Halloween 2012, so I have time to make it as perfect as possible. I'm going to try and have my ROTS Anakin upgraded by then as well, and possibly a Luke ROTJ.
Expect to see more as it develops. :cool
Last edited: