I've been working on a countdown timer gauntlet of my own, similar to MasterAnubis' design. (Thanks for the inspiration.) First of all, here's the sculpt for the base: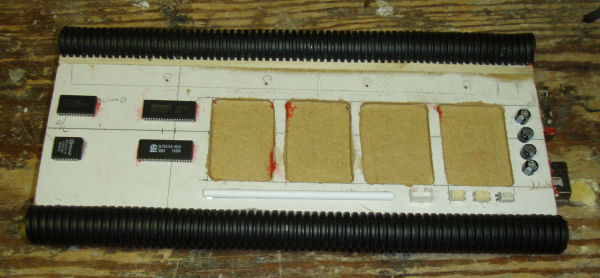 It's made from wood, instead of clay, so I could get it nice and flat and so I could carve out those windows nice and square. The components on top are surface-mount ICs, a few capacitors, and other parts from those CD-R drives I've torn up. They aren't 100% movie accurate, but I wanted to put my own little stamp on the project.
Here's the circuitry I built:
I used an Arduino microcontroller hooked up to a
MAX7219 LED display controller
. The 7219 is made to drive display matrix boards or LED digits, so I used it to drive my own digits. I built those from
rectangular LEDs
I bought from Digi-Key. The 7219 is fairly straightforward to work with. The anodes of each segment of the LEDs are hooked up in common to one of the segment pins on the 7219, while the cathodes of each digit are hooked up to one of the digit pins on the 7219.
There's a library of Arduino code to control the 7219.
Here's a picture of the cast plastic part with the LEDs all lit up:
Finally, I painted the plastic casting, added a smoke-color plastic window, and put some paper inbetween the LEDs so the circuit board isn't visible. Here's the finished product:
I posted
a video on YouTube
that shows my countdown timer in action. You can also hear me mispronounce "Duemilanove".