Hello fellow prop builders….
I decided to create this build thread in an effort to reconnect with the awesome prop builders community here. I've been doing droid props for the last twelve years, with most of my threads on Astromech dot net.
A little about me… I'm a scratch builder. Nothing at all against the modern day 3D printing, but I'm old school guy and you should get off my lawn. I decided to branch out from droids and try my hand at animatronics. I was totally inspired by Chris Lee's animated C3PO at the last Celebration and decided it was time to learn some new skills.
I've always loved Salacious and it was an easy choice for this project. It also helps that I live only a couple of hours from the super talented Ian Martin (user name here is "Tea"). Ian had made an amazing Salacious puppet that can be seen here:
Salacious Crumb Puppet - Build Thread
I asked Ian if he had any puppets left thinking it would be way easier to add animatronics to an existing shell. Although he had no puppets left, he did have some partial parts laying around. This was perfect as it forces me to learn a new skill making the body. Here's what I was able to score off of Ian. The body is foam wrapped around a metal ring frame. The limbs are wire armature wrapped in foam, followed by medial tape, followed by coating them in liquid latex. This will allow it to be skinned later by applying latex skin.
Salacious by
Chris Stephens
, on Flickr
So, this project has two parts. The animatronics and the body/shell. I guess we will start with the animatronics.
The end goal for this guy is to have him remote controlled with a PS3 Navigation wand ( Same controller I use for my R2-D2). He will ultimately be mounted to my R2's drink tray and I will be able to control them both together. This will get tricky as not only do I have to create the mechanism to make all of this happen, I will need to find a place to keep all of it as there's not much room in the body.
Thing's needed to bring him to life will be:
-Aurduino Mega with USB shield (you need the shield to add the USB dongle for Bluetooth communication between the Arduino and the PS3 controller).
- USB dongle for Bluetooth communication between the Aruduino and the PS3 controller.
-Servos for animating the head, neck , jaw and spine
-Adafruit SFX board for sounds
- Adafruit servo expander board. Way easier to control multiple servos through the Arduino than plugging servos directly to the Arduino.
- Speakers for projecting sound (duh).
I'm writing this in hindsight and can tell you that I went through about six different versions of the skeleton before getting to where I have it now. It was tough getting all of the servos mounted to where not only did they work properly, but also that it all fit in the torso that was already made.
Here is the final design. I had to get rid of the lean forward servo, but I still have one for ears, jaw, neck and head tilt.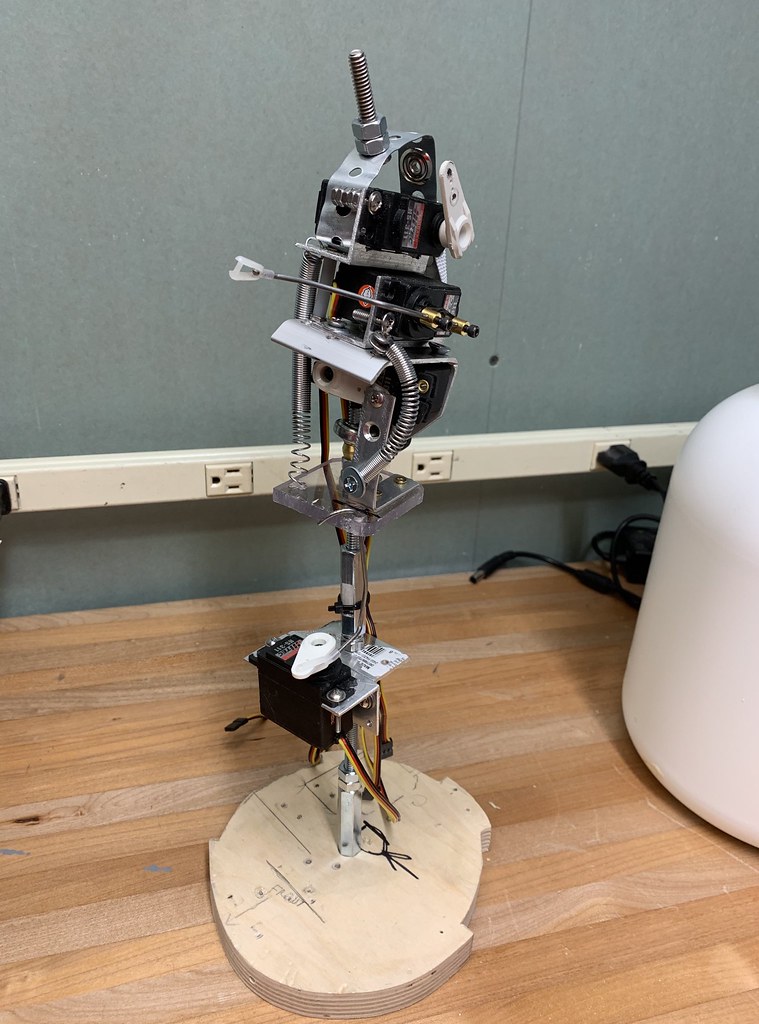 Untitled by
Chris Stephens
, on Flickr
The first thing I did was add metal servo rods for the ears and insert the clip ends into the skull. I connect the ears with a spring and then a wire that when pulled down will have the ears perk up. The end of the wire will be hooked up to a servo and I'll be able to control the ears as needed/wanted. Here's a pic of the inside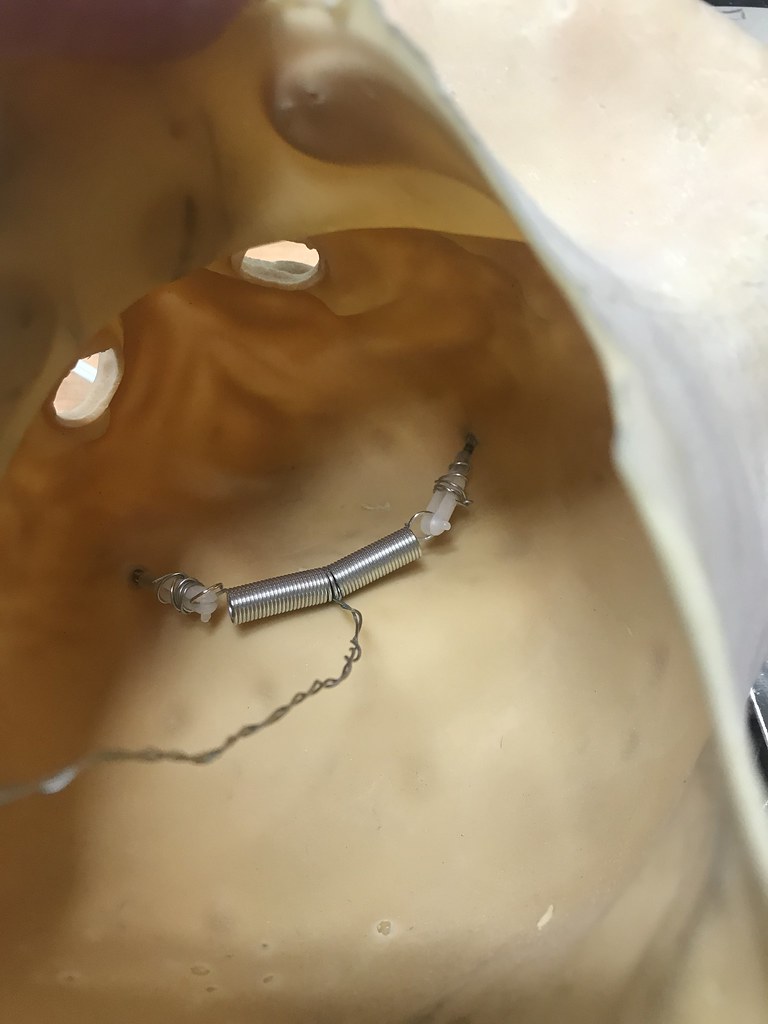 Untitled by
Chris Stephens
, on Flickr
And a quick video of it being tested.