Sr Member
RPF PREMIUM MEMBER
I have been on short-time work since the end of March due to the Corona pandemic. This is my first film prop project in many years. Back in 1997 I was digital effects producer on a movie called "Hostile Waters", which was shot at Studio Babelsberg, Germany. It turned out that the production designer of the movie, Jon Bunker, worked on the original special effects lightsabers that were constructed for Star Wars in 1977. When the "Hostile Waters" production wrapped, Jon gifted me with a leftover spare aluminum casting of the Obi Wan Kenobi stunt lightsaber, which he kept at home since the end of the production of Star Wars.
Similar spare aluminum casting produced for the original Star Wars:

I converted the original aluminum casting I got from Jon into a replica Luke Skywalker lightsaber from ROTJ, the so-called "V3" or "shared stunt":

During my visit of Skywalker Ranch and Lucasfilm archives in May 1995, I photographed the original V3 lightsaber, so I had a few nice reference pics at hand.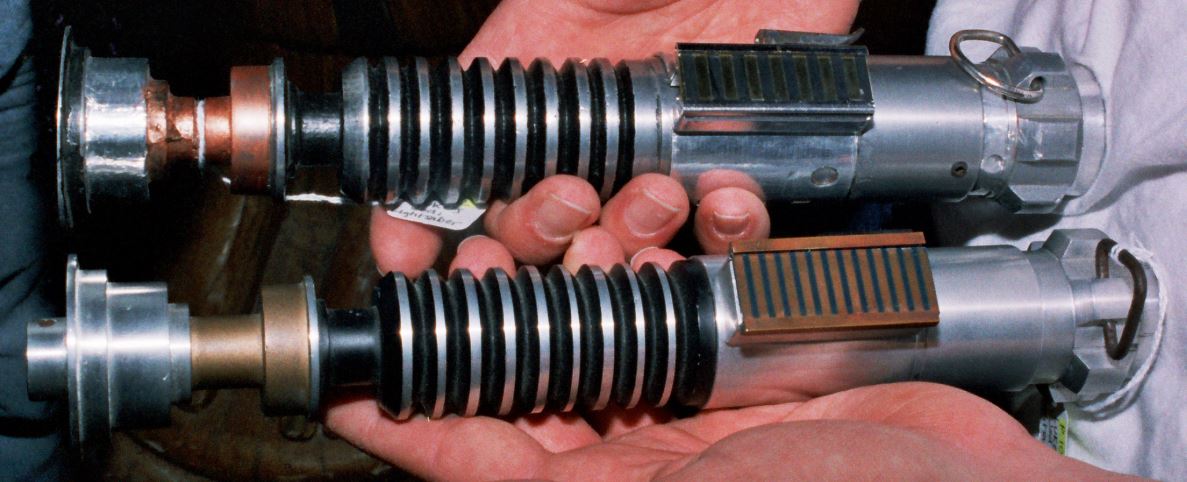 About two years ago, a short video clip from our kurtyboy caught my attention. It featured his replica stunt Graflex lightsaber with a motorized, spinning blade. I've always been a huge fan of the old, traditional, "magical" special and visual effects from the times before CGI hit the screens. Soon after, some really interesting threads about the original trilogy stunt lightsabers popped up on RPF, which even fueled my desire and inspiration to start working on such a project.
My first idea was to have my replica V3 lightsaber converted into a special effects saber, but some members here talked me out of that (well done!). For a short time I toyed with the idea to mold my saber and have an aluminum cast produced at a local foundry I worked with in the past, because the original Obi special effects sabers were produced the same way. The biggest problem was - time. I was extremely busy at work until mid March - and then it went from hero to zero. We all know why.
I finally decided to have my saber scanned in order to get a digital representation of the saber, which I thought could be used to program a CNC machine. Soon I had to learn that it is not that simple. I was lucky to find a company here in Berlin who did not only do the scanning, but also the parameterizing of the scanned data plus the necessary drawings and the construction of the 3D model of the saber. During that process, a great number of measurements were taken of my original saber.
Here is a summary how my ANH special effects lightsaber replica was constructed. The screen-used ANH Obi stunt lightsabers for reference:
Jon Bunkers sketch of the mechanics inside the saber:
My drawing for the inner mechanics for my special effects lightsaber replica:

I went for an internal battery instead of an external one, mainly because I intend to use the spinning effect for short demonstrations and not for intense and time-consuming lightsaber duels.
3D model of my lightsaber right after scanning it at a company here in Berlin:

Final 3D model of my lightsaber based on exact measurements and the scanning data. The model was constructed under my supervision by an engineer living in Berlin.

During the digital reconstruction of the saber we noticed that the pommel on my replica V3 lightsaber is slightly off compared to the pommel on the original V3 lightsaber in the Lucasfilm archives. The pommel was not part of the spare aluminum casting that I got from Jon Bunker back in 1997. It was produced by a friend based on limited reference material.
For the V3 special effects lightsaber replica the engineer constructed an entirely new pommel based on numerous reference pics of the original.
Once finished, the 3D model and the construction drawings were sent to a company specialized in CNC machining in order to produce 5 aluminum blanks. I should receive them end of next week.