Well-Known Member
RPF PREMIUM MEMBER
Ok here we go, finally got the guts to post something here.
I have been of and on doing Star Wars modeling for 8 years now I think.
And on the end of 2015 I started doing the first research on building a 5ft falcon.
Looking at part maps, asking around etc.
In 2016 I started collecting kits, and in relative short time I think I got about 100 kits.
So if in 2016 you got outbid on some vintage kits needed for SW model, it was probably me.. sorry.
But as many say building a 5ft falcon is a daunting task… not only for the costs of the kits, finding them, the costs of material. But also with a project like this no creative freedom for a long time… (if that is something you need). It's all about getting the model as close as the original. Of course this is open for debate… but with a smaller project/model you can come away with a small part that is different. But with such an icon, and scale you will probably see it.. And with already 100 kits on the shelf…. Point of no return seemed inevitable.
Long story short… I got scared I guess. The cost, sticking to the project etc.
We bought a new house, a big renovation project… and all time, money, and energy went it that project. Then good thing was, the hobby space got bigger. When we bought the house had a big garage, and the wifey said: "Look there is your hobby space".
So for the many 'obstacles', we have in this hobby, that was one less.
House is almost 'done' (ok a project is never done)
Back to the 5Ft falcon. I got the confidence, and maybe the mental growth to conquer this project I hope
. Take it slow, and the main goal is, to have built this beast in this lifetime.
Enough of the introduction, let the good stuff begin!
At my first attempt, I also used 3D printing, and always thought it would help to tackle this project. At my first attempt, I had a Core of Foam, CNCed to the right shape based on the 3D file from Joshua Maruska. I had put epoxy on the dome and the mandibles I skinned with styrene. (Partly done before I abandoned it)
I considered buying the dome parts from Stu, but that was to expensive….
So I always in my mind had a solution thought out to print the hull. And when I saw
The printed falcon from Geek1138 (You are a printing and modeling Titan), I got the confidence to print at least the Dome.
I already have a good amount of kits so I would continue to collect and in the meanwhile start printing…
But there were a few things I personally wanted to take a bit of a different approach,
Just to get a little closer to what Sean and now Stu is doing…. (I will never get this close.. But at least I can try
)
The base form of the file from Maruska has the whole shape measurements so on some places you have to recalculate for the plating on the overhangs. And for the dome also, (although you could cheat there).
Here is my explainer.
So I remodeled everything in CAD to my specs. First the armature and the inside.
That I want to sandwich between 3mm Plexi. For the mandibles, it is really part of the model.
In the saucer/dome part the plexi is more for strength and structure.
It's probably overkill. But since I still have to look at it a real long time, I better make something good to look at right?
I also want to skin the sides with 2mm styrene, (this probably could be thinner). So I didn't have to do the cleanup of the FDM layering.
I took this also into consideration with the new measurements of the CAD model.
Some preview of how this should going to look!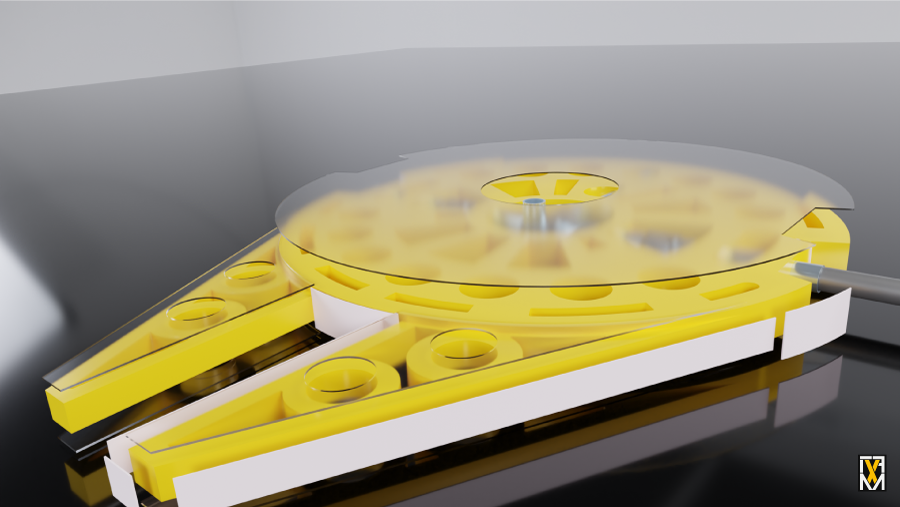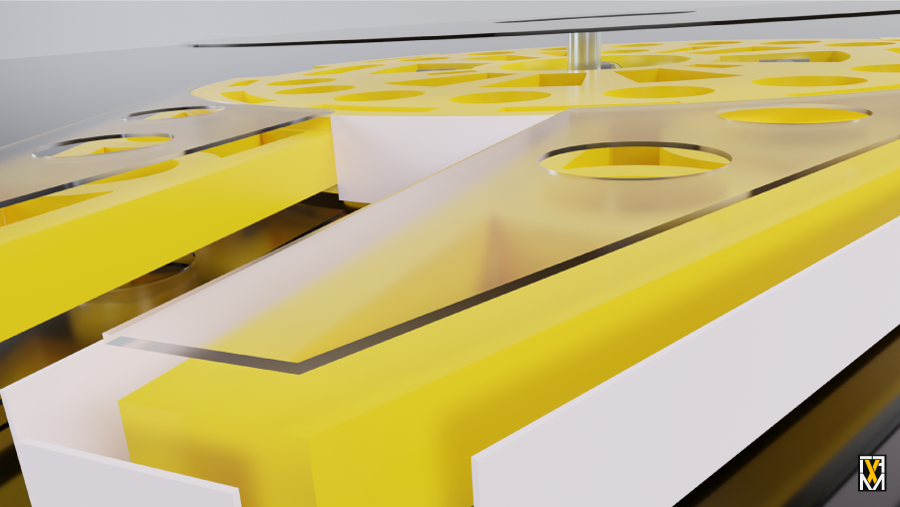 Slicing this up in usable parts for my printbed only 30 X 30 CM and 1 KG Filament spools, was and still is a challenge. (I think I got the biggest part found, and dialed the parts in… but you never know)
The metal armature is will be mounted to the famous Engine stand... Yes I also have a RED one
Currently I started modeling the dome….
And want to consider the Thickness of the shell (I think Stu used 4,5mm).
So if you see it at the pits you have the right thickness (like the explainer on the mandibles)
Or I make some pie pieces that are cut out and could be printed with an SLA printer, for more accuracy on that part.
For the damaged parts I have to figure something out, because if you're going in with a Dremmel on the hull on a FDM print I don't know what is going to happen.
So that is it for now… printing, collecting kits...
and probably starting the mandible pits soon.
Hope to give you some updates regularly.
One more thing...
I did some 'name dropping'... but probably not enough:
Thanks to everyone's data & info that led upto Joshua's CAD File. Ofcourse thanks for sharing this!
For the names I remember that I asked for info, and know that contributed to all info out there about this beast:
Stu (eagle1), Maruska, VFXSub64, Tsides2, Faustus100, vacformedhero, Gort, Studio Kitbash, Swgeek, Lee Malone (are you on the RPF?) and probably a lot more...
And Bwayne64, wasn't it you that designed an armature structure for the Hasbro 32" falcon? If it was you... thanks that design always stuck in my head..
as it shows.
Last edited: